As the business world transitions into a post-COVID reality, leaders are facing the shifting needs and expectations of their employees.
According to the 2021 People Management Report, 60% of workers are back in the office, but only 49% actually want to be on-site. The growing popularity of the home office has motivated 46% of companies to adopt fully remote or hybrid work models moving forward. Many more are sure to follow.
While pivoting to a hybrid model can help companies retain top talent and even boost organizational performance, the hybrid model isn't without its share of obstacles. Below, we'll talk about four common challenges, as well as practical solutions to overcome them.
1. Overcoming unconscious bias
The last two years have underscored various inequities in the business world—specifically racial and gender biases. But the hybrid model reveals another disparity: the treatment of remote workers compared to their in-office colleagues, a phenomenon known as proximity bias.
"Companies that treat remote workers as an afterthought are doing themselves a disservice," Rebecca Corliss, VP of Marketing for Owl Labs, writes for Fast Company. "They're not getting the best out of their employees and aren't allowing remote workers the full opportunity to provide value."
Not only that, this bias could result in team disintegration and negatively impact the career advancement of remote employees.
"Employees who are working in-person could get more visibility with leadership. They might have more opportunities for mentorship and sponsorship," explains Sonja Gittens Ottley, Asana's head of diversity and inclusion, in a recent New York Times article. Conversely, the article explains, remote workers who don't have as much facetime with leaders may not receive promotions or raises as often as their on-site peers.
How to solve this
Follow these strategies from the aforementioned Fast Company article to help combat unconscious proximity bias between remote and on-site workers on your team:
Keep everyone equally informed. Communicate all updates and directives to both remote and in-office employees at the same time and in the same format.
Democratize your meetings. Be active and intentional about including remote workers in all team meetings, and make it a point to ask for their input.
Measure performance equitably, regardless of employees' work location. Rather than evaluating associates based on the now-outdated "butts in seat" measurement, focus on results. Clarify to the whole team the metrics they will be evaluated by, so each member knows what's expected of them.
Give all employees a chance to take the lead on high-profile tasks, such as delivering a presentation or overseeing a collaborative project. Don't just choose the person in closest proximity—give remote workers an opportunity to showcase their skill sets too.
Demonstrate by example that remote work is acceptable. By working at home themselves, leaders can help establish remote workers as full-fledged team members.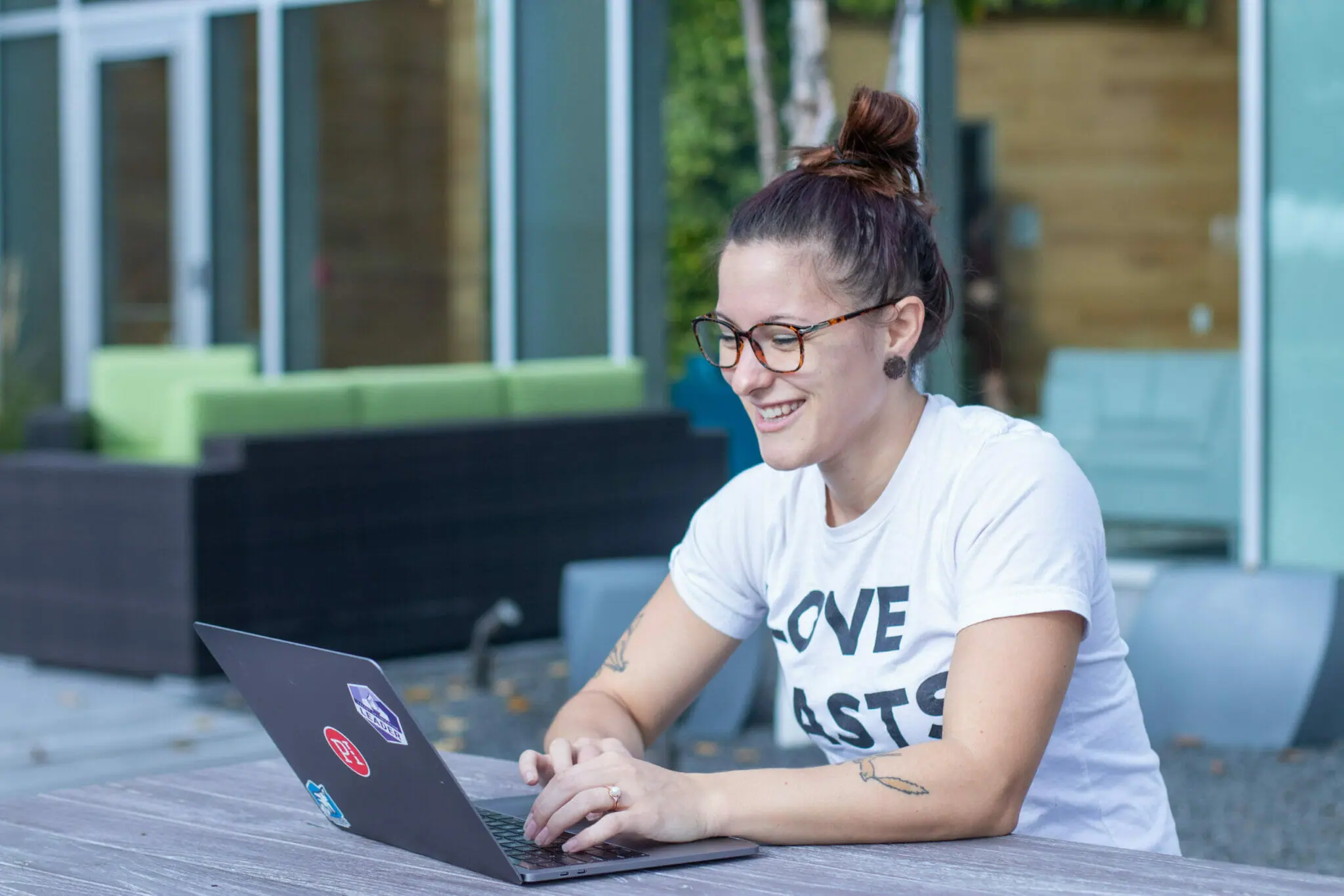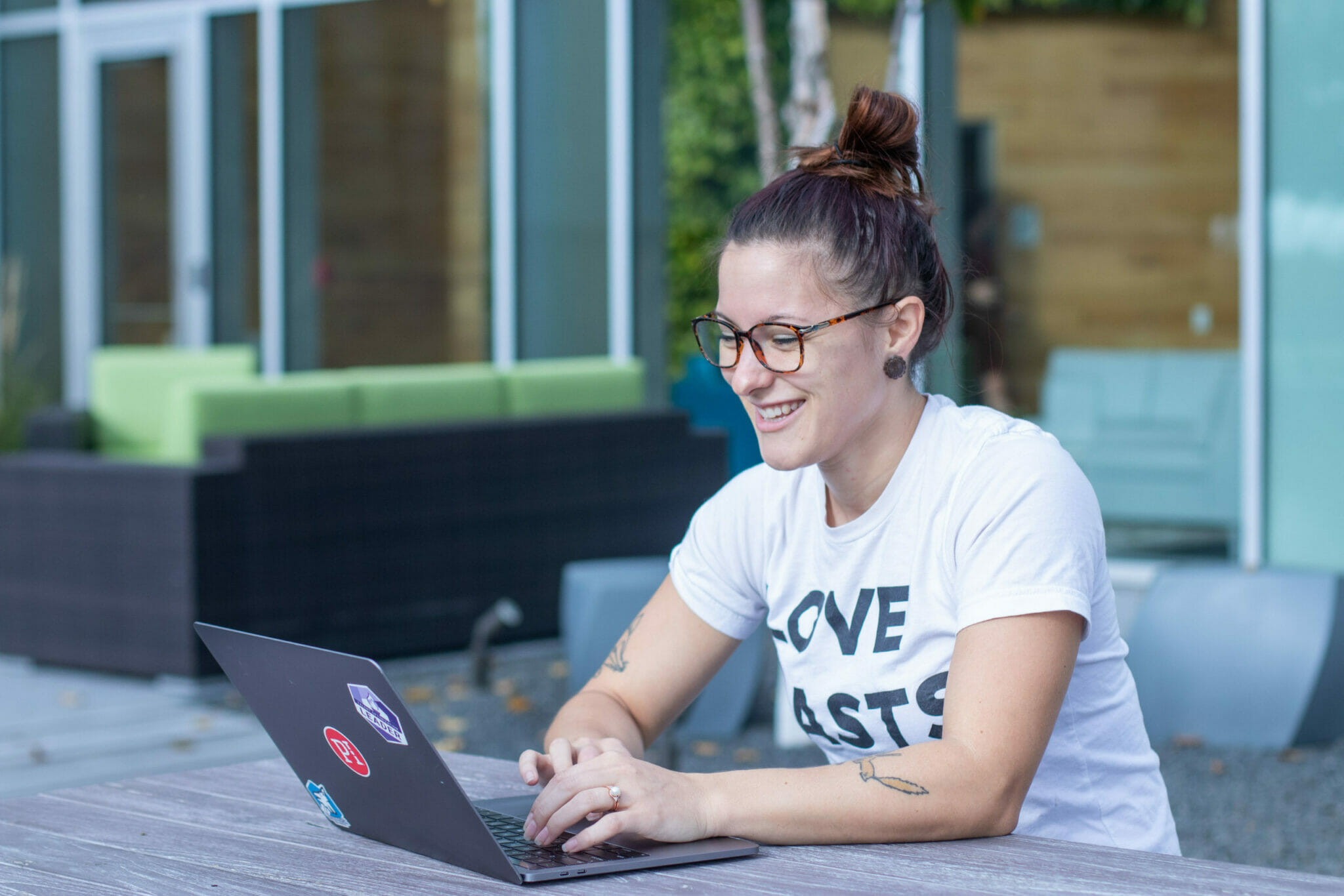 2. Facilitating remote communication and collaboration
Because of distributed locations—and, in some cases, time zones—digital technology has become a necessity for hybrid teams. But while there are clear benefits to using digital remote work tools, 75% of HR leaders believe having too many virtual communication touch points increases the risk of employee burnout, according to Gartner.
An over-complicated tech stack is one of the main reasons hybrid teams struggle with connectivity and communication. For instance, when there are too many conversation threads across numerous platforms, communication and collaboration become cumbersome rather than fruitful. In fact, nearly 50% of workers will consider leaving their current job if they are frustrated with their company's tech stack, per recent data from Adobe Workfront.
How to solve this
Here are a few ideas from Owl Labs on how to streamline your organization's tech stack and centralize communication between remote and in-office workers:
Invest in a software platform that consolidates synchronous communication tools (such as phone calls, video conferences, or live instant messages) and asynchronous ones (such as emails, file sharing, or voice and video memos) into one accessible, user-friendly hub. This gives distributed teams the flexibility to choose between real-time or delayed communication—both of which have their advantages in certain situations.
Make sure meetings are as inclusive as possible, so that no one is left out from important decisions or updates. Also, touch base regularly with individual employees with recurring 1-on-1 meetings.
Develop hybrid communication best practices specific to your team's needs. Invite everyone on your team to help develop a communications policy by asking them for their preferred method of communication for all types of situations.
Join 10,000 companies solving the most complex people problems with PI.
Hire the right people, inspire their best work, design dream teams, and sustain engagement for the long haul.
3. Maintaining morale and engagement despite limited face-to-face interaction
As a survey from business consulting firm Bain & Company points out, just 22% of employees feel connected to their coworkers and leadership during corporate transitions. The last two years have been rife with constant, unpredictable change, leaving remote and on-site workers vulnerable to feelings of disconnection or isolation.
On top of that, with fewer opportunities for 1-on-1 interactions and team-building activities, the hybrid work model makes it difficult to overcome such ruptures to team morale.
How to solve this
Just because team members aren't together in person doesn't mean companies can't foster a sense of connection. But it requires leaders to take a hard look at their company values and adjust them for the new post-pandemic workplace. As you reimagine your culture, consider these tips from the communication experts at 4PSA to effectively boost employee morale and motivation:
Retool how you run meetings. Keep meetings short and small, and create meeting-free blocks on the schedule, so employees can work without disruption.
Empower managers. When you trust team leaders to implement the processes that work best for their teams, they're more likely to listen to feedback from their direct reports.
Encourage lunch breaks. A recent survey found 88% of employees who do this also say they're satisfied with their job.
Recognize employees for their contributions. Verbal appreciation can boost morale considerably.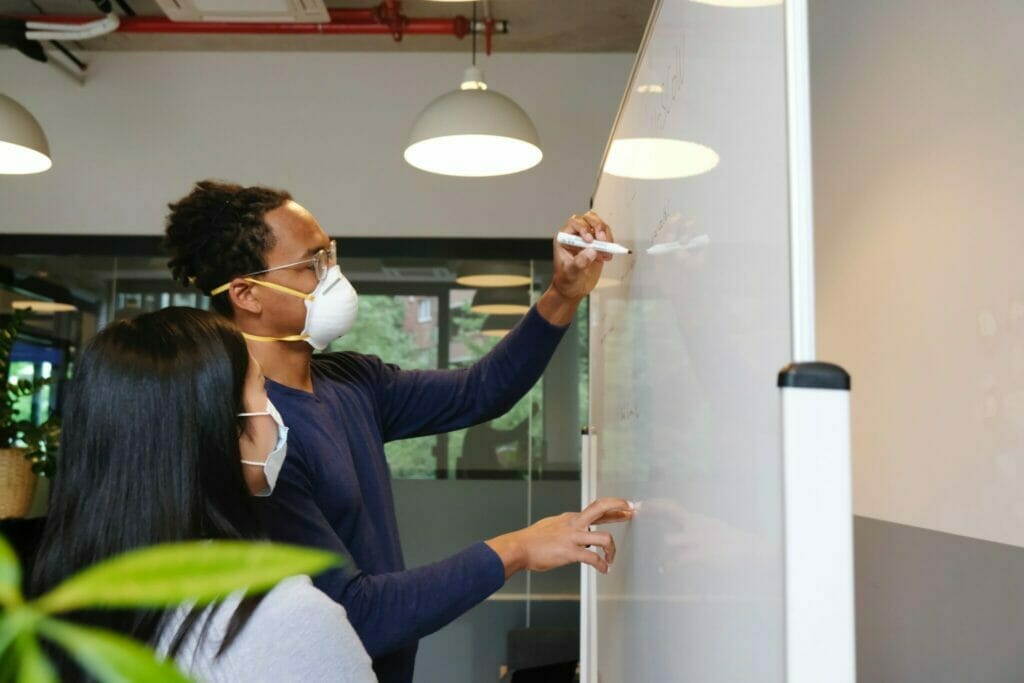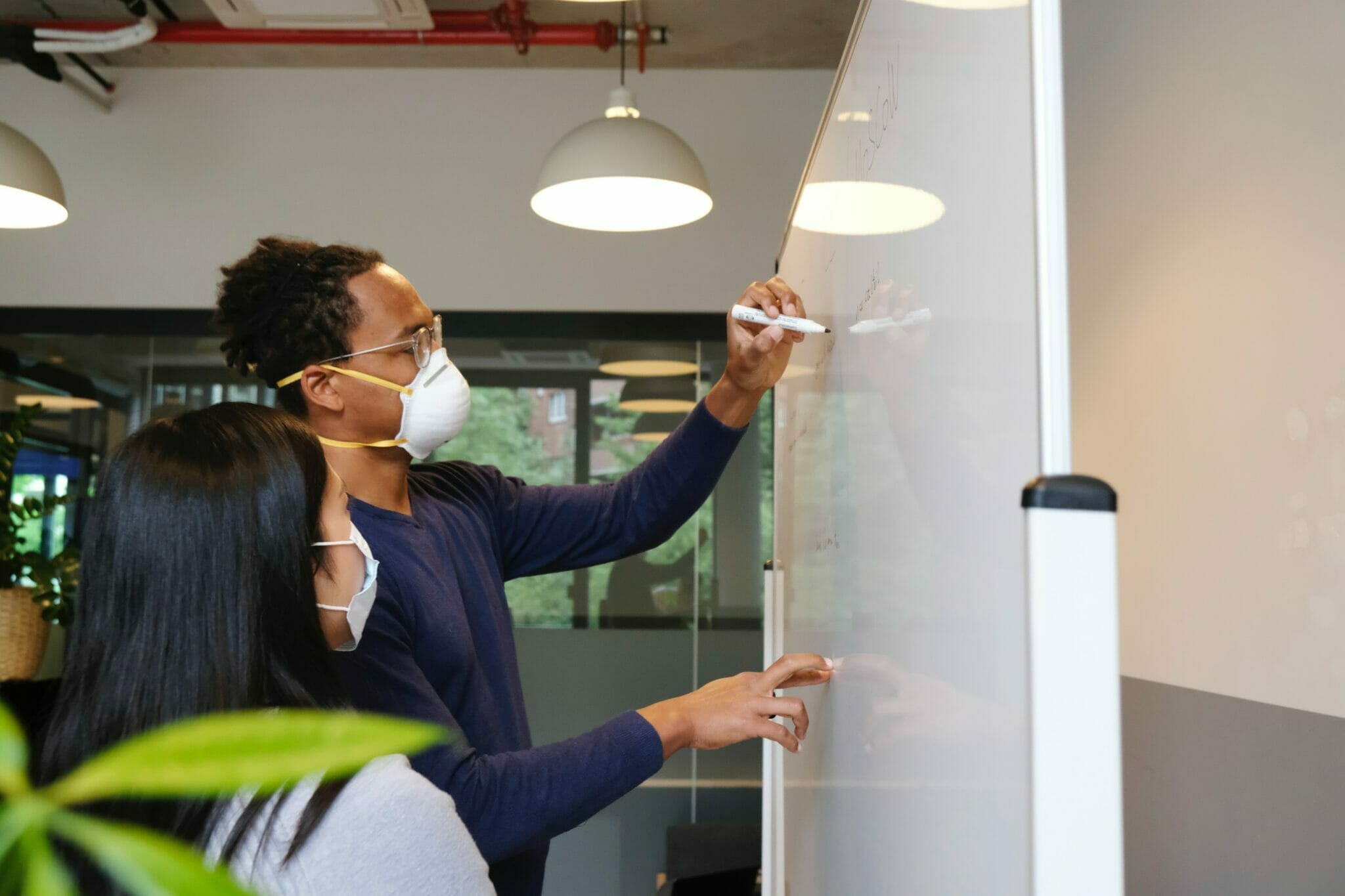 4. Making employees feel safe and comfortable in the office
Even as pre-pandemic routines start to resume, anxiety about COVID-19 and its variants is widespread. In fact, 85% of Americans say they're likely to maintain the same sanitation levels they adopted when the pandemic first began, reports the 2021 National Cleaning Survey.
This means chances are good many of your employees are anxious about returning on-site, even on a hybrid basis. And according to research in the Heliyon Journal, intense COVID-19 fears can increase stress and lower productivity among workers.
How to solve this
To assuage anxieties and make employees feel comfortable, plan to implement new cleaning and sanitization protocols as long-term practices. In a survey by SERVPRO, companies across a variety of industries reported the following office cleaning and safety updates as a result of the pandemic. Consider integrating these into your company policy for the "new normal" workplace:
92% of companies limit group meetings.
63% clean the office several times a day.
51% provide additional hand sanitizer or hand sanitizer stations.
35% take employees' temperatures daily.
34% use both a certified CDC-approved cleaning company as well as a janitorial service.
Click here for downloadable office signage you can use to help stop the spread of COVID-19.
Hybrid work is the new frontier.
As we move into the future, hybrid work is likely to be the trajectory for most companies. And as with any new undertaking, challenges will arise while both leaders and employees adjust.
It's not an easy transition, by any means. But if you keep in mind the solutions above and continue listening to your team members during the transition, you can make the most of this promising new work environment.
---
Jesse Relkin is a freelance writer and entrepreneur based in Tampa Bay, Florida. In her free time, she enjoys reading poolside and listening to podcasts while doing mindless household chores. You can connect with her on LinkedIn.