In the 2020 State of Talent Optimization Report, our researchers surveyed 600 CEOs and VPs. Those polled included 58 executives from the health care and life sciences industry. The goal: to understand the role talent strategy plays in delivering business results.
The findings were clear: Talent strategy can be a differentiator for your business. But only if you actually have one.
Here were seven key findings from the health care sector:
1. 61% of total costs are labor (people) costs.
Researchers asked executives to assign a percentage of their total company costs to employee-related/labor costs.
The average company in the health care and life sciences industry spends 61% of their costs on employees (line items such as salary and benefits). That's 3% lower than the average across all industries surveyed.
The health care industry faces a serious talent shortage. As this talent gap continues to widen, it'll be important to invest more in your employees. This includes providing career development paths and leadership opportunities to retain top performers.
2. 69% of company value is attributed to employees.
Health care execs also shared what percentage of their company's value they directly attribute to employees: 69%.
It's no secret why talent is so coveted in health care. In a hospital, a surgeon who only operates at 80% effectiveness isn't a surgeon you want around. In fact, a recent Johns Hopkins study found the third-leading cause of death in the U.S. to be medical errors.
With practitioners so scarce, effective talent management isn't just good business practice. It can also prevent unnecessary tragedy.
3. 40% of health care companies have a talent strategy.
People are your most expensive and most valuable assets. Yet only 4 in 10 health care companies have a talent strategy.
We presented executives with a list of 14 statements and asked them to check all that were true for their company. 60% of companies had a business strategy, and slightly more than half had a financial plan, but only 40% of health care companies had a talent strategy in place.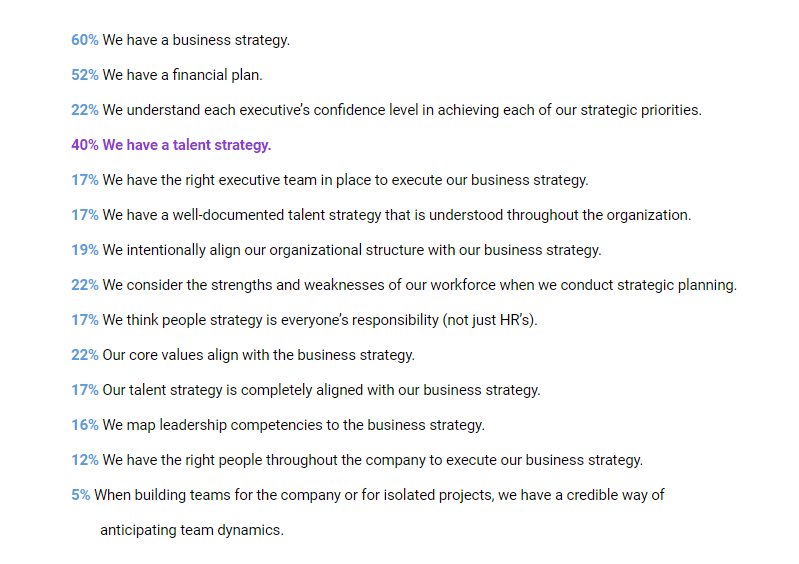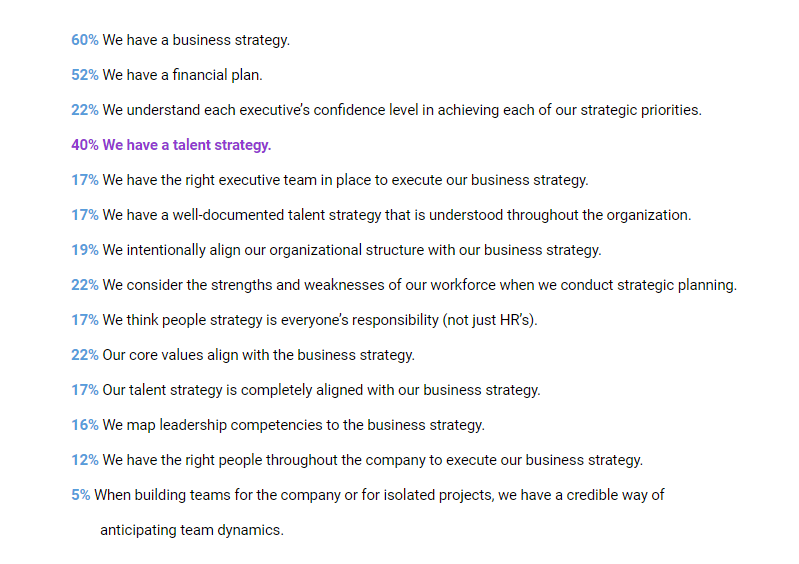 It's worth noting that this is 4% higher than the average across all industries polled. People are the lifeblood of successful health care organizations. Disengaged or misassigned employees can lead to unpleasant patient experiences. So it makes sense why the industry would be ahead of the curve when it comes to talent strategy.
Still, until 40% becomes 100%, health care companies can do more. There are also other areas where the industry falls short. Most notably: Only 5% have a credible way of anticipating team dynamics. This means when a new employee joins the team, team leaders struggle to know how exactly they will impact existing relationships.
How can teams expect to perform at a high level—let alone an error-free one—without being able to predict these ebbs and flows? It's an important question to address, especially given the current talent landscape.
4. Health care execs say business strategy and talent strategy are top priorities.
When asked to share their top priority for 2020, the panel of health care executives chose one priority from a list of six options. Tied for first at 29% a piece were:
Strategy development: Building the right business strategy year after year

Talent strategy: How you hire, organize, and manage your people
The health care industry is constantly evolving. It's currently moving away from a fee-for-service model in favor of a value-based one. At the same time, researchers continue to look toward the future of medicine and biotechnology.
When developing cutting-edge pharmaceuticals, strategy development will always be important. Senior leaders may have to pivot quickly to match industry trends. It's easy to understand the need.
To navigate murky waters, you need to hire people that fit your business needs. You need high-performing teams that can fulfill your business goals. And you need the right managers to lead these people.
5. 17% of health care companies have a well-documented talent strategy that is understood by everyone.
Whereas 40% of health care execs said their company has a talent strategy, just 17% said We have a well-documented talent strategy that is understood throughout the organization.
Despite health care being ahead of the curve when it comes to having a talent strategy, the industry lags behind when it comes to having a clear one. Upper management may have a plan for how to hire, organize, and manage people. But unless the employees down below understand and execute this plan, what good does it do?
A strategy must be well-documented to be actionable; if it's not articulated on paper, it can't be shared with employees, partners, or customers.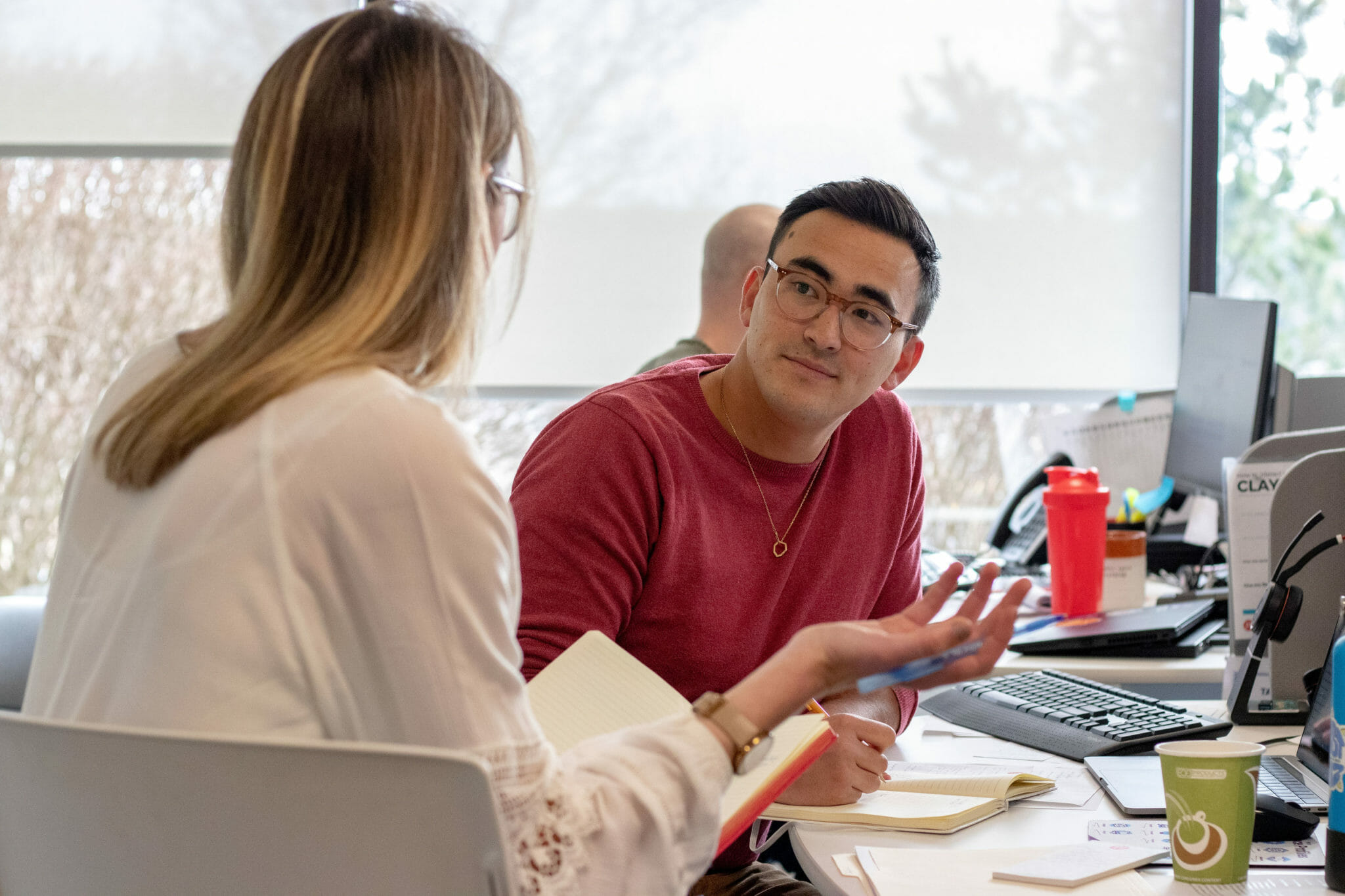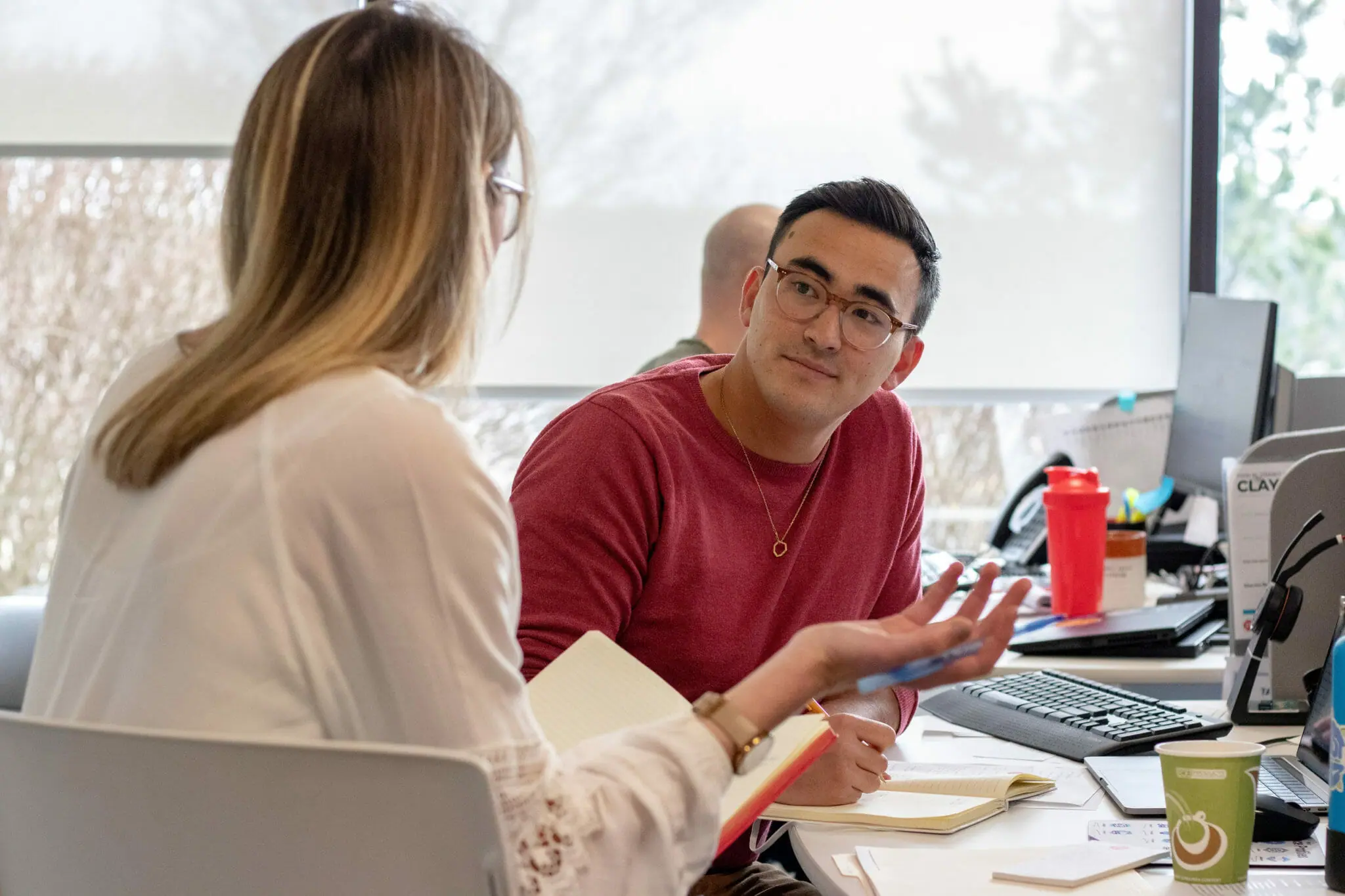 6. 10% of health care companies align business strategy with talent strategy.
Only six of the 58 health care executives surveyed selected all three of the following statements:
We have a talent strategy.

We have a business strategy.

Our talent strategy is completely aligned with our business strategy.
The discipline of talent optimization argues that companies must define both a business strategy and a talent strategy and align them to be mutually beneficial.
Employing these practices doesn't guarantee results. But doing so certainly increases your odds of success.
Jude Duff, Chief People Officer at Daniels Health, has experienced the potential benefits of talent optimization first-hand:
"In the health care industry, getting the talent strategy right is crucial to us providing frontline service to the most important part of our jobs—the patients.
As a growing company, we have many ideas, projects, and initiatives to act on. The thing that tempers our speed more than anything else is hiring enough talent to execute those plans.
Getting the talent optimization process right from the beginning has not only improved the performance and engagement of employees, it's given us a leg up in the race to make health care safer.
The Predictive Index has given us great insight to identify the right matches for our open roles, teams, and overall business strategy. In choosing PI, we have demonstrated our commitment to our people and the future of our company."
7. Only 17% of health care execs consider talent strategy a shared responsibility.
Too often, it's HR that's tasked with creating and implementing a talent strategy. HR can—and should—play a role. But you'll need to hear from voices across the company to form a healthy, lasting talent strategy.
Only 17% of health care executives surveyed said We think people strategy is everyone's responsibility (not just HR's). That's 5% below the average of industries polled.
Why the disconnect? In health care, process is the norm. Certain firms use the same systems and infrastructure for years on end. Employees experience a similar process when dealing with people issues. Need to backfill a role for a new receptionist? Tell HR. Have a grievance about your manager or coworker? Take it to HR.
Senior management may be so preoccupied with the business side of strategy that HR becomes a crutch for handling any and all things people. Unfortunately, this can cause an unintentional breakdown in communication between the two groups. And when communication fails, it becomes exceedingly hard to map the talent strategy back to the business.
Share these statistics with a co-worker at your company.
The only way to affect change is to get the conversation started. Share these stats during your next company all-hands. Work them into a slide deck for a weekly team meeting. Or bring them up during a 1 on 1 with your manager.
The 2020 State of Talent Optimization Report polled respondents from over 20 industries, including technology, professional services, health care, education, and energy. Explore the full 60-page report here.