OPTIMA, the annual talent optimization conference, brings together the very best in business to discuss how to build and lead great teams.
This year's event brings a fully virtual experience, complete with keynotes and sessions from 30+ powerful speakers. Yet, perhaps no headliner carries more gravitas than Baratunde Thurston—author of New York Times bestseller How To Be Black.
Baratunde isn't just a renowned author and activist. An Emmy-nominated host, his credits include working for The Onion and producing for The Daily Show. He also advised the Obama White House, and currently produces and hosts the podcast "How To Citizen With Baratunde," which Apple named one of its favorites of 2020.
Appearing everywhere from Fast Company to NPR, Baratunde has established himself as one of America's premier voices. Whether you're a leader, a talent professional, or a consultant looking to add value for your clients, you won't want to miss what he has in store for you at OPTIMA21!
Here's a quick teaser of what you can expect.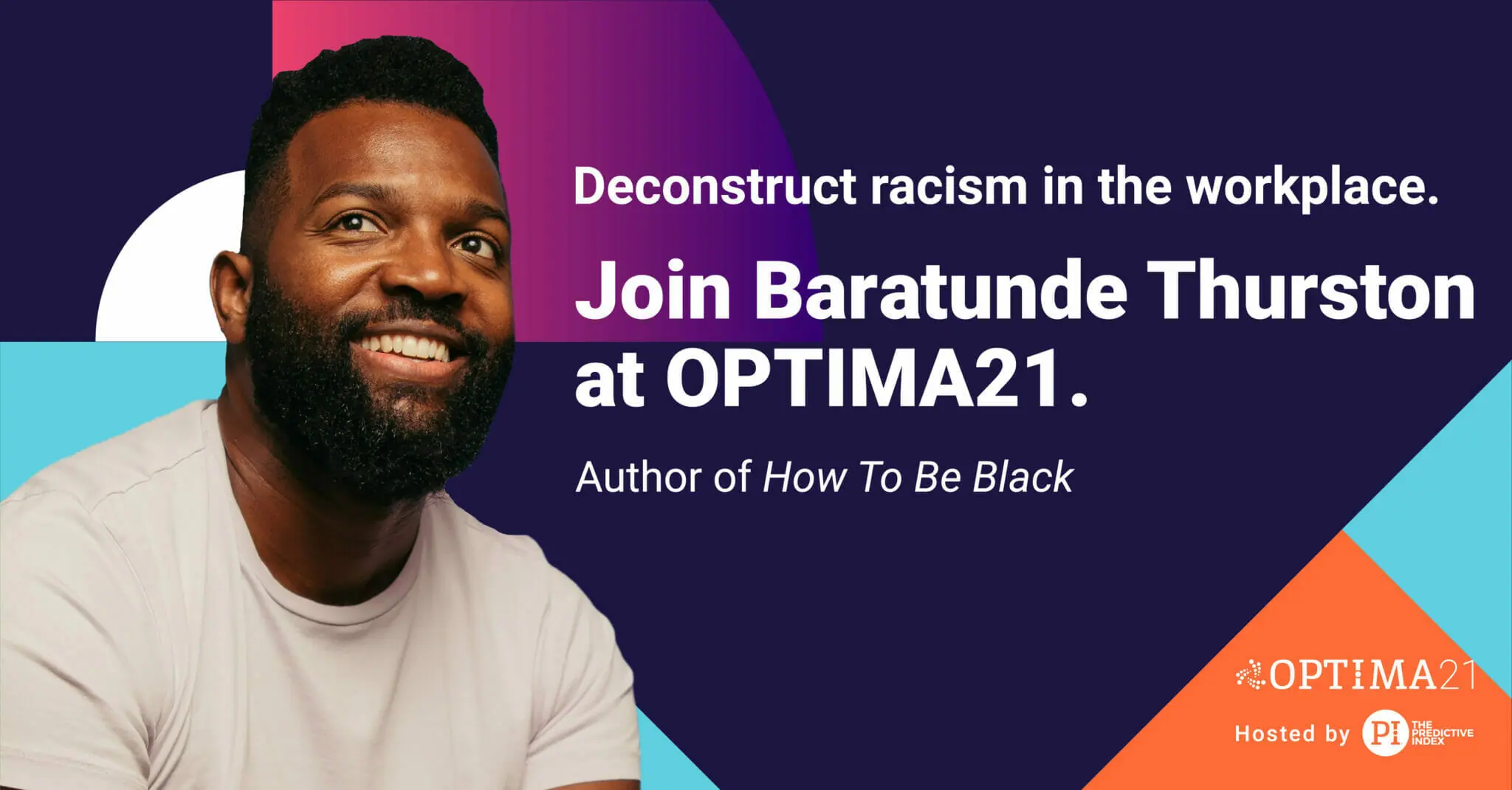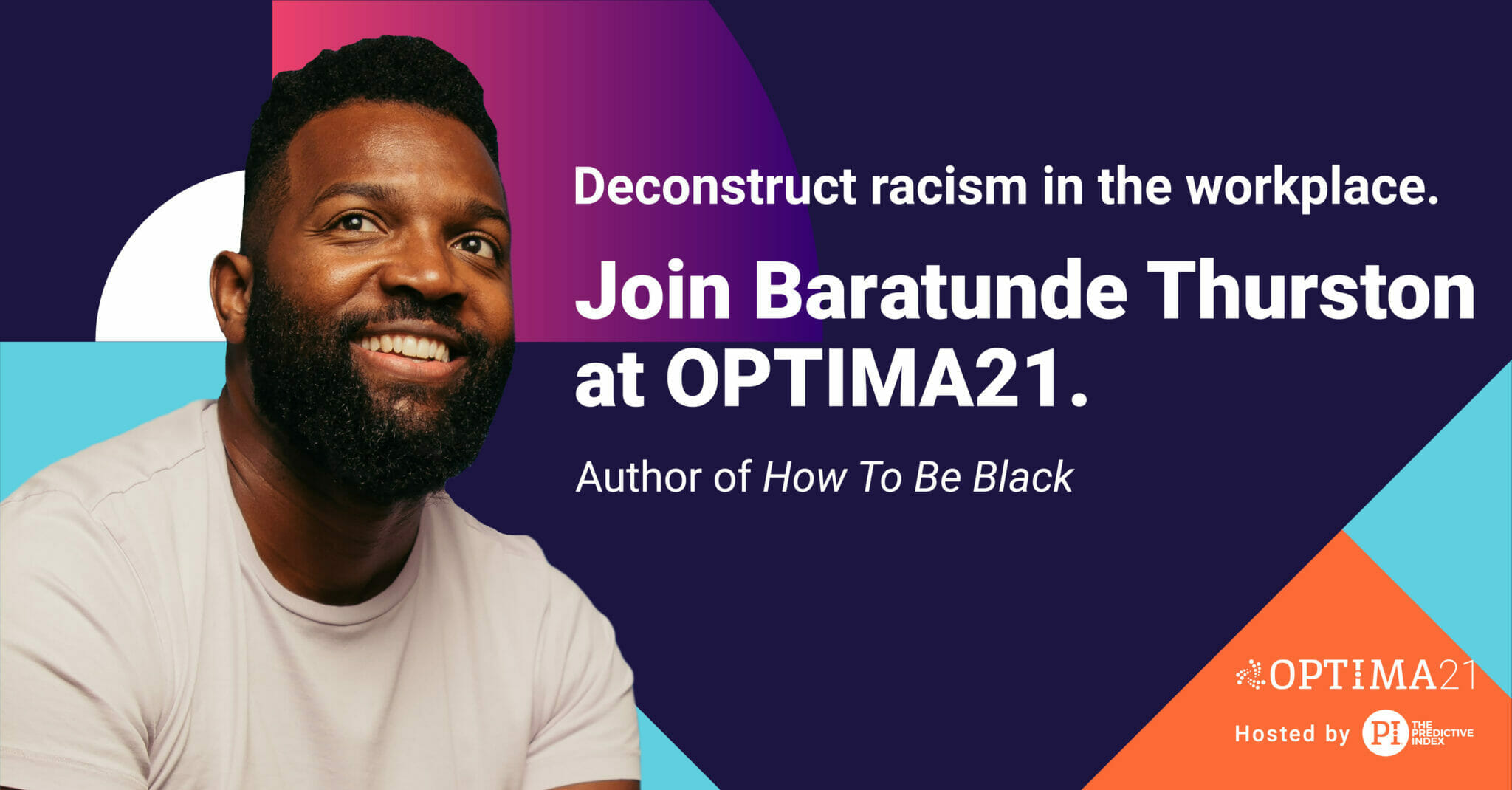 Deconstructing racism with wit and compassion
Last summer was just the beginning of a greater discussion around systemic racism and justice. Organizations have taken time to listen, learn, and reflect. Now, more are taking action and recommitting to a workplace that's fair and equal.
As a public figure in a rapidly changing America, Baratunde provides critical leadership on issues like race, culture, and identity. True to his comedic roots, he doesn't pull punches in his candor, especially on topics as important as these. But he imparts these truths with grace, effortlessly blending wit and compassion to empower both heart and mind.
Learn more about Baratunde in this short video:
For many leaders, creating sustainable change at work can be daunting. You understand discrimination's an issue, but where do you start? How do you show support for your team and peers? How can you, in the words of Baratunde himself, be a better citizen?
A good place to start is right here, with Baratunde on May 12. At OPTIMA, he'll dig into cultural trends that set leading companies apart from the pack. Come learn what steps you can take within your org to challenge bias, build cultural competency, and create a workplace that works for all.
Don't miss your chance to see Baratunde.
OPTIMA21 is nearly here, and if Baratunde's keynote is any indication, you won't want to miss it.
Emceed by "How I Built This" podcast host Guy Raz, the OPTIMA main stage features keynotes from Baratunde, as well as Peloton SVP Dara Treseder, The Five Dysfunctions of a Team author Patrick Lencioni, and The Predictive Index CEO Mike Zani.
OPTIMA21 also features four tracks, each of which is packed with breakout sessions featuring leaders in the talent optimization space. Take a closer look at each track by browsing the OPTIMA agenda.
Get a Premium ticket, which includes access to the main stage and all tracks, plus a complimentary copy of the upcoming book The Science of Dream Teams.
Or, get a Free ticket for access to the main stage only.
Join 10,000 companies solving the most complex people problems with PI.
Hire the right people, inspire their best work, design dream teams, and sustain engagement for the long haul.