Black History Month may have come and gone, but Black excellence lives on.
Last year, The Predictive Index took a huge step forward in its mission of Better Work, Better World by launching a series of Employee Resource Groups. These ERGs—led by employees under the company's Change@Work banner—are designed to elevate minority groups at PI and provide safe and inclusive spaces for their voices to flourish.
From Queer at PI and Women in Tech to our AAPI community, our ERGs are a celebration of the rich and diverse cultures that make our organization so great. More critically, they're calling attention to the barriers that marginalized groups continue to face in tech—and mobilizing leaders at all levels in the movement for workplace equity.
Our Black community is no exception. Since 2022, we've been meeting as a group to share our experiences and learn from one another. This February, we extended those learnings to the rest of PI as "treasures" to educate all of us about the diversity within the Black experience.
Our ERG is named "Cousins" (if you know, you know), and we're delighted to introduce ourselves as we further Black excellence—this year and always.
Note: The following Q&A has been edited lightly for clarity.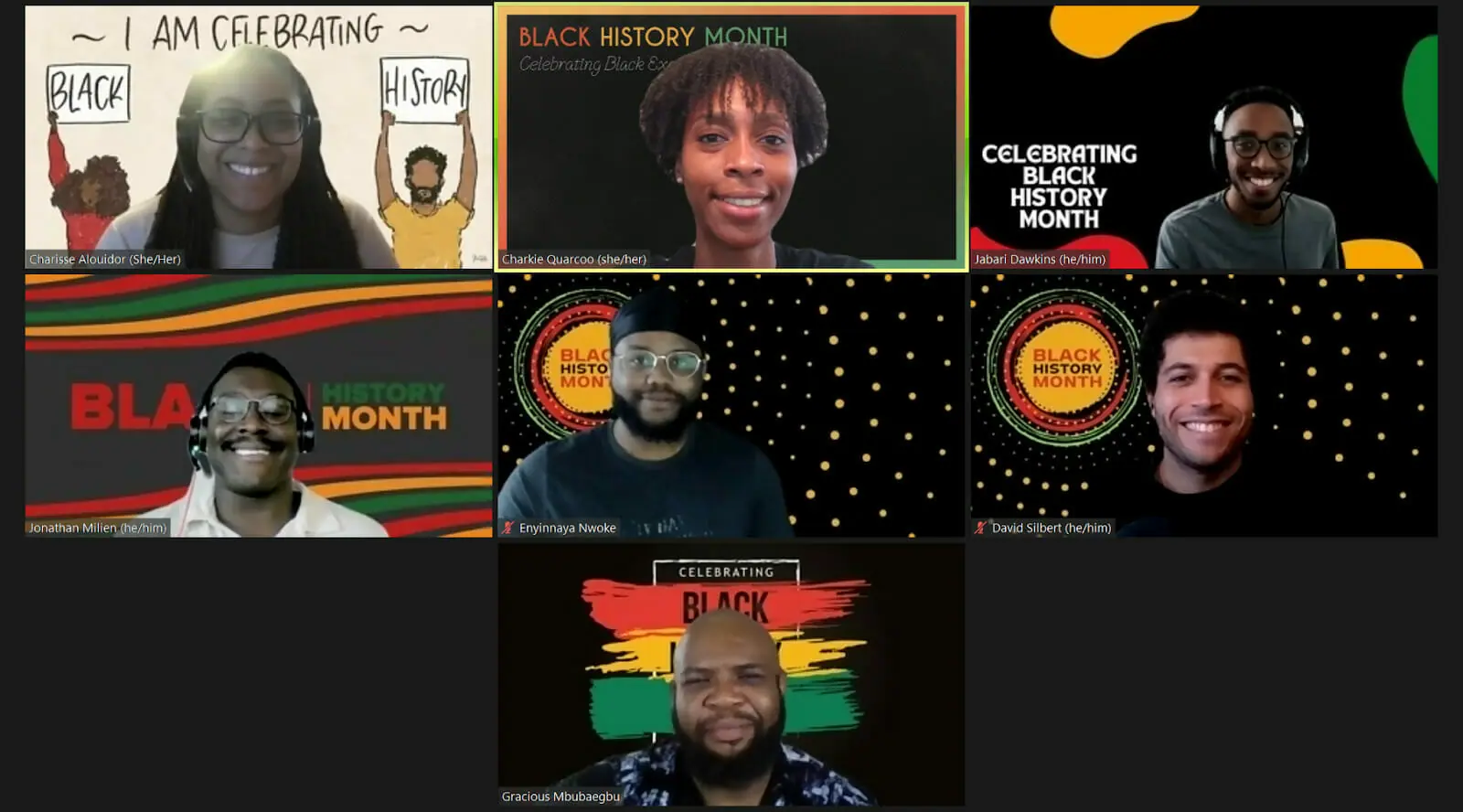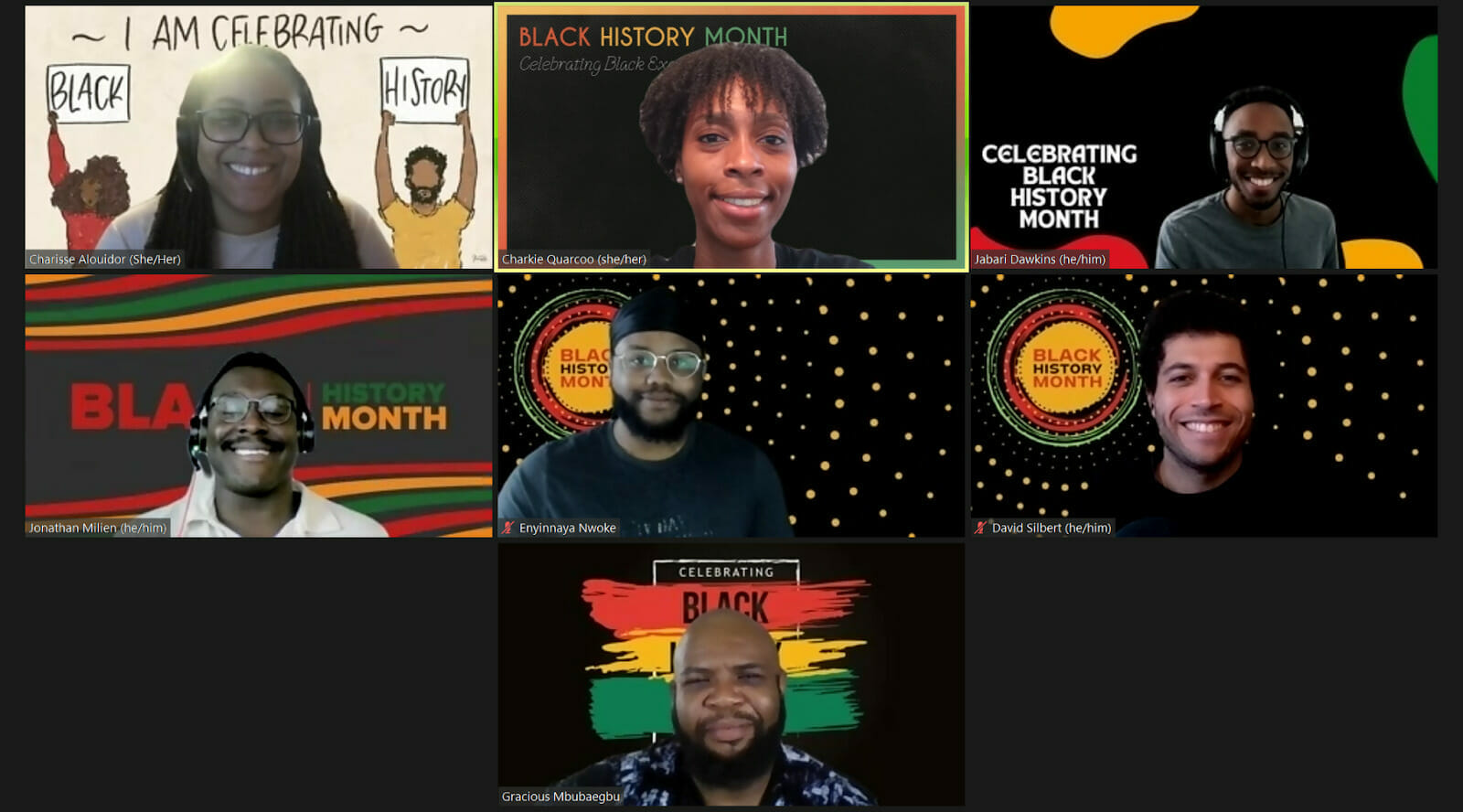 Q: As a member of the Black community, what are you most proud of?
Enyinnaya Nwoke (he/they), a Software Engineer:
"As a member of the Black community, what I am most proud of is our resilience.
I'm kind of a history nerd. I studied a bit of sociology in college, and when I look at the history of the Black community—not only in America but across the world and the diaspora—there's a lot of trauma and tragedy.
But despite that, every time I go into a Black space, it's full of joy and levity. It's a fierce resistance, but it's a joyful one—and that's just amazing."
Q: What's one thing that you want people to know about your culture?
Gracious Mbubaegbu (he/him), a User Operations Specialist:
"One thing I want people to know about my culture—the Igbo culture of Nigeria—is [likewise] our resilience.
The Igbos are known all over the world. They pretty much inhabit every country on the planet, but they always find a way to thrive. They always find a way to pick up and make something happen for themselves.
In Nigeria, during the civil war, the Igbos were decimated and destroyed. But now, if you go to Nigeria, they're thriving. They're building businesses; they're moving forward. It's just a resilient heart and a resilient spirit that they have. So that's one thing I love about my people."
Q: How will you embrace the 2023 theme of Black resistance?
Jabari Dawkins (he/him), a Software Engineer:
"I have three ongoing goals to embrace Black resistance this year and in the years following:
One, I'm going to contribute more to our ERG here at PI. Two, I'm going to help support Black-owned businesses in Charleston, South Carolina, and the surrounding areas by building websites and helping them modernize their brand. And three, I want to get more involved with local government, attending town halls and advocating for positive changes in our communities."
Q: If you could have dinner with any historical Black person (dead or alive), who would it be?
Jonathan Milien (he/him), Customer Success Associate and Cousins ERG Co-Lead:
"I would choose Bob Marley. His music was so impactful, and I'd love to have a conversation with him to see not only how he views the current political landscape, but also how he views the current landscape of music.
I think he'd really bestow a lot of wisdom upon me, and I'd love to talk about how he feels his music holds up today."
David Silbert (he/him), a Content Designer:
"I'd choose Nat King Cole. My grandmother on my mother's side was really big into crooner-style music. So, old pop: Frank Sinatra, Sammy Davis, Dean Martin… but Nat King Cole was easily her favorite.
I remember distinctly going over to visit my grandmother and my aunt, and they'd have him on the radio, or they'd be watching old PBS specials of him singing, and she'd always talk about how 'grand' he was. So, whenever I listen to Nat King Cole, I think about my grandmother and my family.
So, getting to talk to Nat King Cole and learn about what it was like to be a Black man in his era with the velvety voice that he had, just outclassing every other person at the time… I'd just love to hear what he has to say."
Q: Who's one of your favorite Black artists?
Charisse Alouidor (she/her), Customer Success Manager and Cousins ERG Co-Lead:
"So, my favorite Black artist… it's really hard to choose. These 'favorite' questions get deep, because I've gotta think about the time! The genre!
For right now, the Charisse of today… I'd probably say Ari Lennox. She's a sultry, soulful R&B type.
If you're a fan of Issa Rae, I feel like Ari is the Issa of R&B. She's got that awkward, relatable Black-girl-millennial-type vibe, and I relate to her strongly. She's got some hits! Shout out to Ari."
Q: What is your favorite cultural dish that brings you back to your childhood?
Enyinnaya Nwoke:
"For my favorite cultural dish… there are actually two of them.
Half of my family—my dad's side—is Igbo, and the other half is from the States. My dad would sometimes make fufu for us. It's a dish made from pounded yams, and it's delicious. It pairs with all kinds of different soups.
And my grandma would make the best sweet potato pie. So, yeah, just a lot of root vegetables in my family's cuisine."
Gracious Mbubaegbu:
"My favorite dish from my childhood is egusi soup with fufu, which is a staple dish for any Igbo household.
My mom used to make it when I was a kid, and it was the one thing that I knew I was gonna love. It is an acquired taste, I'll say that for most people—but it's so good. It speaks to my soul; it's everything.
In Igbo culture, the soup that you eat corresponds to where you're from in the Igbo community. Some people say egusi, some people say okra, some people say edikang ikong, which is another kind of soup.
All of these soups can tell you exactly where a person comes from in the Igbo community, so it really speaks to who you are depending on the soup that you like."
Q: Who is one of your Black idols/role models?
Jabari Dawkins:
"One of my role models is Marques Brownlee, aka MKBHD: a really popular YouTuber. I really admire his dedication and his drive. He's been one of the most influential content creators I've ever seen, and the quality of his work is unparalleled in my opinion.
On top of that, he's an unapologetic tech enthusiast, and I identify with that 100 percent."
David Silbert:
"One of my Black role models is no longer with us. I'm going with Sidney Poitier. (Another oldie!)
Again, this is on my mom's side. Both my mom and my grandmother were big Sidney Poitier fans. My mom actually met him and said he was the nicest gentleman—and that's exactly what I'd expect of someone who's such a beacon of professionalism and humbleness.
He starred in To Sir With Love. He starred in Guess Who's Coming to Dinner… The latter in particular is such a great film, and it means something special to me, being bi-racial with a Black mother and white father. It just hits so close to home.
Sidney Poitier… what a great actor."
Q: What is your favorite Black movie?
Charisse Alouidor:
"I've got so many favorites! It's hard to narrow it down.
One of my favorite movies of all time is Bad Boys, the original. I love the chemistry between Martin Lawrence and Will Smith. They have such great comedic timing in that. I know every single word—yes, test me!
But, if we go with drama, I'd probably go with Love & Basketball or Waiting to Exhale… There's just so many Black classics, it's hard to choose one. So, sorry not sorry—I don't have just one, but those are a few of my faves."
Q: What do you like about being part of Cousins at PI?
Jonathan Milien:
"My favorite thing about being part of Cousins is having that shared space among my fellow Black PIoneers. It's already a unique experience being Black in America, but it's even more unique to be Black in the world of tech.
So, one, my goal is to have more Black people in the world of tech, and hopefully at PI. And two, I really enjoy having that shared space and community where we're able to talk and learn among each other."
Charkie Quarcoo (she/her), Program Manager of Change@Work:
"It's great to have a community of individuals that understand and relate to many of my lived experiences as they've faced similar or the same challenges in their life.
Having people to reminisce about Black culture, whether it's TV shows, movies, or music, really makes me feel at home. It brings me back to my childhood, reminiscing about the 'good old days' when seemingly my life was easier.
I'm also really grateful for the space for storytelling that's brought to light a lot of the differences within this community of Black and brown PIoneers. I've learned so much about my colleagues—and elements of the Black culture and history—that I never knew.
I'm really appreciative of that learning as a lifelong learner."
Help us celebrate Black culture—now and forever.
We hope you enjoyed learning more about our ERG members. For more on our lived experiences—and Black history and culture as a whole—we encourage you to visit our Black History Month treasure trove.