What do businesses of all shapes, sizes, and ambitions need to succeed today?
There's a lot on that list, but team cohesion and alignment are right near the top. To meet that demand, The Predictive Index unveils Team Discovery, a first-of-its-kind, scientifically valid tool designed to supercharge your teams with self awareness and strategic clarity.
Available within PI Design, Team Discovery examines your teams alongside their strategic priorities. No other tool on the market does it like this.
Help your teams navigate the post-COVID environment by using this tool to get the job done now.
Check out our Dream Teams Summit page to see PI Design in action.
Designed to propel teams forward
PI Design uses behavioral science to ensure teams work well together. It's an all-too-common challenge in the era of COVID-19 and full-time remote work. Team Discovery enhances awareness at the individual, team, and organizational levels. You know who you have, and you know where they should be.
"It's hard to get it right, to build the teams you need to get the job done," said Daniel Muzquiz, President of The Predictive Index. "We're at a unique point where we've built up so much domain knowledge on individuals and relationships that we can now elevate it to the team level. We're excited to introduce a scientifically proven way to build dream teams."
A recent Deloitte report examined the growing trend of marrying artificial intelligence with employee data. The idea is that, in doing so, you foster a more efficient workplace. But before you can incorporate any sort of AI, you need those human employees working together cohesively. Team Discovery is all about making that cohesion happen.
Team Type insights help realign and fortify teams, and provide the strategic clarity we all need right now. This is the only tool on the market that shows users a team's behavioral style and strategic goals side-by-side. You'll know where the team will succeed, and where it may need to stretch.
You need the right tools, and you need guidance to use the tools the right way.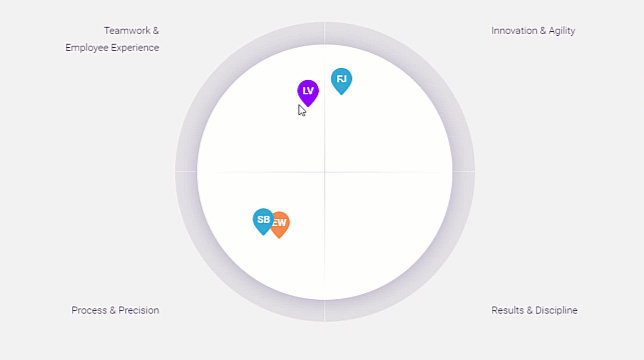 Complementary workshops to maximize your software investment
To make the most of Team Discovery, PI Design subscribers can also access the High Performance Series led by PI Certified Partners. These are talent optimization experts whose mission is to help clients align their talent and business strategies. Beginning with a 1:1 session, these workshops help you see your teams' full potential by illuminating strengths, gaps, and areas of misalignment.
"It would be impossible to bring PI Design to life without our partners," said Matt Poepsel, PhD, VP of Partner Growth. "Their guidance in workshop sessions is invaluable as we bring these tools to market."
As a user, you can visualize team goals, strategy, and behavioral data—and how they serve as predictors of success—all in one place. 
"I found [Team Discovery] to be really powerful, more so than just doing an individual behavioral read out," said Mara Malfatti-Rodriguez, Director of Talent Development at JAMS. "I still love when you see somebody say, 'Wow, how did you know that about me?' but now I get to see it on a team scale. [PI Design] is about team development. This is about leaders being more in touch with their teams' abilities—and also their own."
For more information, watch the product tour and see how PI Design helps dream teams get it done.