Employee behaviors are the natural ways in which coworkers communicate and collaborate. While it's helpful to understand behavior in any context, workplace behavior is especially crucial. If you work a traditional nine-to-five, and sleep another eight hours, that means you spend 50% of your active day working. The more you can glean about yourself and your peers on the job, the better.
Behavior is a complex topic, but it's arguably never been more accessible. As technology develops, the data behind employee behaviors is only improving. It's not just scientists taking advantage of this knowledge; as a leader, you too can demystify employee behaviors.
How, exactly? That's what this blog is all about.
Here's what we'll cover:
The importance of understanding employee behavior
The types of employee behaviors
How to use data to understand employee behaviors
Recognizing positive employee behaviors
Improving employee motivation by understanding behavior data
Let's get right to it.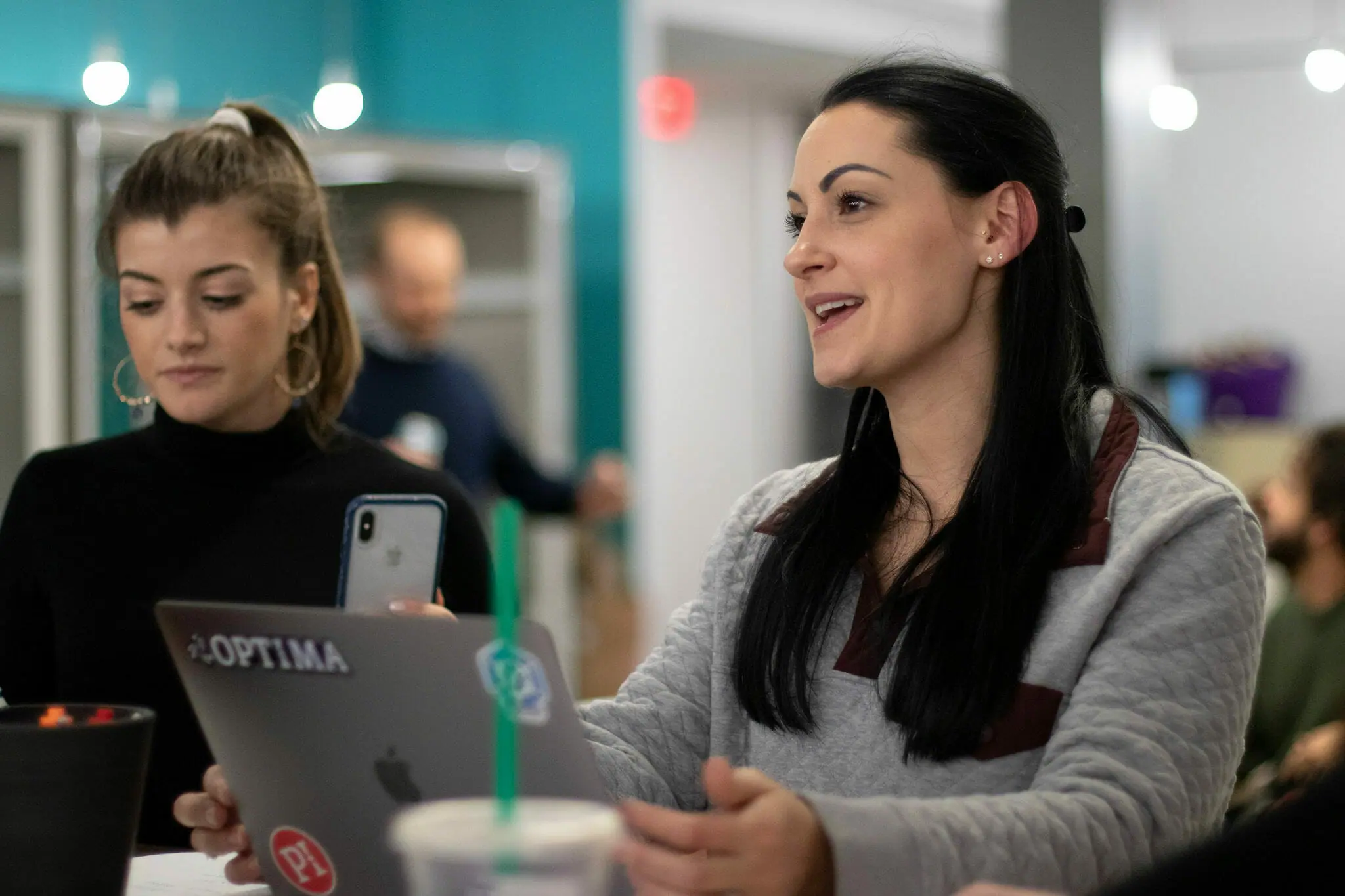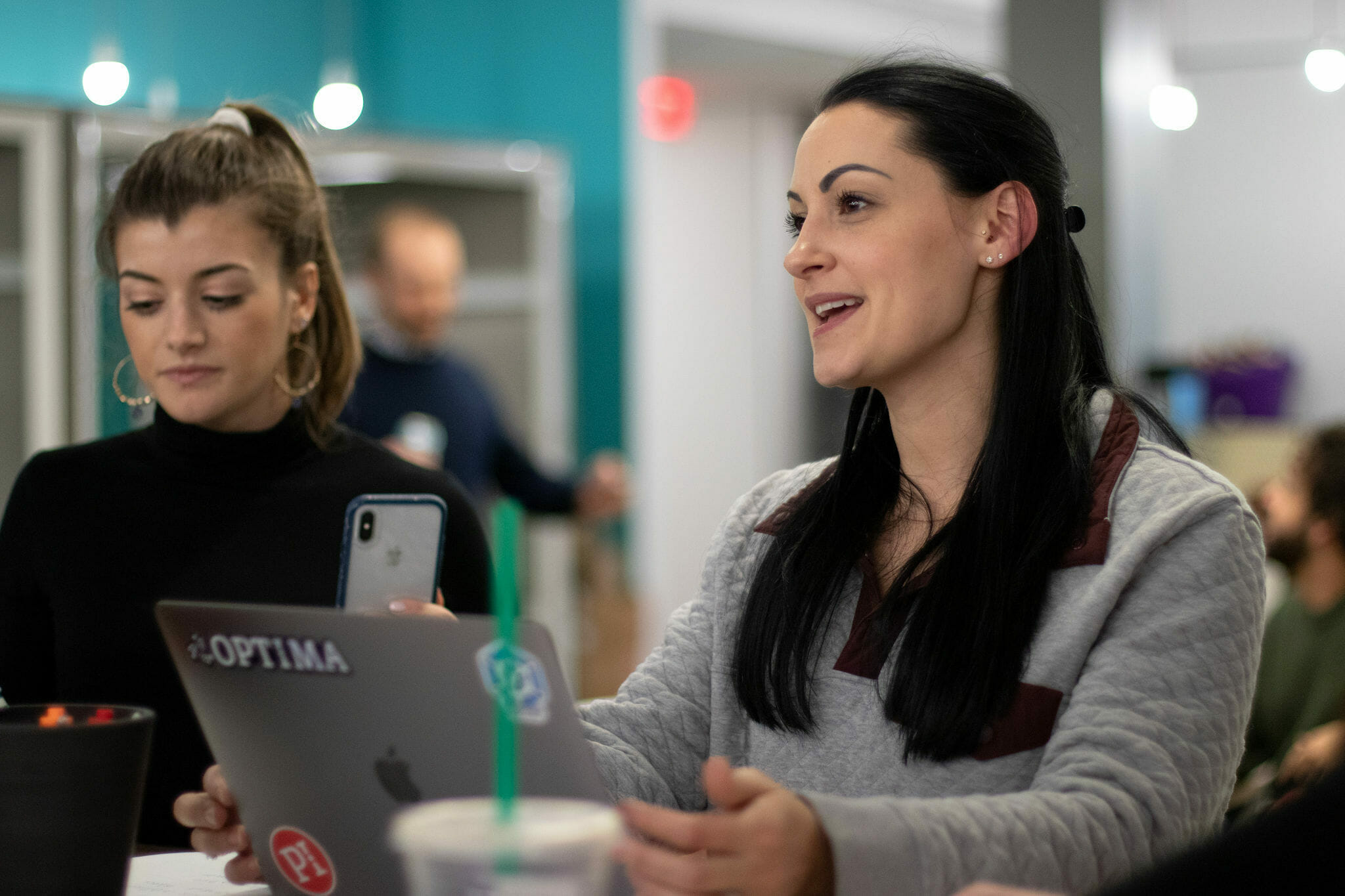 The importance of understanding employee behavior
When people think of behavior, they often do so through the binary lens of "good" versus "bad." If a coworker cuts you off in the kitchen to grab the last can of seltzer, you may think, Hey! That's not what a good employee would do.
In reality, employee behavior is far more nuanced than a morality scale or integrity test. It's a reflection of the unique ways you and your coworkers contribute to the team and organization.
Each person has natural behavioral drives, which influence everything from decision-making to communication. When working as a team, opinions will differ, and conflict may arise. But that doesn't mean the team is misbehaving or failing to function. Rather, team members are following their innate drives—and working to satisfy their individual needs.
By understanding the why behind these different behaviors, you'll gain greater visibility into how team members complement or conflict with one another. That way, you can take steps to cater to individual needs, build harmony as a group, and—ultimately—drive positive team outcomes.
The types of employee behaviors
At The Predictive Index, our scientists measure workplace behavior according to four key drives:
Think of each of these four drives as its own spectrum, with a high end, a low end, and a midpoint.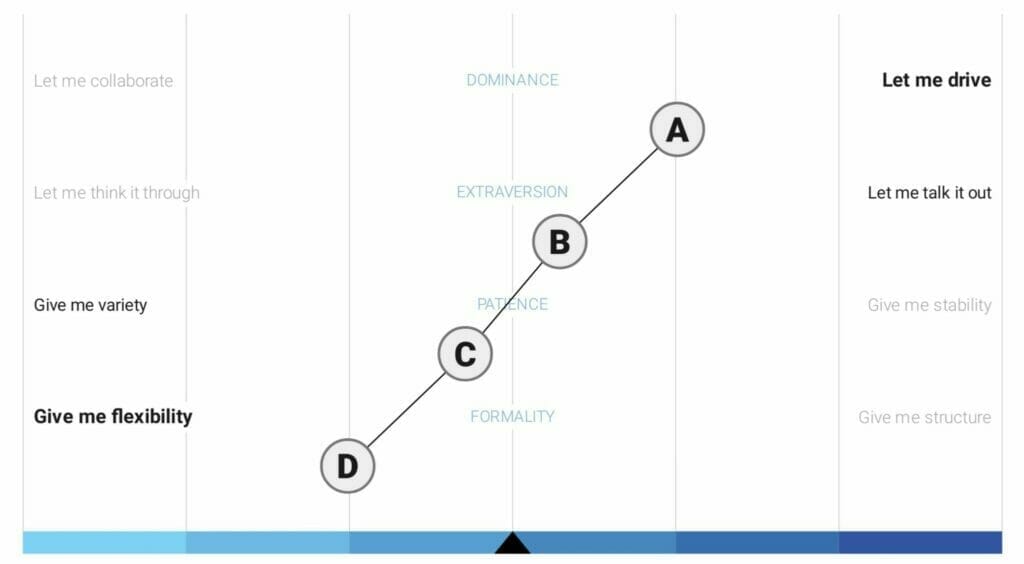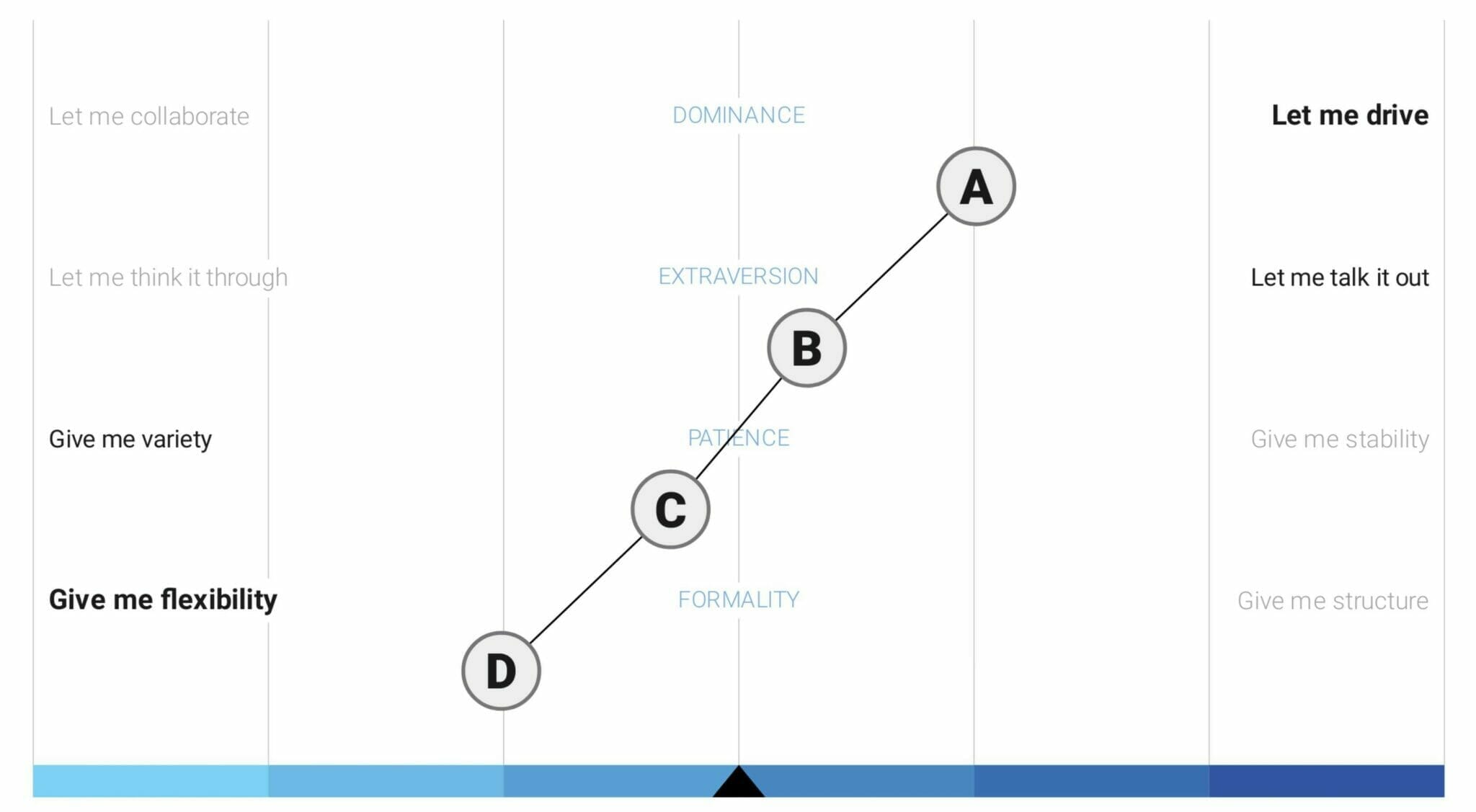 Take the above behavioral pattern. An employee with this pattern has high dominance (high A), high extraversion (high B), low patience (low C), and low formality (low D). True to these drives, this person might be perceived as assertive and outgoing, with a need for variety and flexibility.
As mentioned, these spectrums don't serve to measure integrity. High does not equate to "good," just as low does not mean "bad." But by understanding where an employee falls for each of these drives, you can get a clearer picture of that person's overall behavioral makeup—and what might motivate them at work.
How to use data to understand employee behaviors
Every person in your organization—from entry-level contributor to CEO—has some mix of these four behavioral drives. By understanding how these behaviors manifest day to day, you can take steps to accommodate your people's needs, and improve your team as a whole.
But what does this look like? To apply behavioral data to your team, you must first have a reliable way of collecting that data. Intuition has a time and place, but it's impossible to get a clear picture of a person's drives and needs based solely on instinct or "gut feel."
Instead, you can turn to tools like the PI Behavioral Assessment™, which is scientifically validated for workplace use. PI packs 60-plus years of behavioral science into a two-question, six-minute assessment. By inviting team members to take the PI Behavioral Assessment, you can get powerful insights in the time it takes to make a pot of coffee.
Once you have that data in hand, you're ready to act. You can apply behavioral data to a variety of team initiatives, including:
Identifying behavioral strengths and gaps
Recruiting for hard-to-fill job roles
Improving communication skills
Coaching employees for leadership roles
Ensuring job fit and job satisfaction
The choice of how and when to apply behavioral data comes down to what's most critical to the success of your team. If you're looking to backfill an open role, you can use pre-employment testing to find candidates behaviorally suited for your intended job target. If you're leading an interview, you can custom-tailor interview questions that probe for behavioral fit. Or, if you're onboarding a new hire, you can use data to coach them and help set them up for on-the-job success.
The options stretch far beyond these examples. Where there's a need, there's an application.
Recognizing positive employee behaviors
Behavioral data is both versatile and powerful—so it's important to use that data smartly.
Regardless of how you plan to apply this data, it helps to know what you're looking for. If you want to improve teamwork, take time to define what makes a successful team. What behavioral traits will help you achieve this goal? Where do your current strengths lie, and what gaps can you address?
Say you lead a sales team where all or most employees are Mavericks. This PI Reference Profile tends to exhibit high dominance, high extraversion, low patience, and low formality (just like the earlier chart). Based on these factors, Mavericks can be considered visionary, daring, and goal-oriented.
Given the team's behavioral data, this group may excel at closing deals, brushing off rejection, and driving toward goals. However, the team might fall short with follow-through. If you're trying to update your CRM system or create a new process, these individuals may need additional training to absorb those details, or a balancing personality to help hold them accountable.
You don't build these behavioral muscles overnight. It takes constant awareness—on both the individual and team level—to create a work environment where people can bring their best selves to the job each day.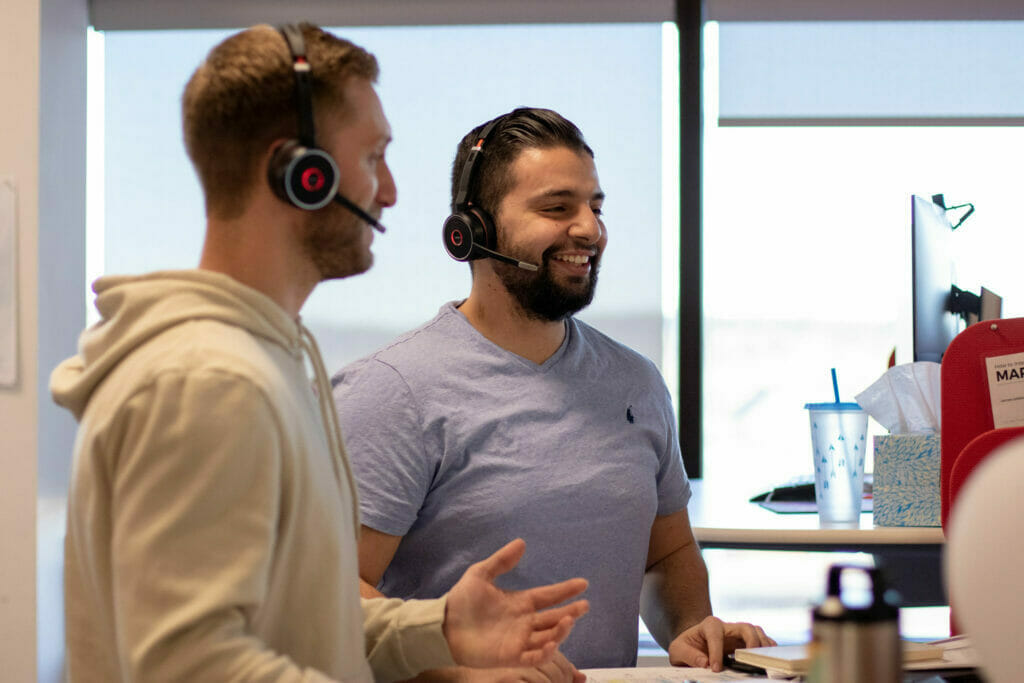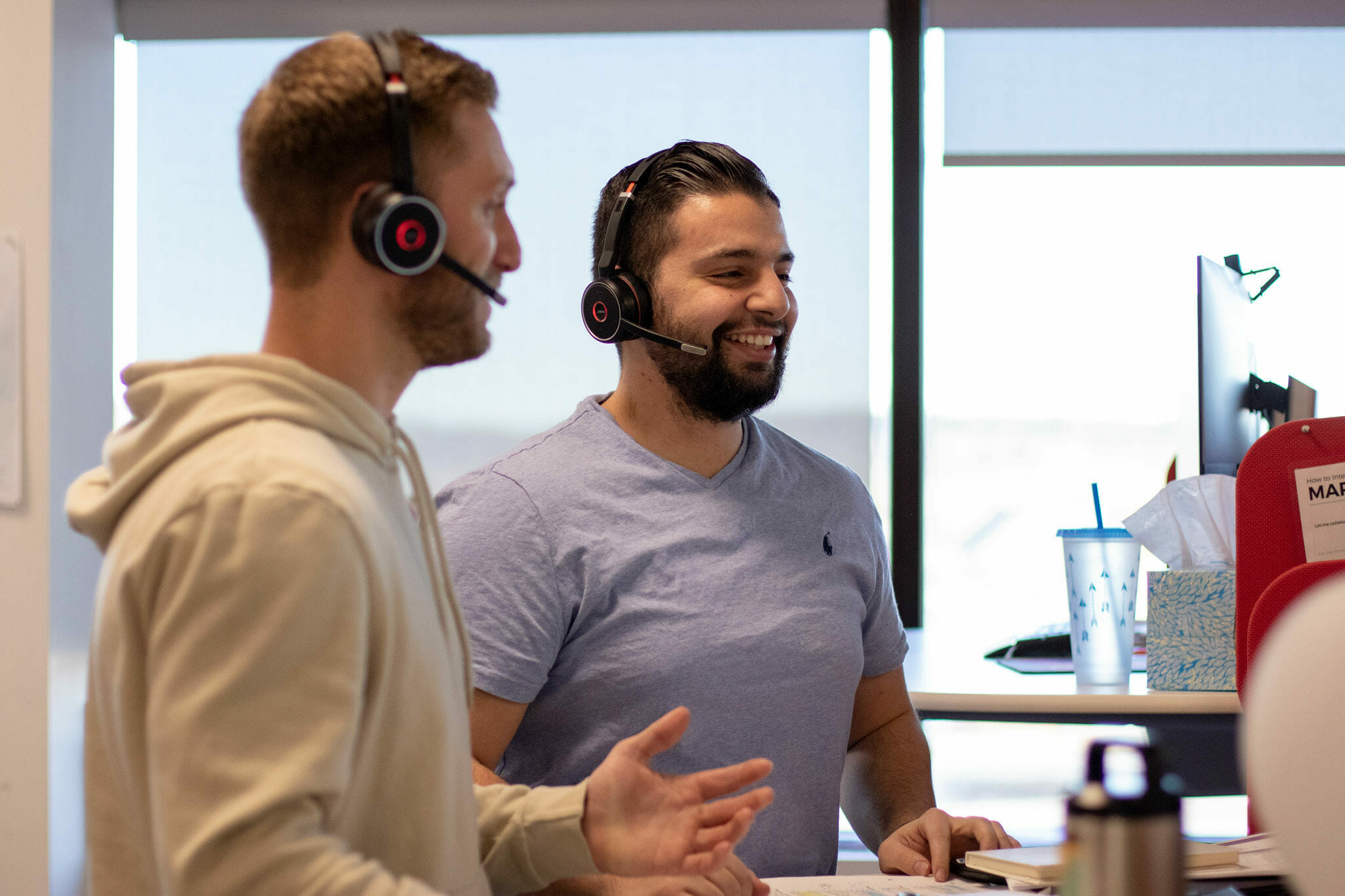 Improving employee motivation by understanding behavior data
The modern workplace only continues to evolve—and it's not slowing down anytime soon.
The COVID-19 pandemic has caused businesses to re-evaluate the future of employee engagement. Hybrid work has started to take off, as leaders look to provide their teams with ample avenues to well-being and productivity. Despite these efforts, employees are still finding their footing as they strive to strike a healthy work-life balance.
Burnout remains one of the biggest obstacles to success. According to The 2021 People Management Report, 40% of employees say they feel burned out at work, and 36% say their manager seems burned out. Even worse, 58% of those with burned-out managers are thinking of quitting in the next 12 months.
As a leader, fighting this ongoing "Great Resignation" starts with understanding how to motivate and engage your people. Using tools like PI Inspire, you can dig deep into an employee's behavioral drives and needs. Learn how their personality impacts how they like to work, communicate, and be managed. That way, you can foster a company culture that caters to these needs—and inspires high-performance.
Even the best employees can hit an engagement roadblock. By meeting these people where they're at—especially in difficult times—you can curb emotional absenteeism and instill confidence in your leadership and organization. It all starts with a positive attitude on your part—and the right data.
The Great Resignation has taken up enough airtime. It's time to turn it into a Great Retention.