Katherine Boyarsky works for Owl Labs, the maker of Meeting Owl, a 360-degree smart video conferencing camera.
The way that companies approach the employee work environment and structure is changing. More than half of global companies allow remote work, and for a good reason: Employees are 24 percent happier when they work remotely at least once a month when compared to their desk-bound colleagues. Workplace flexibility benefits employers too. Companies that allow remote work see 25 percent less turnover and faster hiring times than those that don't.
Executives are beginning to join the remote workforce as well. With the advent of new technology, execs are able to take part in important meetings, stay in touch with their departments, and manage their teams on-the-go. Yet several high-profile executives over the past few years have struggled with remote work and reverted to requiring employees to work on-site. Notably, Yahoo's Marissa Mayer and Reddit's Yishan Wong both turned heads by rescinding their employees' remote work privileges.
With millennials making up the largest percentage of the workforce and 68 percent of global employees working remotely at least once a month, executives need to cater to current remote work trends or risk losing talent.
Executives are beginning to work remotely.
Globally, executives are one of the slowest groups to take advantage of remote work. Executives tend to work in-office due to pressure to have the C-suite visible at headquarters. But the trend is beginning to change. And when a company's CEO makes the switch to a more flexible schedule, it enables other executives, managers, and leaders to do the same.
Dave Dupont, CEO of TeamSnap, made the switch to working remotely and encouraged his team to do the same. He had the idea that allowing employees to work remotely would help his company retain talented developers when the product began to gather attention. By joining the remote workforce himself, opening the talent pool to those outside of headquarters in Boulder, CO, and utilizing advances in video conferencing technology, the company saw growth. In fact, TeamSnap tripled its headcount in three years.
While some execs may be doubtful of the new age of flexible work, data has shown that working remotely doesn't have a negative effect on employees' investment in their work. In fact, the number one reason employees choose to work remotely is increased productivity and focus.
Executives embrace technology to build efficiency and engagement.
Executives spend an inordinate amount of time in meetings. Since executives' time is valuable, they need the technology to have effective meetings.
Owl Labs found that C-level executives are concerned with the engagement level at their last meeting. When remote employees are dialed in and can't see the meeting room, it's easy to become disengaged and distracted. This is why finding the right technology is key.
Technology that can benefit your hybrid team includes:
Skype for Business, Zoom, Webex, or Google Hangouts for video conferencing software

Meeting Owl for video conferencing hardware

Skype for Business, Slack, or Google Hangouts Chat for team messaging and communication

Microsoft Surface or iPad for on-the-go work

Google Calendar to keep the team up-to-date on schedules
Since 93 percent of U.S.-based employees agree that video conferencing improves the connectedness of remote employees, it's essential to provide options for your team.
Executives promote company culture.
Company culture comes from the top down. And culture is a big consideration for many executives. When considering remote or hybrid teams, executives and managers cited that their biggest challenge is company culture.
Keith Valory is the CEO of Plex, a fully-remote company. Valory found that relationships between executives and employees at Plex were stronger than he'd experienced in the past while working at more traditional companies. "People tend to share a lot more over Slack," Valory said." And a lot of what they're sharing is personal.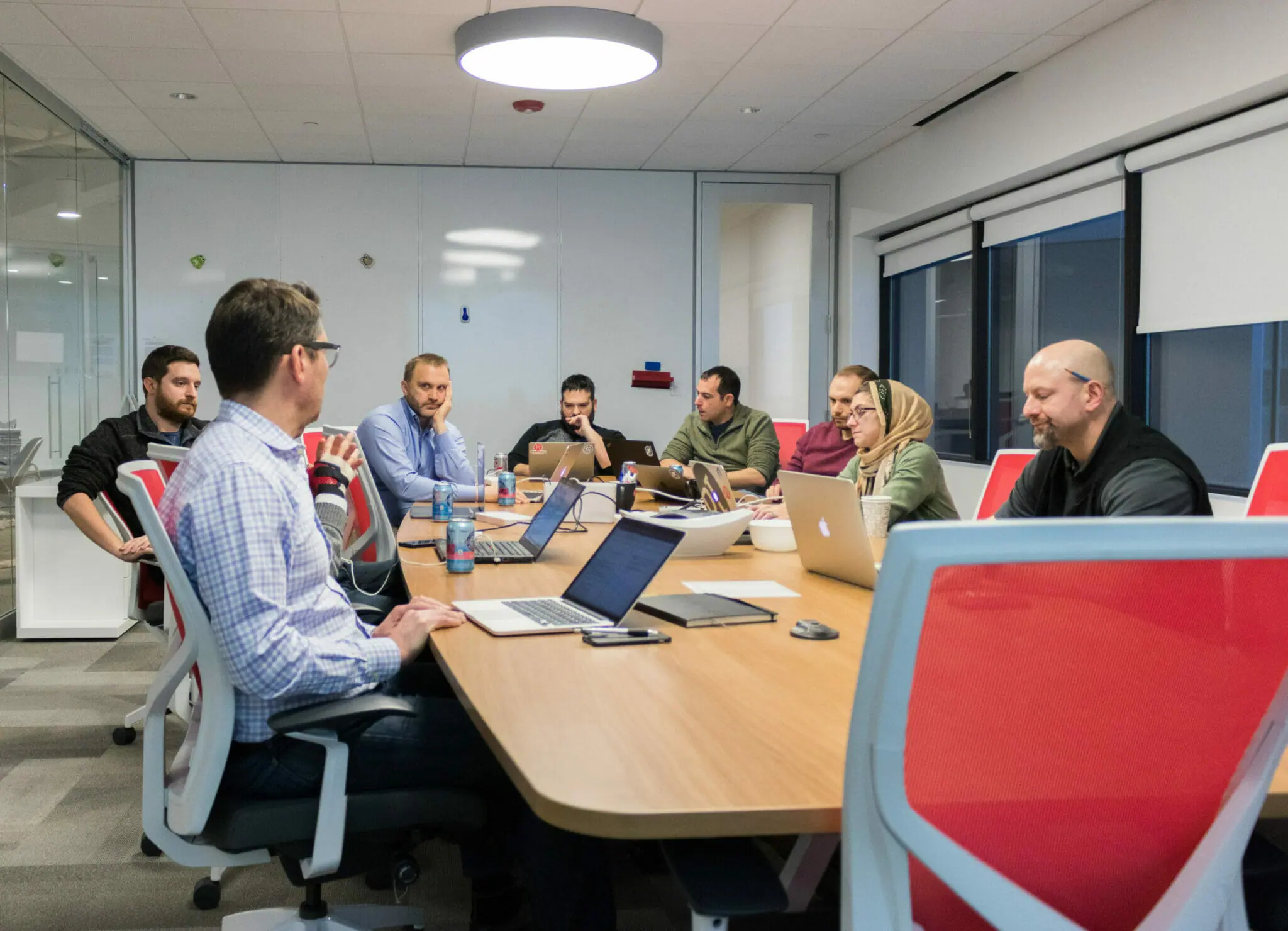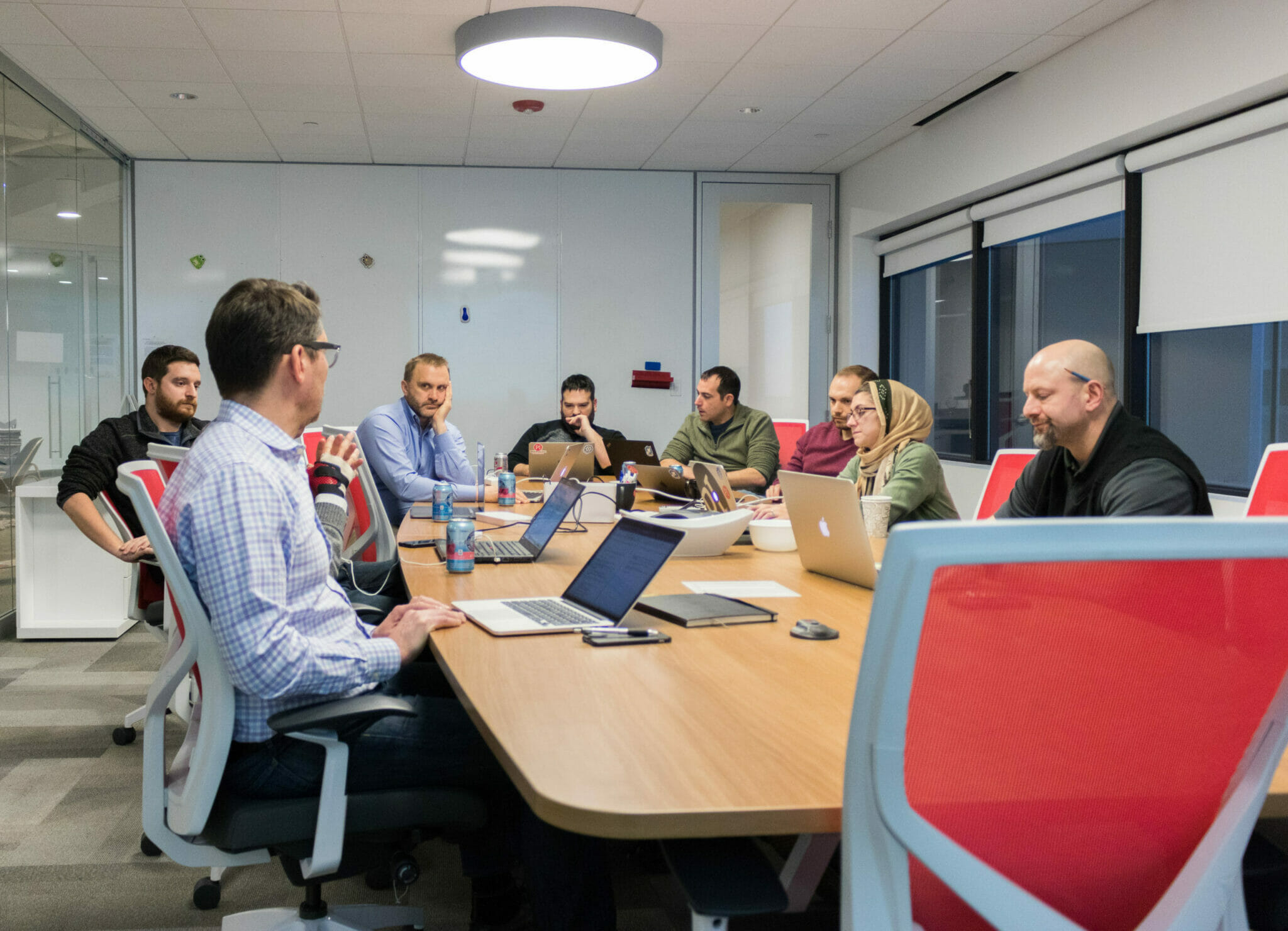 Executives can promote team culture on hybrid teams by implementing strategies like weekly video chats with the team, video conferencing meetings rather than audio-only, and maintaining a daily calendar showing where and when employees are working to keep everyone in the loop.
Research has shown that video conferencing performs 30 percent better than audio-only when it comes to communication. Seeing the nuances of a team member's facial expressions and connecting face-to-face (virtually) by using a product like the Meeting Owl can improve relationships and help build connections within your organization.
How to support a hybrid team
Hybrid teams need different strategies when it comes to management, technology, and team structure. Remote workers with on-site managers have 25 percent fewer career growth conversations than average, so managers need to adapt to the needs of remote employees.
VP of Marketing at Owl Labs, Rebecca Corliss, learned how to manage a hybrid team when she began working for a company that supported flexible work policies. While there was an adjustment, she eventually learned that trusting employees and allowing autonomy actually contributed to improved happiness and job satisfaction on her team.
Important factors to consider if you're implementing a hybrid team structure:
Enable employees with the right technology, like the tools mentioned above

Try to meet in person at least once a quarter

Give employees a choice of working from home or working from the office

Lead by example—many employees won't choose to work remotely if you're not

Set ground rules for communication when working from home
When asked what they think the biggest blocker to innovation in the workplace is, more than half of the international executives at the Global Leadership Summit stated: "career structures that fail to encourage innovators." Companies that want to stay ahead of the pack and adapt to the times have to remove boundaries and allow for change.