Creating a personal development plan can help you grow at work and beyond.
A personal development plan can help you gain control of your life. Whether you have big goals (publish a best seller) or small ones (read one book a month), the best way to hold yourself accountable is to write your goals down, set deadlines, and revisit the document often.
This post contains information and resources to help you create a personal development plan:
An example
A template
4 best practices
To start, I'd like to share my own personal development plan as an example.
This is my personal development plan.
Before I explain how to create a personal development plan, I'm going to let myself be vulnerable. I'm going to share my own real-life personal development plan. Here's why:
Leaders should be transparent

: As a manager, how can I expect my employees to open up and be honest with me if I'm too afraid to open up and be honest with them?

Personal growth should be celebrated

: Let's shed the stigma attached to the term "self-improvement." Whether you're trying to learn a fifth language or quit smoking cigarettes, setting goals and working to reach them is admirable.

Writing a personal development plan can be overwhelming

: Maybe you went through a

brainstorming exercise

and came out with a mountain of goals. It can be hard to know which goals to prioritize—and how to format the document. Examples help.
Who should create a personal development plan? Everyone in the company, from the CEO down to the individual contributors. No matter who you are, you can always develop skills and knowledge; you can always become a better version of yourself.
For years, I struggled to find a personal development format I liked. Then a co-worker shared hers with me, and I've been using her template ever since. I hope you'll like it as much as I do.
Without further ado, here's my personal development plan: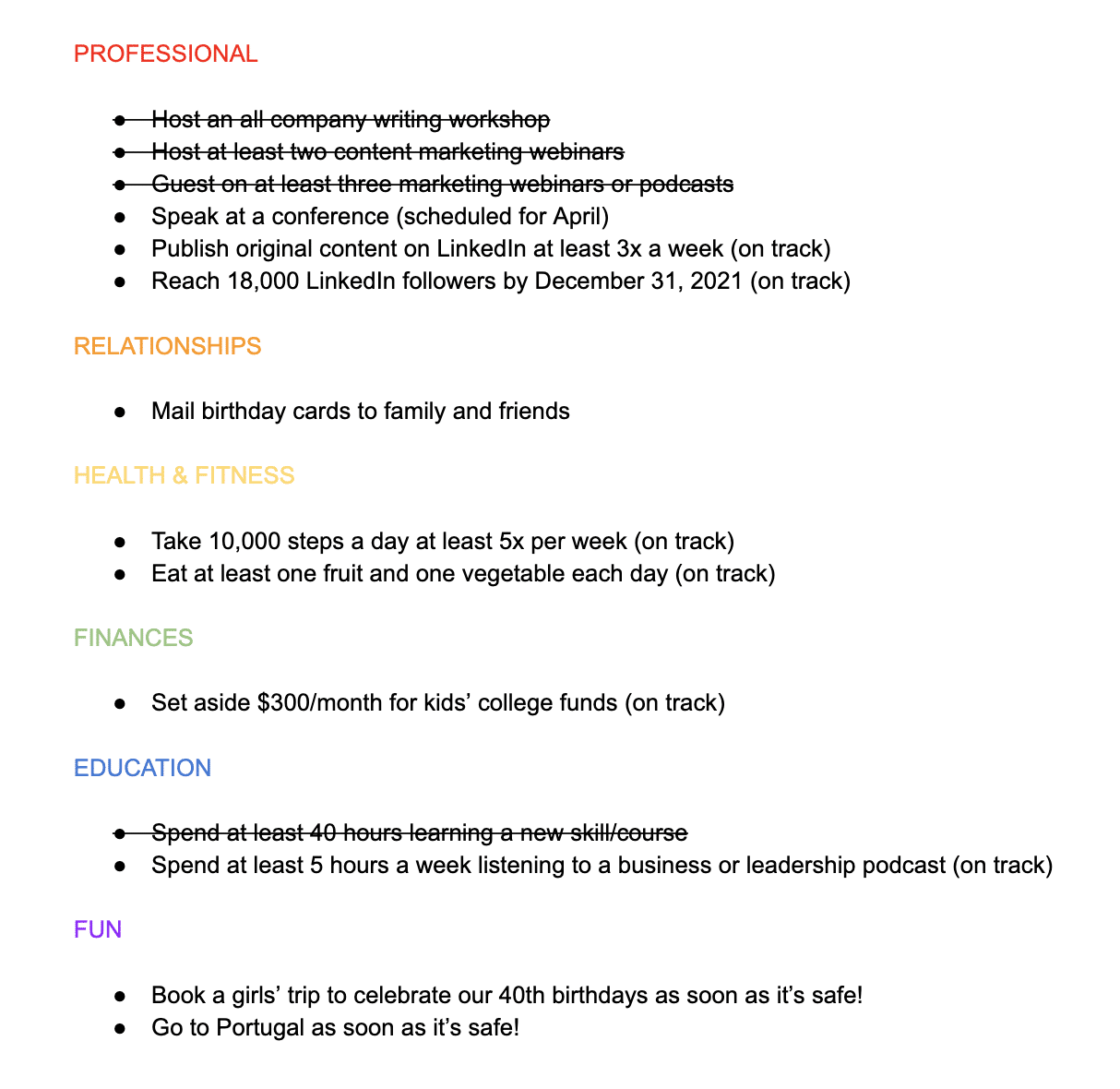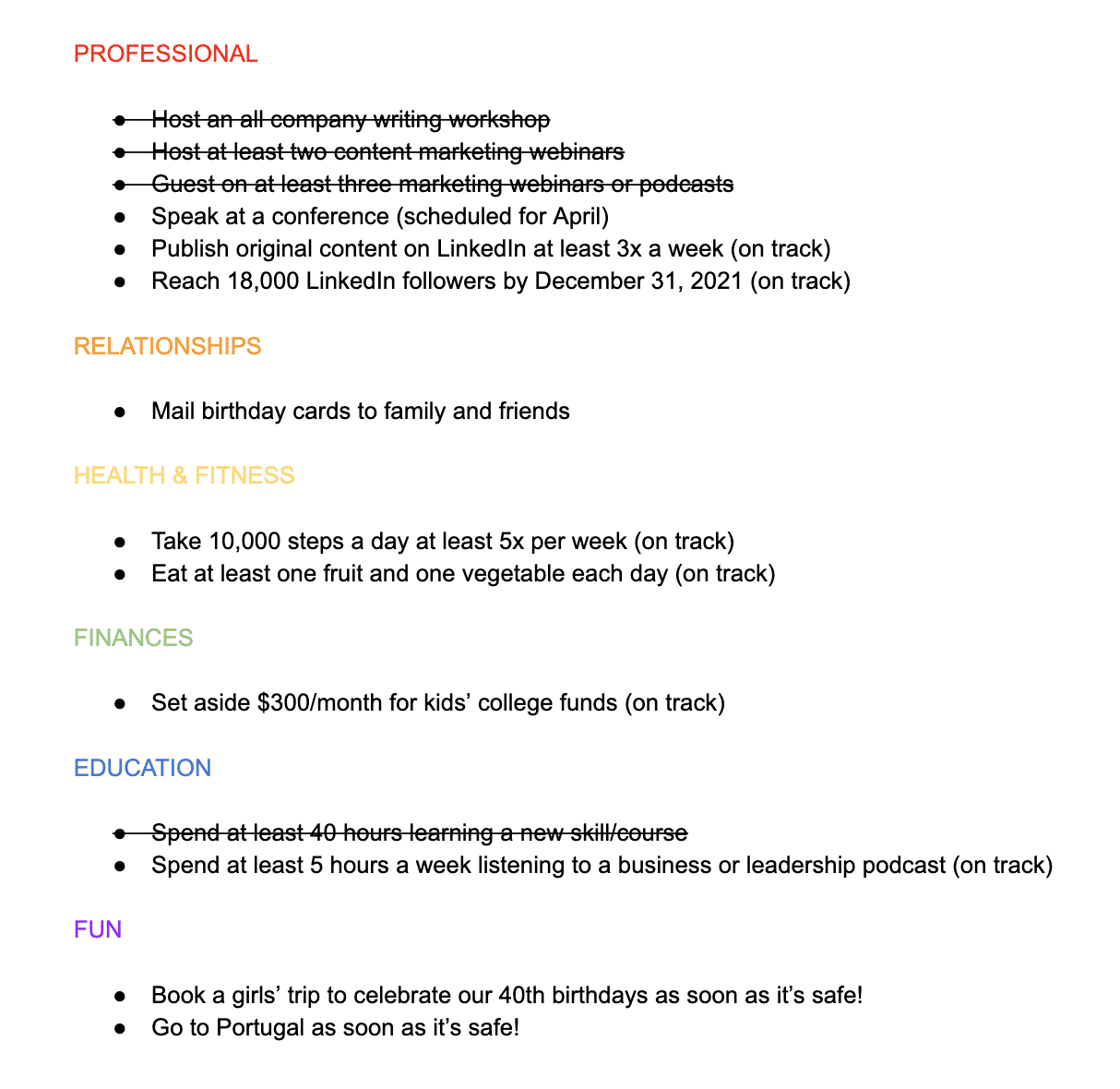 I love this format because of its simplicity. As an added bonus, the fun rainbow colors make me smile every time I look at it. And that positive feeling fuels my growth mindset—it pushes me to stretch beyond my comfort level to become better.
How to create a personal development plan
Here are four best practices for creating a personal development plan—and ensuring its efficacy:
1. Think categorically.
This personal development plan template works because it takes the guesswork out of goal setting. It pushes you to think categorically about which short-term and long-term goals you'd like to focus on. Many employees think their boss wants them to prioritize professional growth, but that's just one piece of the personal growth puzzle.
This template spotlights six personal development categories that span Maslow's Hierarchy of Needs. You can modify these to fit your own unique needs. For example, you might add spirituality, volunteering, or mental health.
It can be helpful to run through a brainstorming session using a comprehensive personal development template. Then, with lots of great ideas in front of you, use the simpler template to organize a few goals you want to prioritize.
Join 10,000 companies solving the most complex people problems with PI.
Hire the right people, inspire their best work, design dream teams, and sustain engagement for the long haul.
2. Create S.M.A.R.T. goals.
If you think S.M.A.R.T., you'll be better positioned to achieve your goals. The acronym stands for simple, measurable, attainable, relevant, and time-bound.
Instead of "Make more money," shift the focus to how you'll get there—with concrete deadlines:
Earn my x certification (by August)

Lead a cross-functional project (by December)

Mentor a junior employee (1x per month through the end of the year)
Setting small, attainable goals—and achieving them—actually helps build confidence.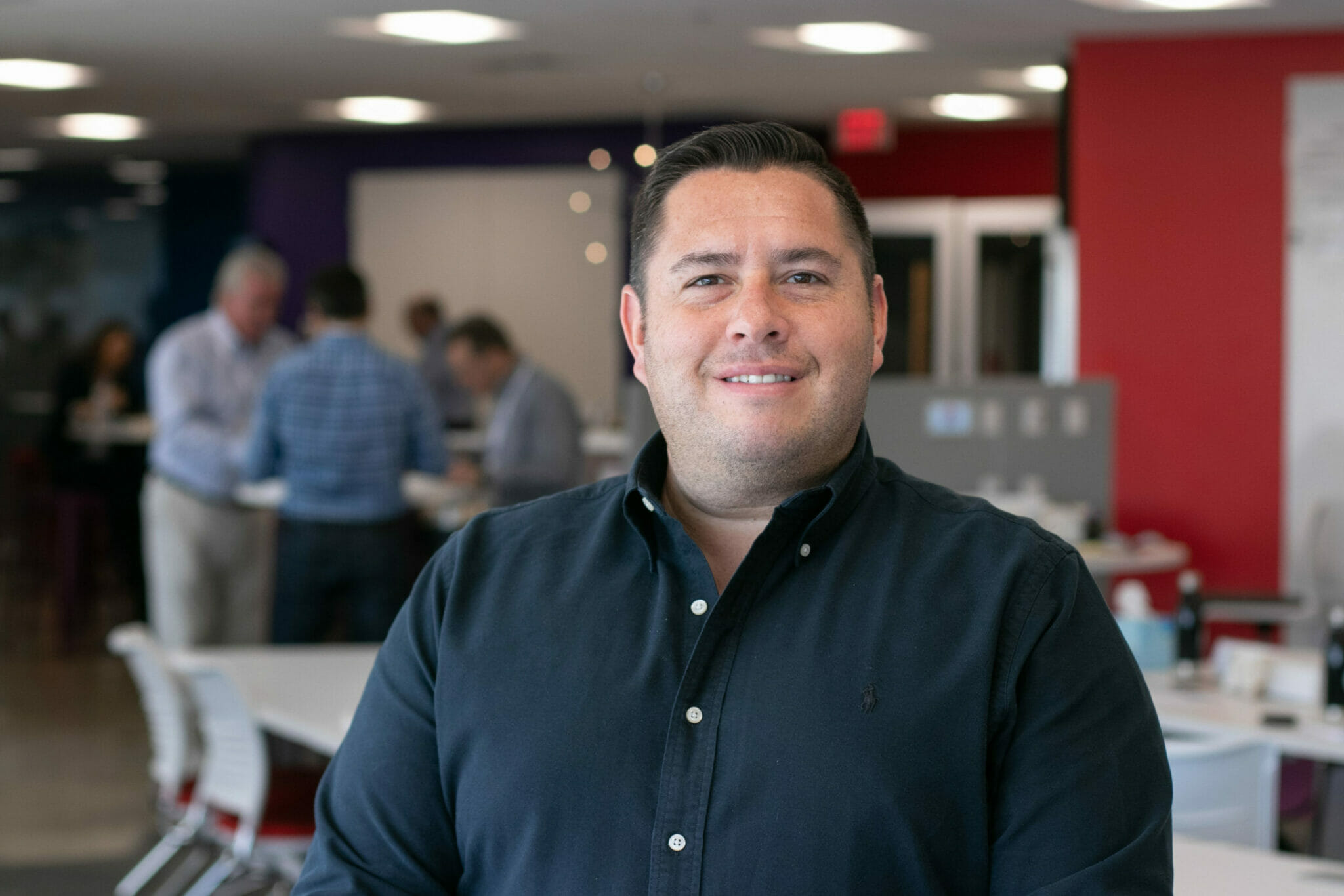 3. Schedule regular personal development meetings.
At many companies, personal development is something employees and managers do once a year then soon forget about.
Managers should schedule regular personal development meetings—quarterly at a minimum. I meet with my direct reports monthly to go over their personal development plans and see what progress they've made. This shows them I'm invested in their growth, which builds trust and engagement.
I also share my goals with my team so they can hold me accountable. It's a subtle way of teaching them to manage up, and it builds their leadership skills. (Check out this leadership rubric if you have a minute.)
4. Set a calendar reminder to hold yourself accountable.
Personal development plans only work if you use them. I'm in the habit of referring to my plan at least once a week. But until you develop the habit yourself, set calendar reminders to prompt you to visit the doc regularly.
Eventually, you might not need the reminder. Ideally, you'll be driven by the feel-good endorphins that get released every time you cross another goal off your list.
Lead by example.
Leaders should model the behavior they want to see. When you keep focused on growing and learning, your employees will be more likely to develop the same mindset and follow suit. You could also give your employees access to tools like the PI Inspire solution, which will help them grow and develop self-awareness. Here's a sneak peek of my personal development chart within the software (the self-coaching tips are really helpful):