If you put Spider-Man and an average human side-by-side in a high-pressure situation, say a fight with Green Goblin, their differences would be obvious.
Spider-Man has superhero strength, reflexes, agility, and balance. He's hyper-aware of impending danger, and he utilizes tools like web-shooters and pincers to accomplish his goals and outsmart his enemy.
The average human has good intentions, but none of the above skills or tools.
Spider-Man has a great chance of defeating Green Goblin. The average human? Not so much. But what if there was a way to level the playing field?
Business leaders search for a leg up on the competition.
Business leaders need to be like Spider-Man to outpace the competition; being average doesn't cut it. To this end, they search high and low for tools, processes, and playbooks to help them get a leg up—and solve their biggest challenges.
The 2019 CEO Benchmarking Report found that four of the top five CEO challenges mapped back to talent strategy and people management: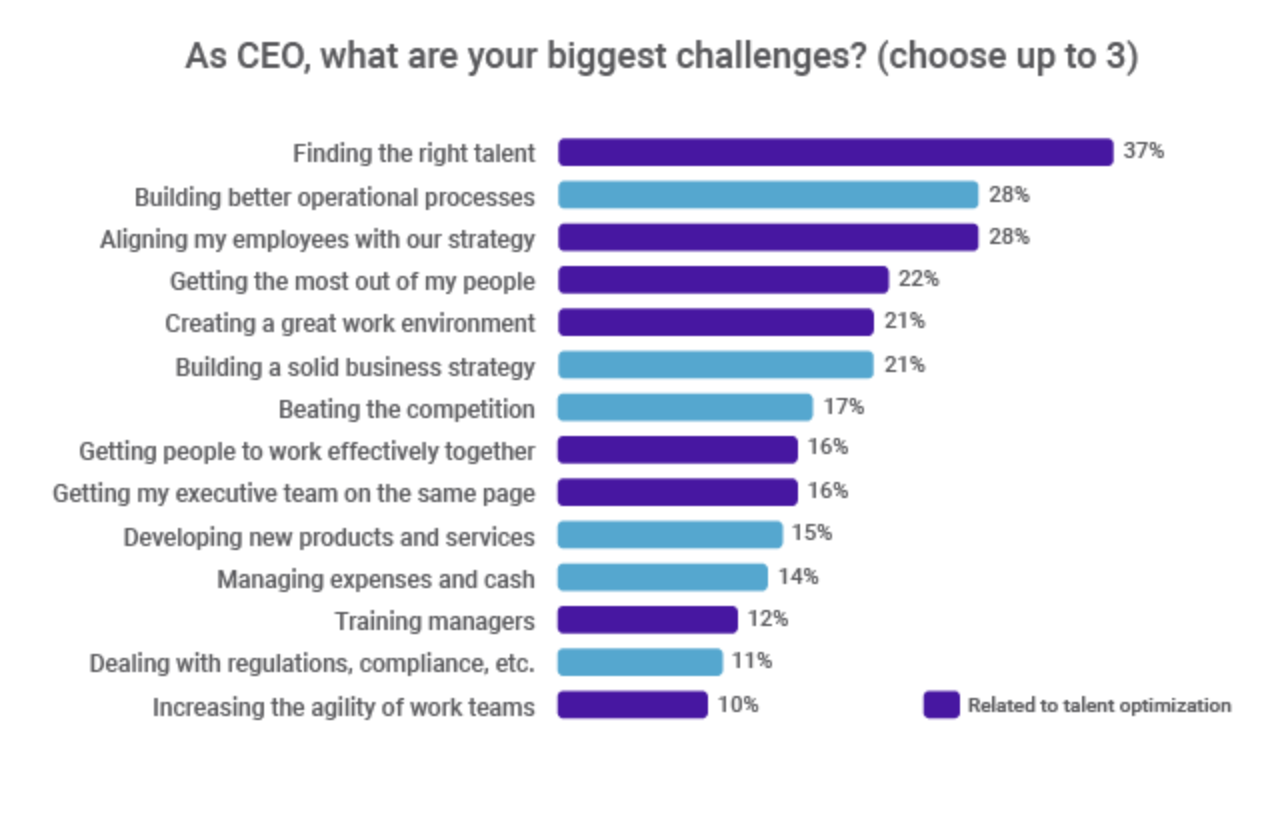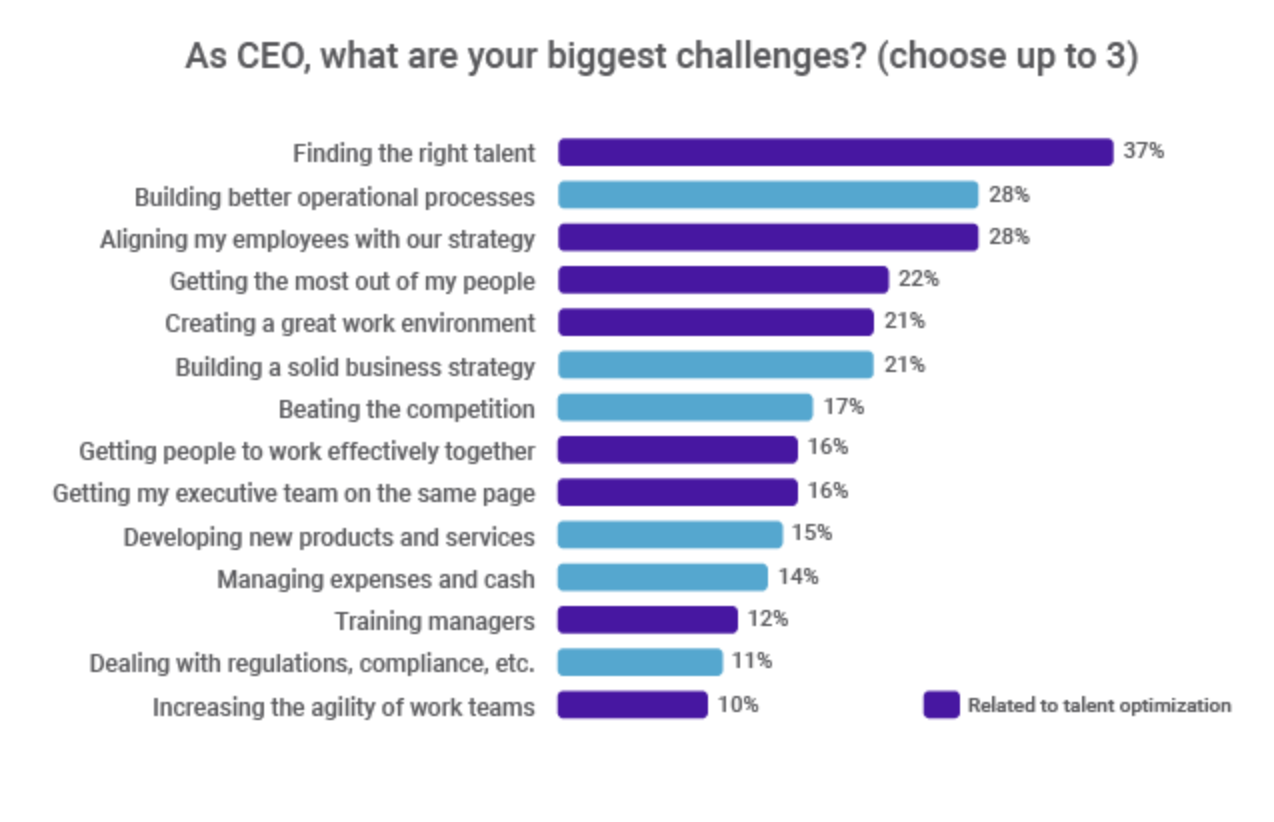 To win at business (and plan for the future of work), companies need to get their talent strategy right. They need to solve their "people problems."
It's no wonder the market is flooded with a deluge of software solutions leaders can use to execute their talent strategies. There are tools for hiring, tools for performance management, tools for measuring engagement—and so on.
But despite the massive assortment of tools available (see below), most companies still aren't reaching their desired business goals. The same CEO report sought to learn how companies performed against their 2018 business goals; a mere 48% met or exceeded their goals.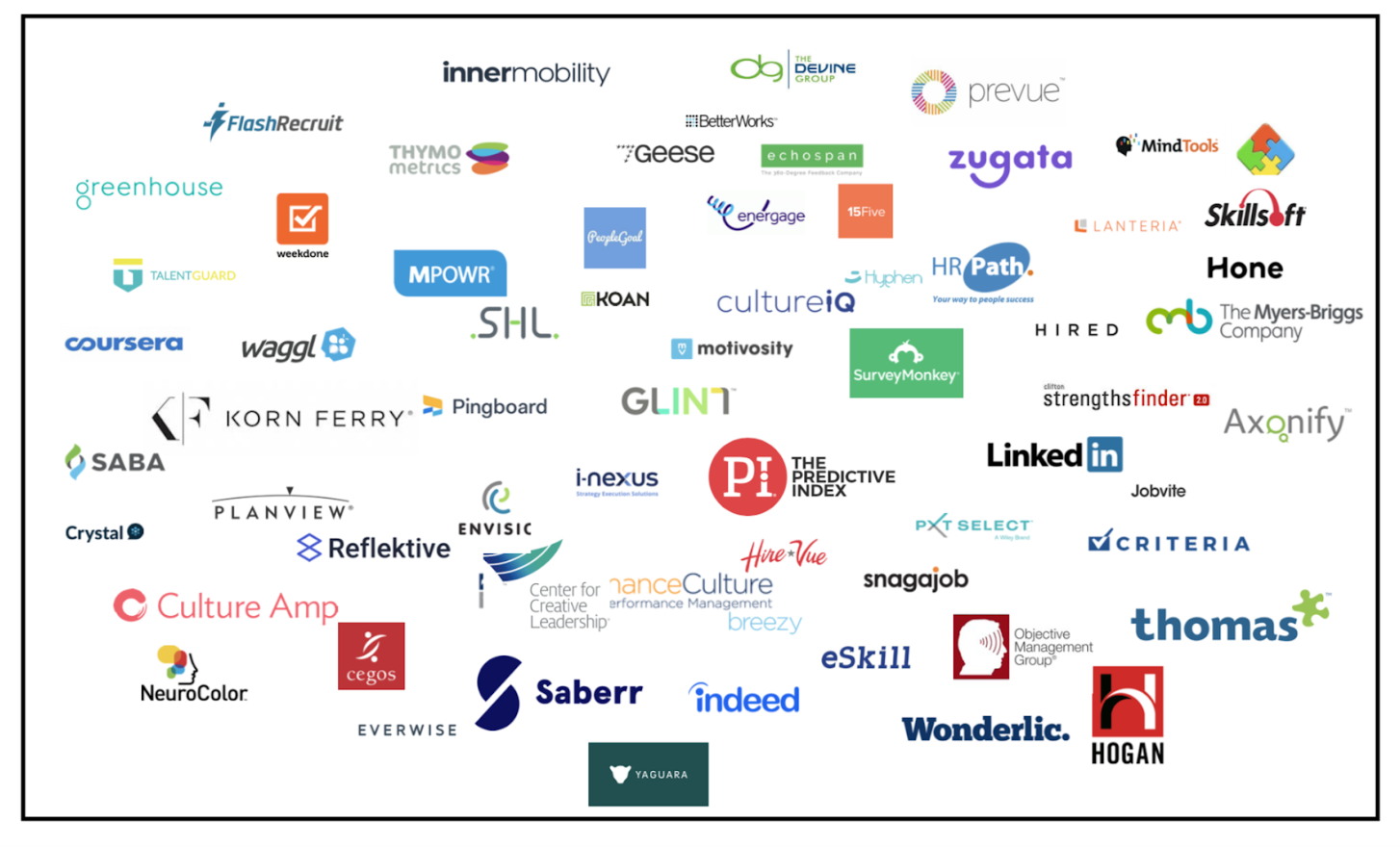 So why did 52% of companies fail to hit their KPIs last year?
You might be wondering:
Did they fail to use the tools at their disposal?

Did they use the tools and fail nonetheless?

If they used the tools and failed nonetheless, why?
This is why most companies don't achieve their business goals
Leaders create a business strategy at the start of the year with the hope of achieving the desired business results at the end of the year. But as the data shows, the actual results vary—and they rarely reflect the organization's true potential.
That's because these leaders fail to do the important work that must happen between strategy creation and goal attainment. They fail to design and execute a winning talent strategy.
Like the "average human," these business leaders have good intentions, but they lack the right tools and skills.
A better way: talent optimization
With talent optimization, you still start with the business strategy and end with the business results. It's what happens between that's different.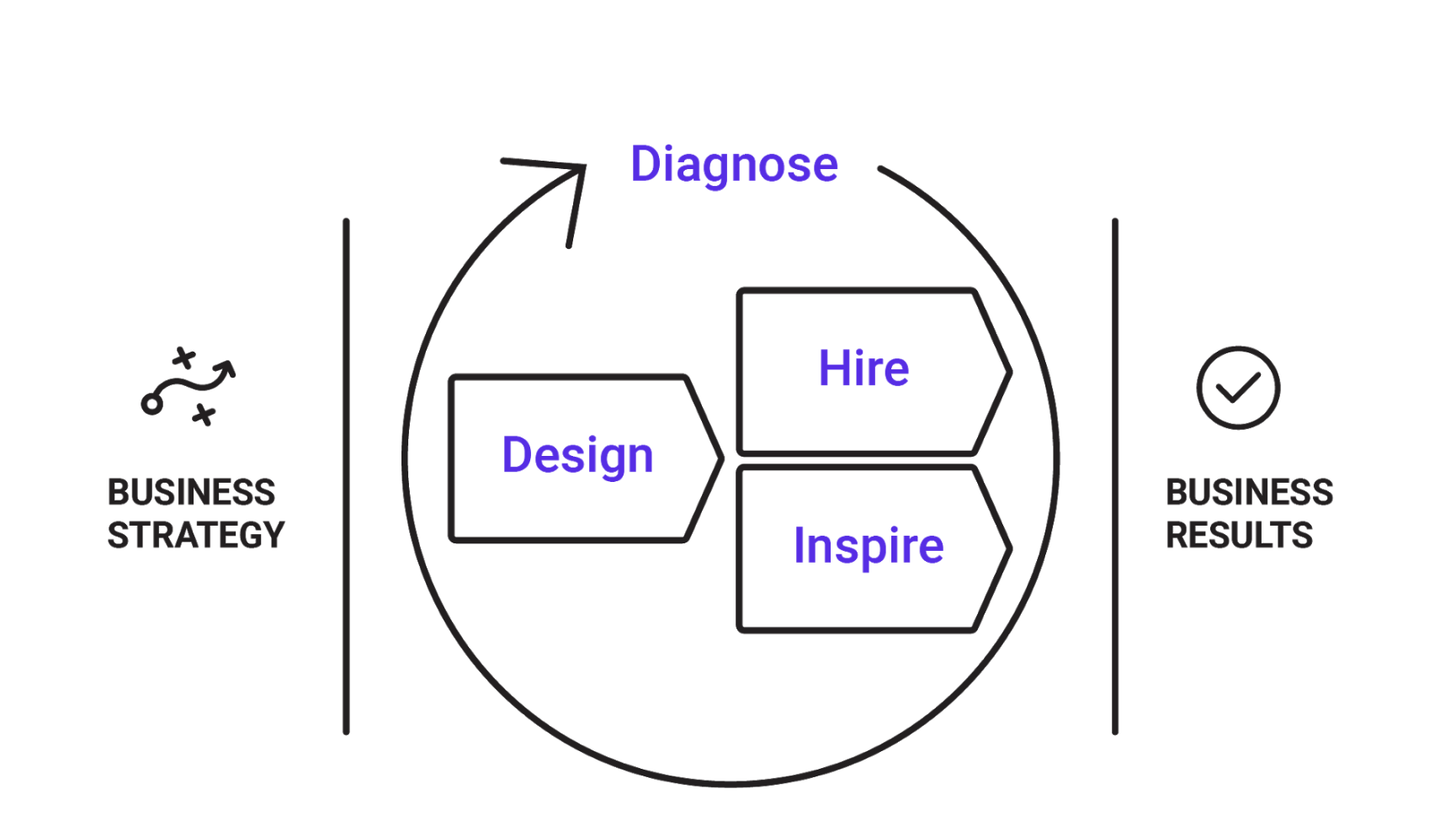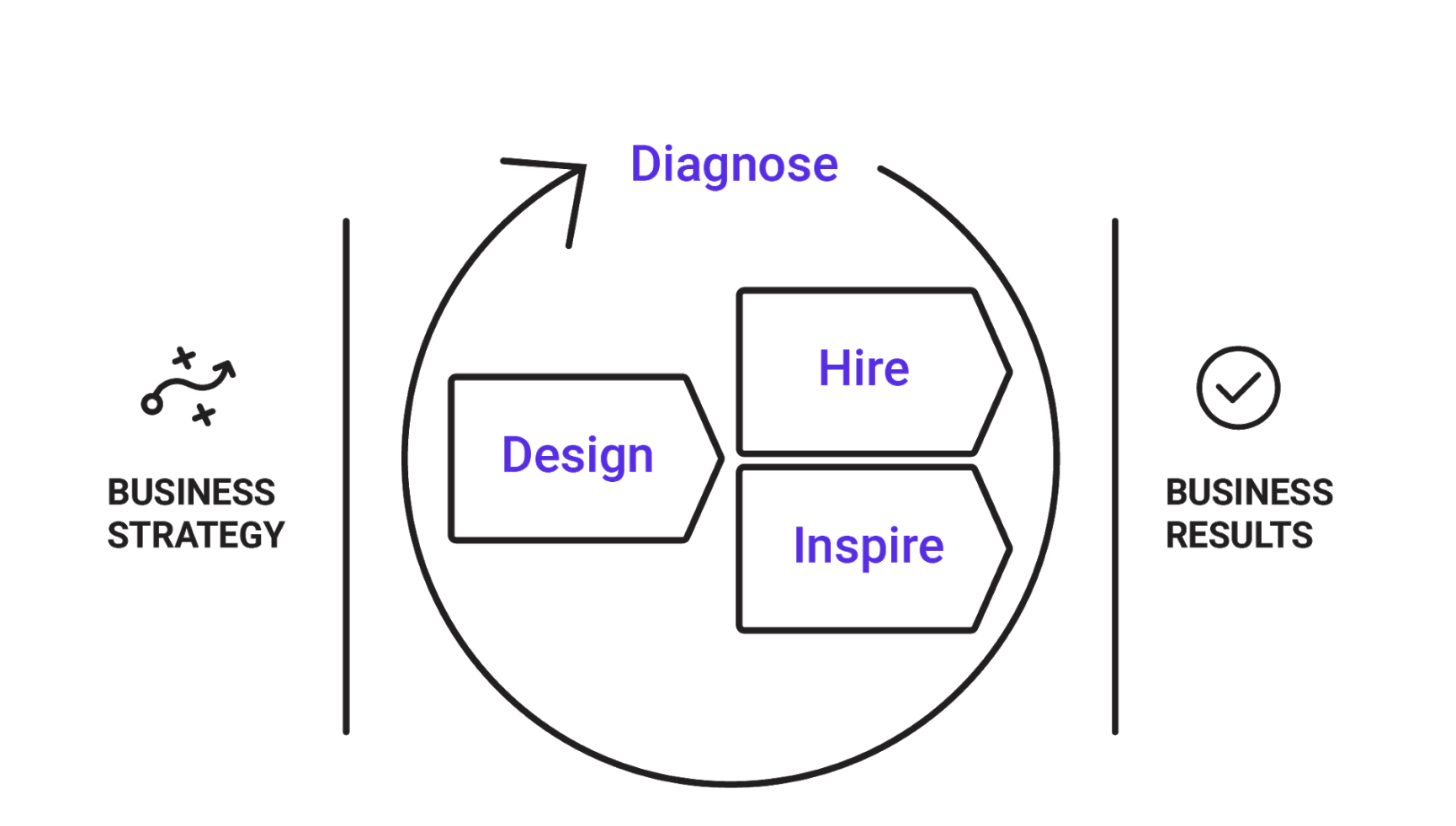 Talent optimization is a discipline that relies on using people data to design and execute a talent strategy that aligns with your business strategy. The work that happens between can be categorized into four aptitudes:
Design:

You'll measure your people data, analyze that data, and prescribe remedies as needed.

Hire

: You'll create and evolve your talent strategy.

Inspire:

You'll use people data insights to hire top talent and build high-performing teams.

Diagnose:

You'll use people data to drive important employee-oriented activities.
Within each aptitude, you have four activities that fall into four categories: job, manager, team, and culture (see below). These categories are the drivers of engagement and performance.

Talent optimization is how you level the playing field—it's how you get a leg up on your competition. It combines a proven process and tools to ensure you'll come out a winner.
Ready to discover which tools are right for you? Let's head into the talent-verse.
The talent-verse of talent optimization technology tools
As mentioned, there are plenty of solutions to choose from when it comes to talent strategy, and you quickly run into a paradox of choice. It's overwhelming.
But when you bucket your options based on the four aptitudes of talent optimization, you get a clear picture of how the different technology solutions fit within each. Take a look at the first-ever talent optimization technology market map (below), or visit the talent-verse to learn how each solution helps you improve your people and your business.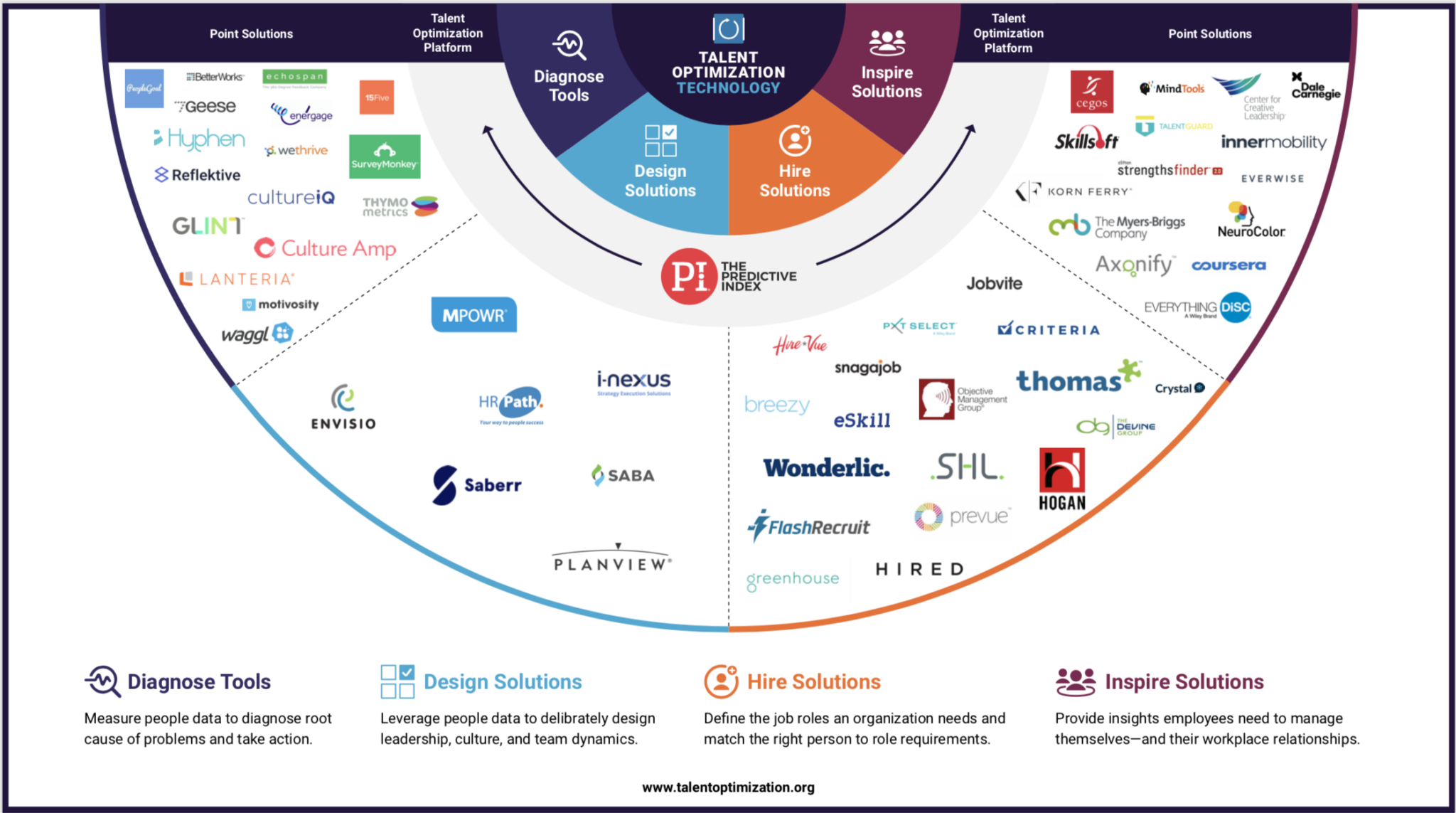 Hire solutions
As you can see from the above graphic, this a saturated market. Solutions include applicant tracking systems, pre-hire assessment tools, and recruiting and interview software. These tools help you attract candidates, hire the right people, and define roles as your company grows.

Tip: As you evaluate solutions, notice if they can predict whether a candidate will be successful in a role.
Inspire solutions
After you hire the right people, you need tools to develop them and help them grow. Solutions include learning and development platforms, post-hire assessments, employee development, and leadership training. These tools can help boost productivity and reduce turnover.

Tip: As you evaluate solutions, notice if they provide guidance for collaboration and professional growth.
Diagnose solutions
Diagnose drills down to the question: "Do you have a pulse on your employee engagement and culture?" Solutions include engagement and culture tools that range from low- to high-touch solutions. These tools help you monitor employee engagement and culture and also prescribe improvement actions to solve problems.
Tip: As you evaluate solutions, ask yourself how prescriptive and actionable the tool is.
Design solutions
When creating the talent optimization technology market map, I was tempted to leave the Design solutions bucket blank. This is a new solution category that uses people metrics to drive strategic execution. The companies that appear in this category barely scratch the surface of what an excellent Design solution can do. Design uses people data to identify whether your senior leadership team is aligned on strategy and if each individual leader is well suited (behaviorally) to execute the strategy.
Tip: As you evaluate solutions, ask yourself, are you currently using people data to drive strategic execution?
The first talent optimization platform
Most companies use multiple solutions to try and solve their people problems. But there's no need to piece solutions together. The Predictive Index is the world's first talent optimization platform. With PI, you can:

Hire purposefully

Inspire greatness

Diagnose and act on your people problems

Design a talent strategy that aligns with your business strategy



And you can do all this in one platform.
Join 10,000 companies solving the most complex people problems with PI.
Hire the right people, inspire their best work, design dream teams, and sustain engagement for the long haul.
Who's responsible for talent optimization?
Strategic HR professionals are essential for leading hiring, development, and engagement efforts. Moreover, they have the metrics and insights to lead efforts in the evolution of a talent strategy. But, they're not the only talent optimizers.
Every business leader within an organization is responsible for talent strategy.
The C-suite owns talent strategy creation. Talent strategy execution is a collective effort among the C-suite and strategic HR professionals. When it comes to talent strategy success, senior leader participation (and buy-in) is mandatory.
You might be wary of learning a new discipline and software—after all, you already have a lot on your plate. But there's never been a better time to adopt talent optimization. With the rise of AI and the gig economy, employees are working together faster than ever before, and that challenges traditional talent approaches. To keep pace, you need to embrace—and champion—change.
Be the Spider-Man of the business world.
Looking again at the CEO Report, employee-related costs make up 55% of total business costs. Point blank: People are both your biggest expense and your biggest opportunity. If you can nail your talent strategy, you'll be in a position to reach your goals. But if you leave talent strategy to chance—or glaze over it, or send it down the hall to HR—you'll fail. You might as well throw that money out the window.
There are a wide variety of people problems that erode business results and put the business strategy at risk. Someone needs to be the hero and take swift action. Thanks to talent optimization and the PI platform, you have the roadmap and the tools you need to be the Spider-Man of the business world.