Leaders often wonder: Where's the line between manager and coach?
There's a subtle, yet important distinction between management and coaching. While both fall under the umbrella of leadership, they play different roles in your organization. Coaching tends to be longer-term, more strategic, higher-level, and more big-picture focused. Management, however, is more fast-paced, tactical, incorporates real-time feedback, and holds employees accountable for deadlines and metrics.
Most leaders have both management and coaching skills. The best leaders know how and when to use them.
Management vs. coaching
A coach's role can be ad-hoc or informal, but a manager's role is typically an official capacity and position on the company's org chart. Coaching can take place between peers, with another manager or leader, or with a professional coach. Management is reserved for managers and their direct reports.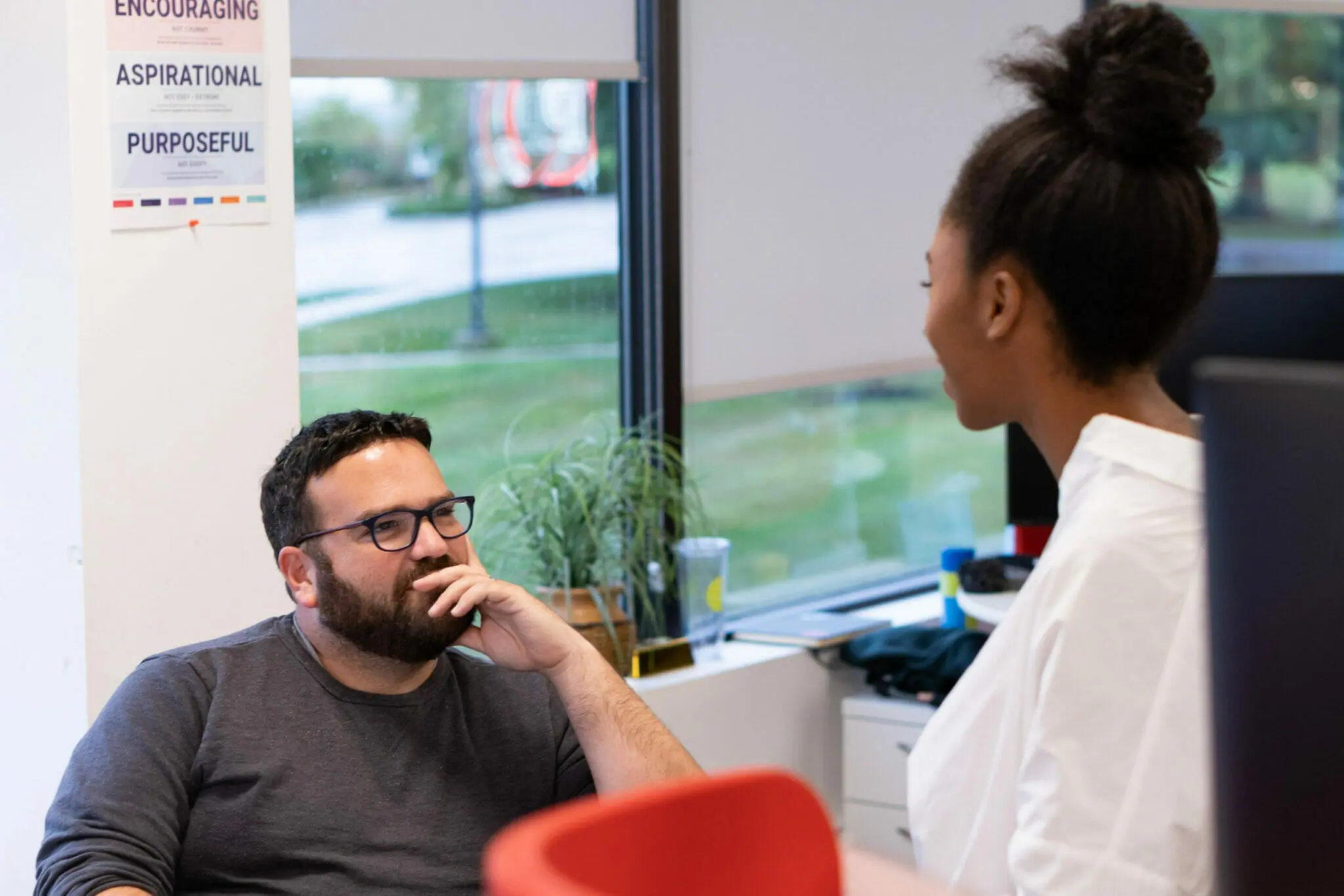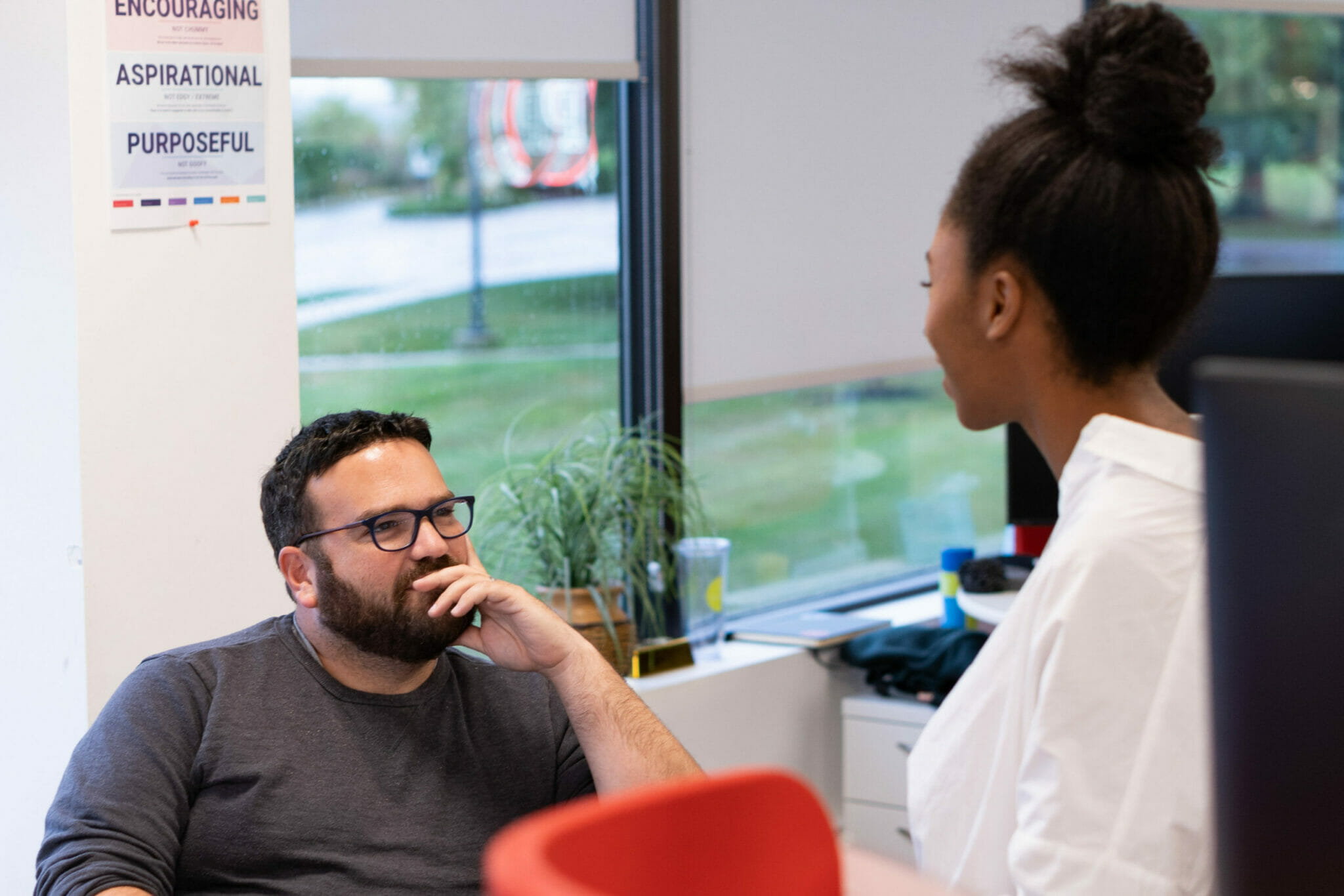 Management responsibilities
1. Goal setting
Managers should work with their direct reports to set SMART (specific, measurable, attainable, relevant, timely) goals, then equip their employees with the resources they need to achieve them. Scheduling regular one-on-one meetings with their employees is important for managers to help remove obstacles impeding progress and ensure employees are tracking with their goals.
2. Hiring and onboarding
Managers and team leaders are responsible for establishing and communicating performance metrics, onboarding new employees, and ensuring their direct reports are trained adequately to reach their goals. How well a manager onboards their employees can impact both engagement and retention, making this an essential component of a manager's role.
3. Team building
While they may seem silly or unnecessary, team-building exercises can help improve team relationships. For in-person teams, there are team-building activities for groups of all shapes, sizes, and interests. If your team is remote, try these Slack-based team-building exercises to improve communication and collaboration. No matter how you do it, team building and managing team dynamics are important.
4. Providing feedback
Managers are responsible for providing guidance and feedback for employees to help them meet and exceed the expectations of their roles. Feedback can take the form of positive feedback (i.e., praise and recognition for high achievement) or corrective feedback (i.e., performance improvement or skill growth). The 2018 People Management Study found employees would rather receive more feedback than less feedback. Managers should provide feedback on the execution of day-to-day tasks, projects, and deliverables, as well as on career progression, professional growth, and emotional intelligence.
A note on remote team management:
If you work on a hybrid or fully-remote team, management may look a little different. Managers need to schedule a recurring time to sync up with remote employees and make sure they have the resources they need to complete their work.
Adjusting to managing a remote workforce can be a challenge. Remember that remote employees may need more frequent check-ins using tools like Slack or instant messenger.
Coaching responsibilities
1. Goal-setting and guidance
Whether coaching conversations are scheduled or ad-hoc, these meetings help employees set personal or professional goals, and provide guidance in achieving those goals. These goals are different from the SMART goals managers set for employees, which are typically based around key performance indicators (KPIs) or business metrics.
In coaching conversations, the coach doesn't set the goals; the employee does. The coach then asks clarifying questions and talks to them about paths they can take to achieve those goals. For example, in a coaching conversation, an employee might determine they have a certain career aspiration. The coach would help figure out the steps they'd need to take to get there and walk them through how to handle obstacles or challenges that may pop up along the way.
Join 10,000 companies solving the most complex people problems with PI.
Hire the right people, inspire their best work, design dream teams, and sustain engagement for the long haul.
2. Supporting employee decision making
Another aspect of coaching is helping employees execute on decisions or transition once they've made a career change. This can include career counseling and mentorship as they navigate a new role.
The primary responsibilities of a coach in the workplace are to act as a sounding board for ideas and strategies, help employees find the resources they need, and develop and stay current on best practices. Like managers, coaches can also serve as mentors for less-experienced coworkers or direct reports.
In many cases, managers must also fill the role of coach for their direct reports. In other cases, a coach might take the form of a mentor, a peer, a professional executive, or a formal career coach.
Management and coaching resources
The best managers and coaches are constantly learning and developing their own skills. The workplace landscape is ever-changing, so leaders need to be up to date on all available educational opportunities. Try attending leadership workshops, connecting with fellow leaders on LinkedIn or Twitter, and engaging in webinars, Twitter chats, and in-person networking events.
One of the best ways to become a better manager or coach is to listen to your employees. Ask them for feedback, and create an open and honest work environment. This will ensure your team is happy and productive.
Here are some free online resources for leaders to brush up on management:
Sophia is the Content Marketing Manager at Owl Labs, a video conferencing company and creator of the Meeting Owl, a 360° smart video conferencing camera. She lives in Boston and loves doing yoga and baking in her free time, and you can follow her on Twitter.