It came out of nowhere—barely two hours into day one of OPTIMA22.
Aaron Dignan had just led an opening keynote on the barriers to business success. The stodgy organizational charts of the 1900s aren't cutting it; modern teams need to think differently or risk being stuck in the past.
The Predictive Index's CEO, Mike Zani, followed up with a rousing look into the future of work. At the center is talent optimization: a four-part discipline that helps leaders get from business intent to business results, simply by putting their people in roles to succeed.
It was a powerful one-two punch to open the OPTIMA experience. And yet, the most memorable moment of the morning came directly after—when UKG CEO Aron Ain took the stage.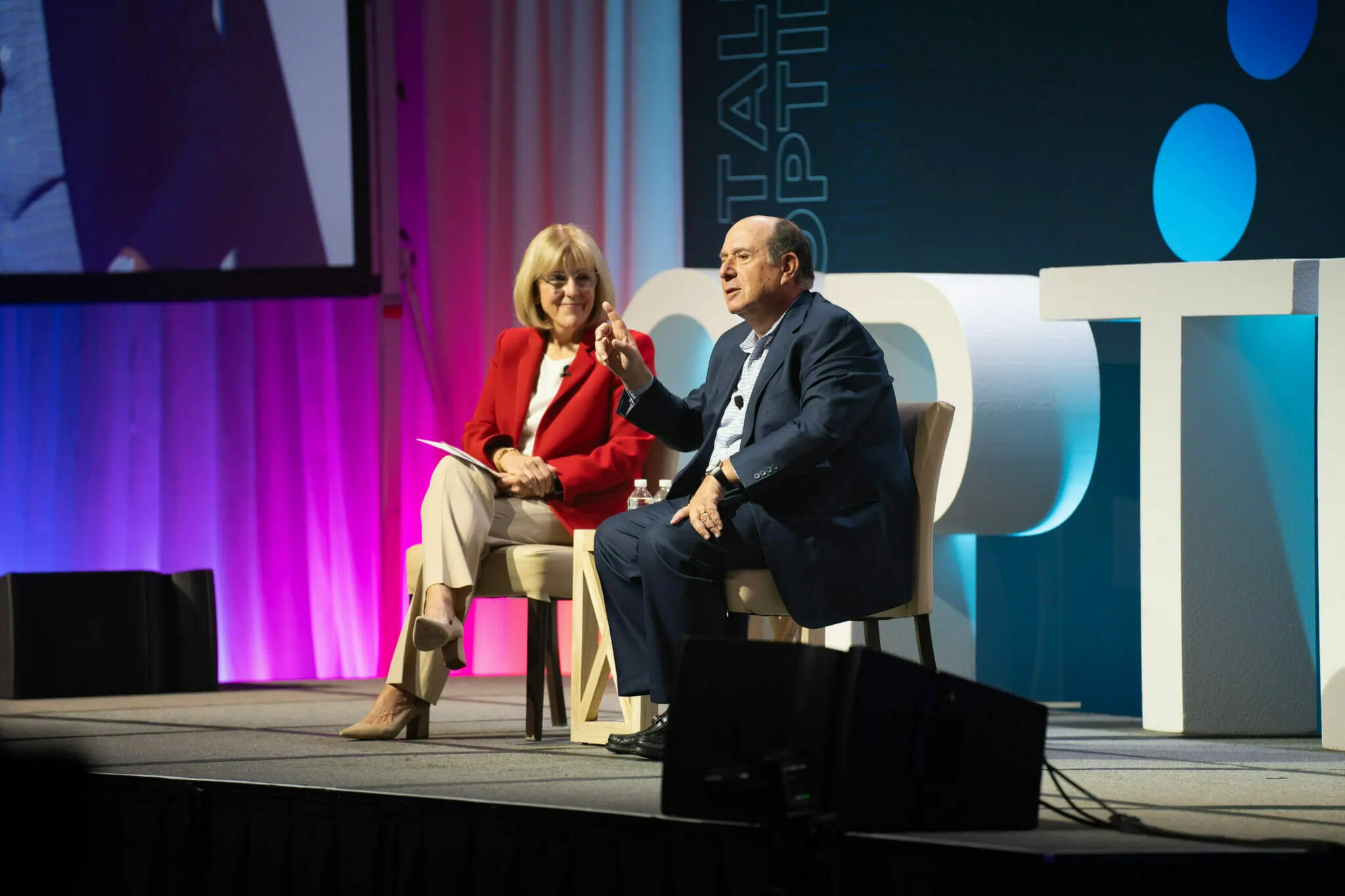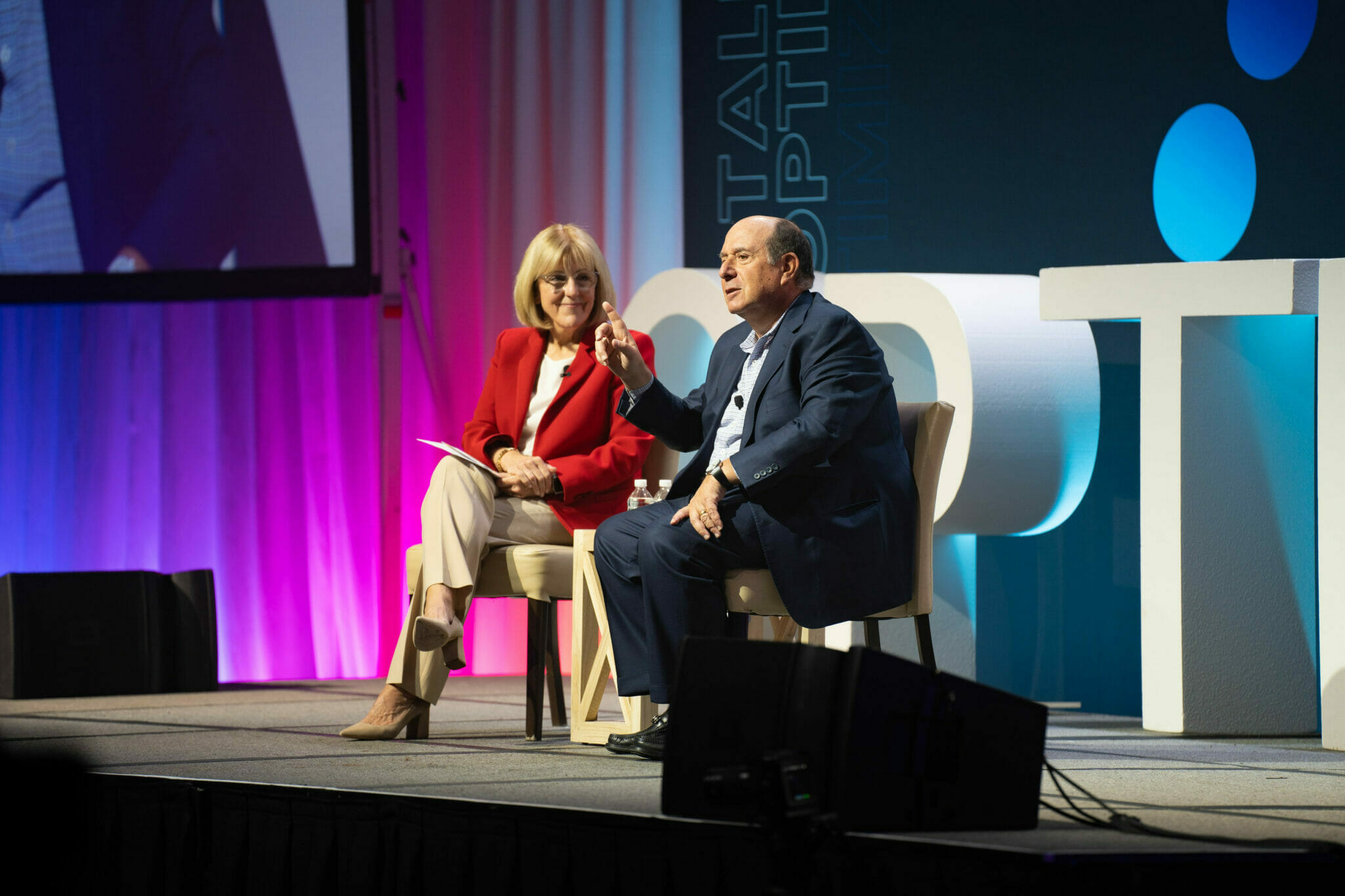 Leading with love, empathy, and trust
Ultimate Kronos Group (UKG) is a billion-dollar tech company providing clients with HR and workforce management services. It was founded in 2020 following the merger of two giants: Kronos Incorporated (based in Massachusetts), and Ultimate Software (based in Florida).
UKG wears its mission on its sleeve: "Our purpose is people. At UKG, we are committed to putting all people first. We believe businesses succeed when all individuals are respected, all voices are heard, and all employees have the support and resources necessary to thrive as professionals and people."
At the helm of UKG is Aron Ain, who previously led Kronos for 15 years. Despite the daunting task of merging two workplaces—and two distinct cultures—Ain has made UKG a home for more than 14,000 employees.
How, exactly? With love, empathy, and trust. Speaking with Kirk Arnold, XIR at General Catalyst, Ain shared some of his greatest learnings, live, in front of an eager audience at OPTIMA22.
"You want to really make someone uncomfortable?" Ain joked. "Tell them you trust them."
When employees come into an organization, they often feel the need to prove themselves. They need to earn their seat at the table; they need to earn the trust of their manager and peers.
According to Ain, that philosophy is backwards—and the onus is on leaders to fix it. "When you trust each other, anything is possible," he said. "You hired them; why wouldn't you trust them?"
Instead, Ain offered an alternative way of thinking. "People have to un-earn my trust," he explained. "Try that as a leader."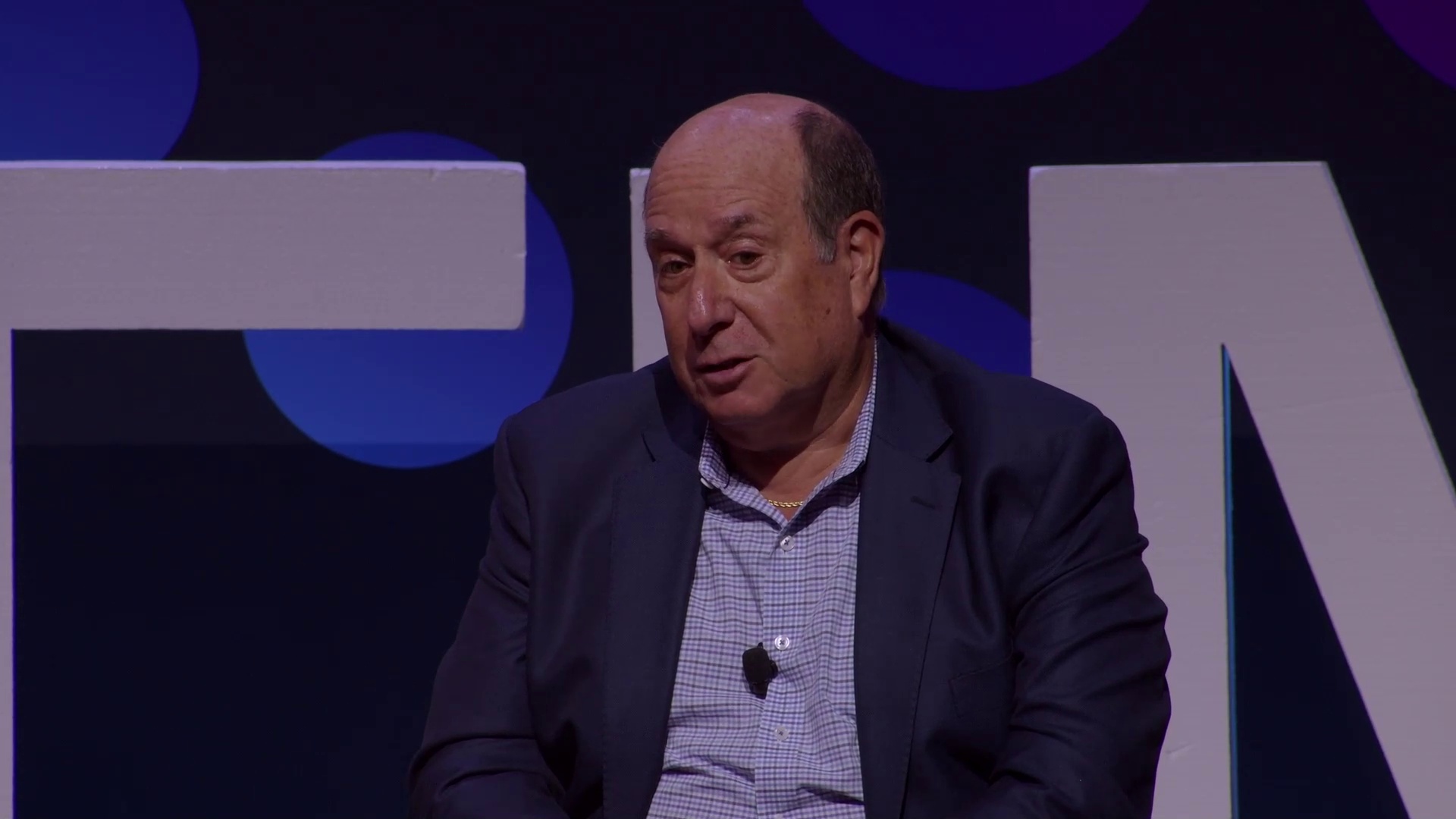 A tender moment for the entire crowd
Ain shared how much of an honor it's been to lead his company—first Kronos, now UKG. So much of that honor has been tied to the people he's served over the years. In his own words: "Do you know what a privilege it is to lead?"
He and Kirk then pivoted to talk about the pandemic, and the impact it's had on workplaces everywhere. And that's when Ain dropped it—the line that had everyone misty-eyed.
"We stopped calling it RTO—return to office. We call it RTOE… return to each other."
A cascade of "awws" reverberated throughout the Sheraton hall. At that moment, hundreds of talent optimizers were reminded of the reason they came to OPTIMA in the first place: an honest and genuine love for people.
That wasn't the last piece of wisdom Ain shared. He showed humility as a leader, saying, "The CEO gets too much credit when things go well." After all, it's people who ultimately do the work and see UKG's strategy through.
He also stressed the importance of career pathing amid The Great Resignation—even if it means seeing people go. "I don't own people's careers," he said. "They have a right to go do something else. It's basic respect."
UKG even welcomes back so-called "boomerang" employees: people who leave for greener pastures, only to find the grass wasn't necessarily greener. It's a testament to the company's commitment to the employee experience—from one talent optimization journey to the next.
Watch Aron Ain's chat, and so much more.
That only scratches the surface of the OPTIMA22 experience.
Register for OPTIMA Virtual, and get access to 20-plus sessions led by more than 40 speakers, including Aron Ain. Experience OPTIMA Virtual live on April 26, or watch the session recordings on demand following the show.
Be sure to bring the tissues. We have plenty more emotional moments in store for you.