While most businesses measure success in terms of numbers—such as EBITDA, profits, and sales results—many don't consider how their people impact their business. But the cost of poor engagement is high: increased turnover and absenteeism, reduced productivity, lower customer satisfaction ratings, and more. 
An employee experience platform can help you increase engagement throughout the organization, so you can retain more people, retain better people, and retain them for longer. But there are hundreds of high-profile tools out there, and it can be challenging to know which to pick.
Enter The Predictive Index's Employee Experience Survey. Our survey not only measures employee engagement at your company—it also provides actionable insights to help you turn disengagement around fast.
Here's how the PI Employee Experience Survey benefits your business:
Understand the causes of disengagement—and engagement.
The PI Employee Experience Survey digs deep to the root of engagement issues. It provides employees a chance to provide candid, confidential feedback across four categories strongly related to engagement:
Job

Manager

Organization

People on their team
Why is collecting and acting on this feedback important? Because if a single element is out of alignment, employees can become disengaged and less productive. This disengagement and decreased productivity costs your business a lot of money—but it doesn't have to be that way.
Get actionable insights.
Your employees have completed the PI Employee Experience Survey—now what? Unlike other reports that churn out some numbers and leave them up for interpretation, you'll receive a report with actionable insights.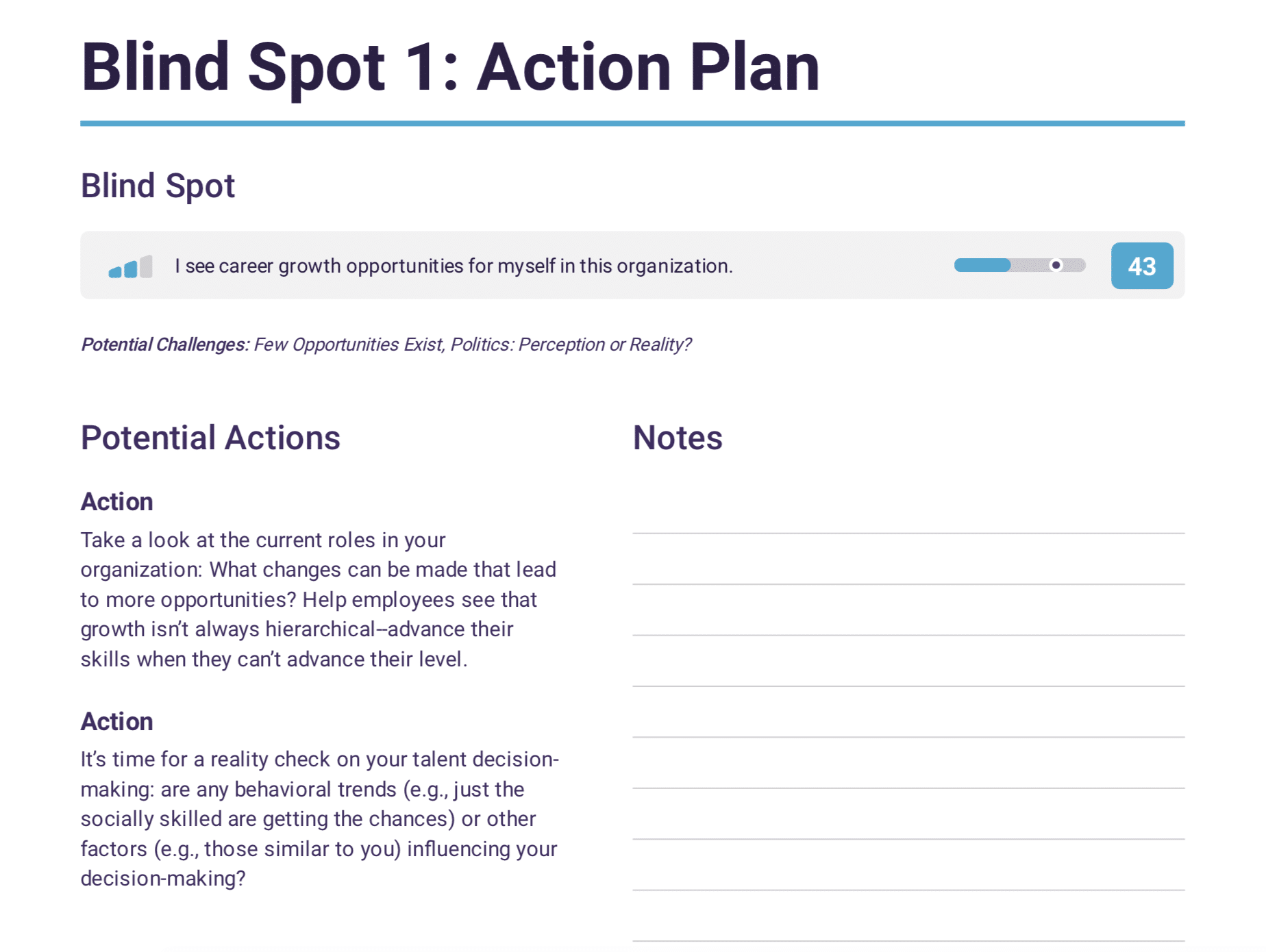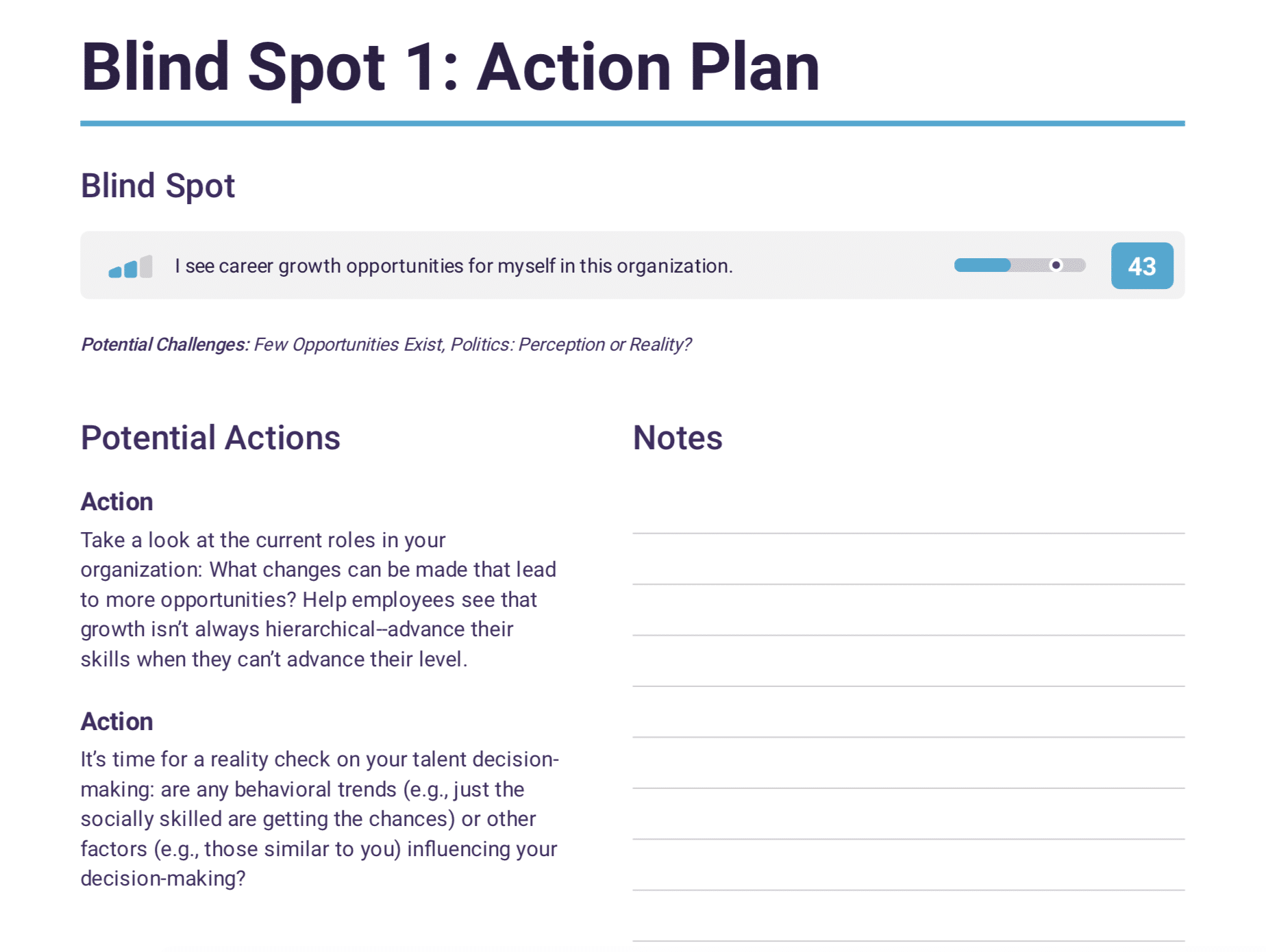 These insights are ranked according to what impacts engagement most. For example, the response to the statement "I trust the senior leaders of this organization" holds more weight than "I feel that my manager genuinely cares about me as a person" because the former more strongly impacts engagement.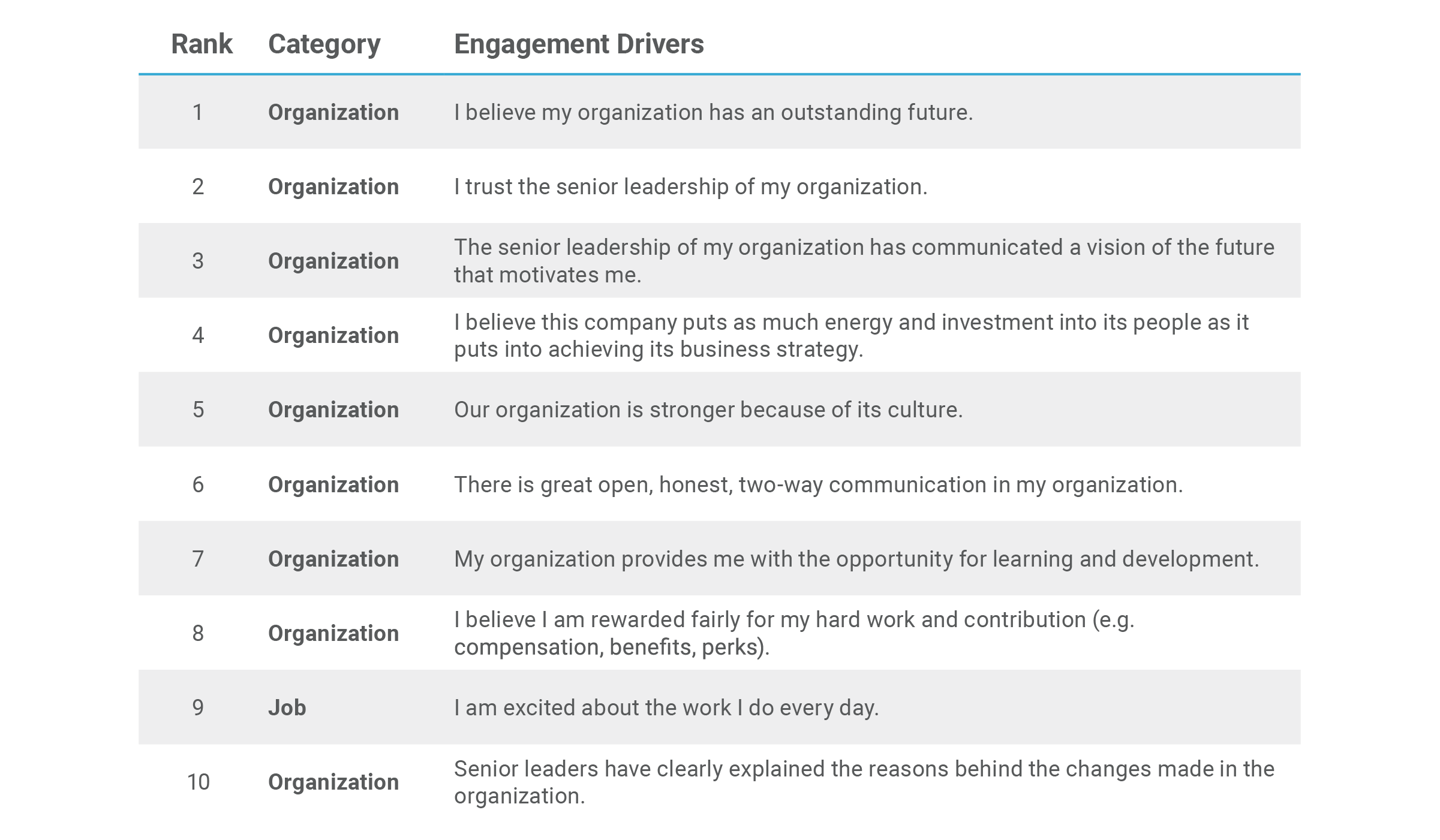 (Not sure what's a "good" score? Your report also includes benchmarks to help you gauge how you're doing compared to other organizations.)
Narrow in results by team.
Sometimes engagement issues aren't company-wide, but rather isolated within a team or department. You'll receive a report that will help you understand the state of the whole organization overall. Managers will also receive their own results so they can focus on issues specific to their teams.
For the sake of anonymity, team reports are only provided for teams with five or more employees. These micro reports allow you to take action on issues impacting engagement on a specific team. For example, maybe your organization as a whole scores well on the engagement item "I am appropriately recognized for a job well done." But one team received a score much lower than the average. That team might decide to put more effort into recognizing and rewarding employees for the work they do as a way to increase engagement.
Take the guesswork out of improving engagement.
If you read an article online about how to boost engagement, chances are the tips are high-level so they can apply to any organization. But what does your organization need to do to improve engagement?
The PI Employee Experience Survey has been researched and refined extensively to ensure the results you get actually impact employee engagement.
Take it from Kasey Konkright, Director of Talent at FAM: "So many companies just throw people at problems instead of fixing problems, inhibiting the ability to allow current employees to thrive and produce," said Konkright. "[The PI Employee Experience Survey] has been so much better than what we did last year because now we can write on a whiteboard all the things that we could potentially solve and [prioritize]. It's been really great."
Take action on engagement issues.
Drive engagement with The Predictive Index®.
Our talent optimization software can help you discover the root of engagement issues so you can take action. You can also attend the Take Action on Engagement Workshop or receive Employee Experience Coaching from one of our PI Certified Partners.
Join 10,000 companies solving the most complex people problems with PI.
Hire the right people, inspire their best work, design dream teams, and sustain engagement for the long haul.