Your team is gearing up for your next trade show. As a sales director, how are you training your team to make the event a success?
My name is Jim. I'm the VP of Sales here at The Predictive Index®, and I'd like to share with you some tips to make your event as successful as possible.
Prior to the event
Preparation is key to success. With good planning and preparation, your sales team can execute events smoothly, generating more leads.
Ask a customer to speak on your behalf.
While your team might be able to sell your product or service up and down, nothing beats the testimony of a happy customer.
If the event is open to speaker suggestions or recommendations, see if a client is willing to speak on your behalf. We recently did this with Tracie Sponenberg, the SVP of HR for our client The Granite Group. Tracie spoke at SHRM about transforming HR through technology and her experience with PI.
When your customers do speak, have your representatives in the room to meet and greet and have conversations, as well as a clear call to action from the speaker, if folks are interested.
Schedule appointments prior to the event.
Make calls to the attendee list and your contacts prior to the event. During these calls, schedule booth and private appointments so you're guaranteed face time with hard-to-meet people and key influencers. Scheduling meetings in advance also means you can build a more personal relationship with existing contacts. If your senior folks are there, make an effort to set up executive-to-executive meetings for both new and existing customers.
Plot how your team will work the booth.
To ensure coverage across the booth and to maximize efficiency, consider assigning your team to different "roles" at the booth.
Here are four roles that can help you divide and conquer:
Greeters: Greeters are responsible for quickly processing through the crowds of people coming by your booth and matching them with the right resource. They'll prioritize who's a prospect and who's there to grab some free swag.
Lead capturers: Lead capturers are responsible for capturing leads, whether that's by collecting contact information or scanning badges.
Specialists: These team members are responsible for having in-depth conversations with prospects, conducting a needs probe, and scheduling follow-ups.
Executives: Set aside a private space for your Executives to have one-on-one conversations with serious prospects and decision makers.

Prepare your approach and practice it.
Have your team spend time practicing their roles with a colleague prior to the show. Trade shows are high-volume, low-quality environments. The key is to triage quickly, which requires preparation.
(Bonus tip: It's also a good idea to practice setting up the booth prior to the event. You don't want to find out onsite that you're missing a critical piece of your setup.)
Have prepared questions to separate the wheat from the chaff.
Greeters: Standard greetings—such as, "How are you?," "Can I help you?," or "How's it going?"—tend to lead nowhere. Instead, plan to do something different. For example, "Thanks for stopping by. Should I give you a quick overview of what we have, is there something specific you're looking for, or did you just want the little trinket we're giving away?" (This little dose of humor can help you build rapport right away.)
Specialists:
Here's a play-by-play of what a conversation with an interested prospect might look like:
Ask "What inspired you to stop by the booth today?"

Follow up with "Can I give you the 60-second booth overview so you can determine whether there's something you'd like to look at in more detail?"

Then ask "What's your role at your organization?"

Provide a tour based on role-relevant pain points. The goal is to make it personal to them.

Strip-line to reveal interest. (

Strip-lining

is a technique that leverages reactance. The key is to approach your prospect in a way opposite to what they'd expect.)

Stop and drill down or hand off to an executive at a point of particular interest.

Take the best prospects to a private place for a sit down. Attendees are more likely to become buyers if they can sit and talk informally in a quiet place over coffee or soda.

Don't tell the prospect you'll follow up with them next week. It's better to say, "It probably doesn't make sense to put time on your calendar next week to explore this further." (Again, this leverages that strip-lining technique.) Schedule a time to follow-up and discuss further

at

the event.
Have a plan to end conversations.
In many cases, the conversation will come to a natural close. However, in some cases, you may be talking to someone who's biding time, lonely, or doesn't understand that you need to move on.
Here's a great closer: Say, "Thanks for stopping in," then offer a handshake. Follow up with, "Can I point you to anything you're hoping to find here at the show?"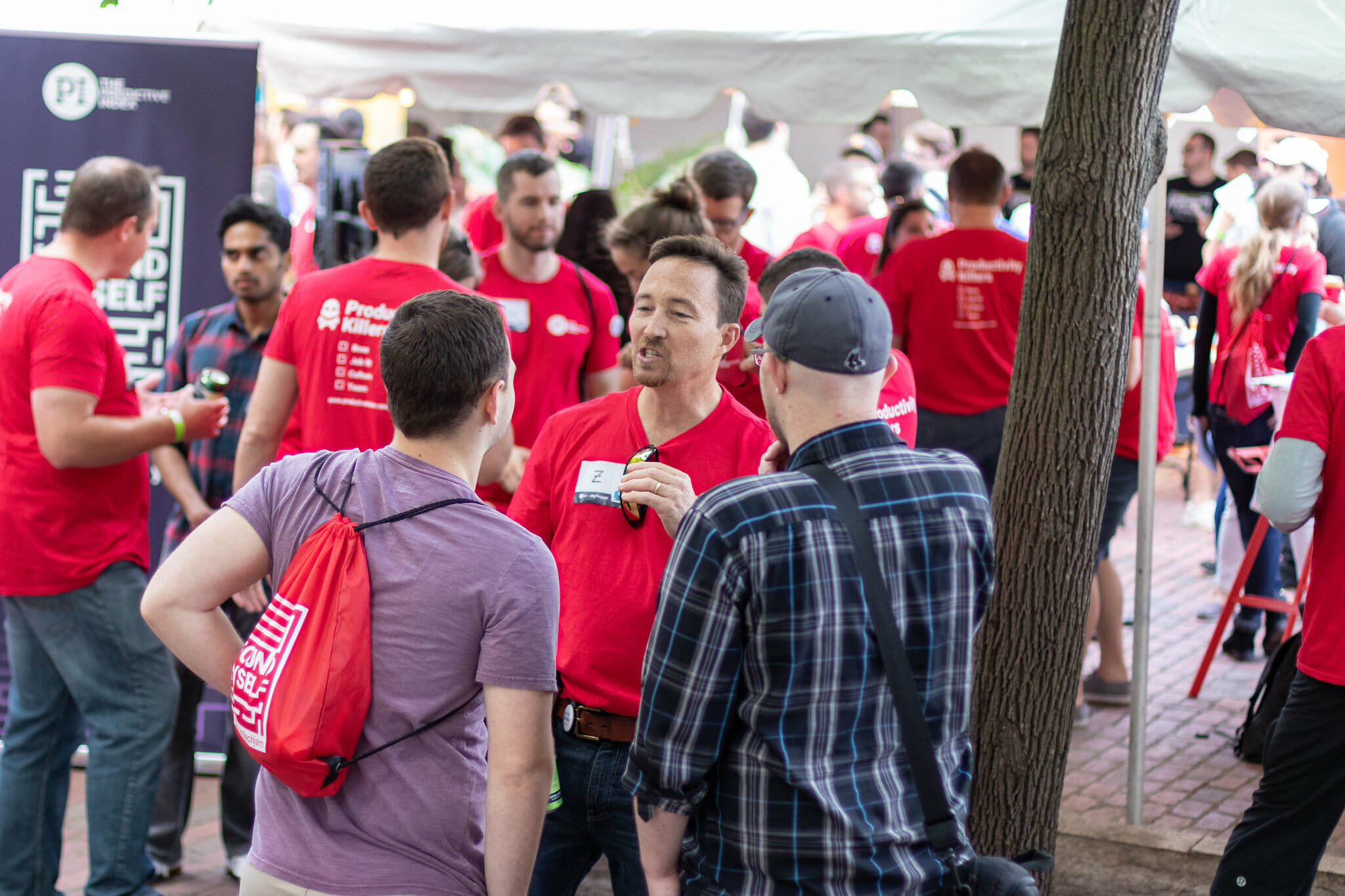 At the event
You're at the event. It's an exciting time! Lots of people, lots of energy.
Here are some tips to keep in mind while you're at the event.
Qualify. Execute the items above. Make sure everyone is fulfilling their role.
Avoid the "Roman Guard." While standing in front of the booth to greet people may seem like a great idea—and a pretty common tactic used at trade shows—it can actually intimidate people walking by your booth.
Give your full attention. When speaking to someone, be sure to give them your full attention. If they're not an ideal prospect, use your prepared tactic for ending conversations.
Take care of yourself. Trade shows and events are exhausting. Wear comfortable shoes, work the booth in shifts, and don't go out and party after hours. You need your A-game to work the event, so take the time you need to restore yourself.
After the event
What you do during the week following the event is just as important as the work you do at the event. Make sure your team follows up with all the leads within a week. While you may think attendees are getting inundated with emails, I've measured it, and more than half of trade show leads never get followed up with—even if requested.
These tips should help your next event go as smooth and successful as possible. My parting advice: Don't be standard. By standing out, you stand a better chance of being remembered and closing the deal.
Join 10,000 companies solving the most complex people problems with PI.
Hire the right people, inspire their best work, design dream teams, and sustain engagement for the long haul.