Employee engagement software helps organizations measure employee sentiment so they can increase engagement and retention. Through surveys and data analysis, these platforms drive insights that can help companies reduce costly turnover and increase overall performance.
Employee engagement is about the relationship between an employee and the organization they work for. Engaged employees put in more discretionary effort and are less likely to leave the company. When engagement is low, employee performance suffers—and left unaddressed, their dissatisfaction can start to impact others on the team.
Here's what we'll cover:
What is employee engagement software?
Best practices for tracking employee engagement
Top 15 employee engagement software platforms
How to select an employee engagement platform
How The Predictive Index can help with employee engagement solutions
What is employee engagement software?
Employee engagement software gathers data about employee morale and sentiment to help companies understand what's impacting retention and performance. Low levels of engagement can result in both turnover and poor business results. This kind of software is often offered as a software-as-a-service (SaaS) product. This makes it easier for companies to use without heavy upfront costs or technical implementation.
Companies invest in employee engagement software to quantify and scale their internal engagement efforts. These platforms offer robust capabilities that allow in-house people operations or human resources (HR) teams to focus on improving the employee experience—rather than capturing, measuring, and analyzing data themselves. Survey tools capture what's impacting engagement. Gamification and micro-learning features are often leveraged as well, to help companies take action on engagement issues.
Most employee engagement platforms offer a bank of questions that give HR departments the ability to quickly administer a survey they know will produce meaningful insights.
Join 10,000 companies solving the most complex people problems with PI.
Hire the right people, inspire their best work, design dream teams, and sustain engagement for the long haul.
Best practices for employee engagement
Employee engagement isn't something you measure once. It's also not something you can set and forget.
To provide a best-in-class employee experience, you have to continuously evaluate what's impacting engagement. Then, you must come up with a plan to address the issues with negative impacts.
Keep these best practices in mind when tracking employee engagement:
Check in regularly.
How frequently you check in will depend on your business. Many companies use pulse surveys to capture employee sentiment. Others use comprehensive employee engagement surveys that provide a deeper level of insight. These are usually administered quarterly or biannually. Both types of engagement assessments and reporting can be helpful. They can complement one another to create a more robust engagement strategy. But be wary of surveying too often. Studies have found that asking for feedback too frequently decreases the response rate.
Take action on what you discover.
It's critical that whenever you gather information about the employee experience, you're willing to dig into the data and take action on the insights you uncover. If you're not able or willing to act on what your employees are sharing, it's not the right time to be running an engagement survey. Lack of action can actually lead to a decrease in engagement.
Look at engagement across the employee lifecycle.
Employee engagement activities go beyond whether or not an employee is happy in their role. It takes a holistic view of how an employee experiences and interacts with your company. Engagement encompasses the entire employee lifecycle—from the time you make a hire, to promotion and retention.
Research from BambooHR showed that 31% of people leave a job within the first six months. That's an incredible amount of turnover in such a short period of time. This statistic highlights the importance onboarding plays in a new hire's engagement with a company. It could also indicate a disconnect between how you're promoting your company and what it's actually like to work at your company. Do your job postings reflect your company culture? Does your employer branding on social media and review sites accurately showcase what it's like to work for you?
Beyond onboarding, employees are impacted by how they're managed. The 2018 People Management Report found that 44% of employees don't receive enough feedback. The same report found that 94% of employees with great bosses have passion and energy for their jobs. On the other hand, only 59% of employees with bad bosses have passion and energy for their jobs.
The 2019 Employee Engagement Report stated that the biggest influencers of engagement relate to the organization itself—and the decisions executives make. Of the top 10 items impacting engagement, nine were related to the organization. Employees want to work for companies that invest in them. They want opportunities for learning and development, and fair compensation for their efforts. They want senior leaders to be transparent and open two-way lines of communication with employees. HR teams can support these engagement factors with regular internal communications that answer questions such as:

How is the company doing?
Where is the company headed?
How is the organization handling the important issues of today, like diversity, equity, and inclusion (DEI), and employee wellness?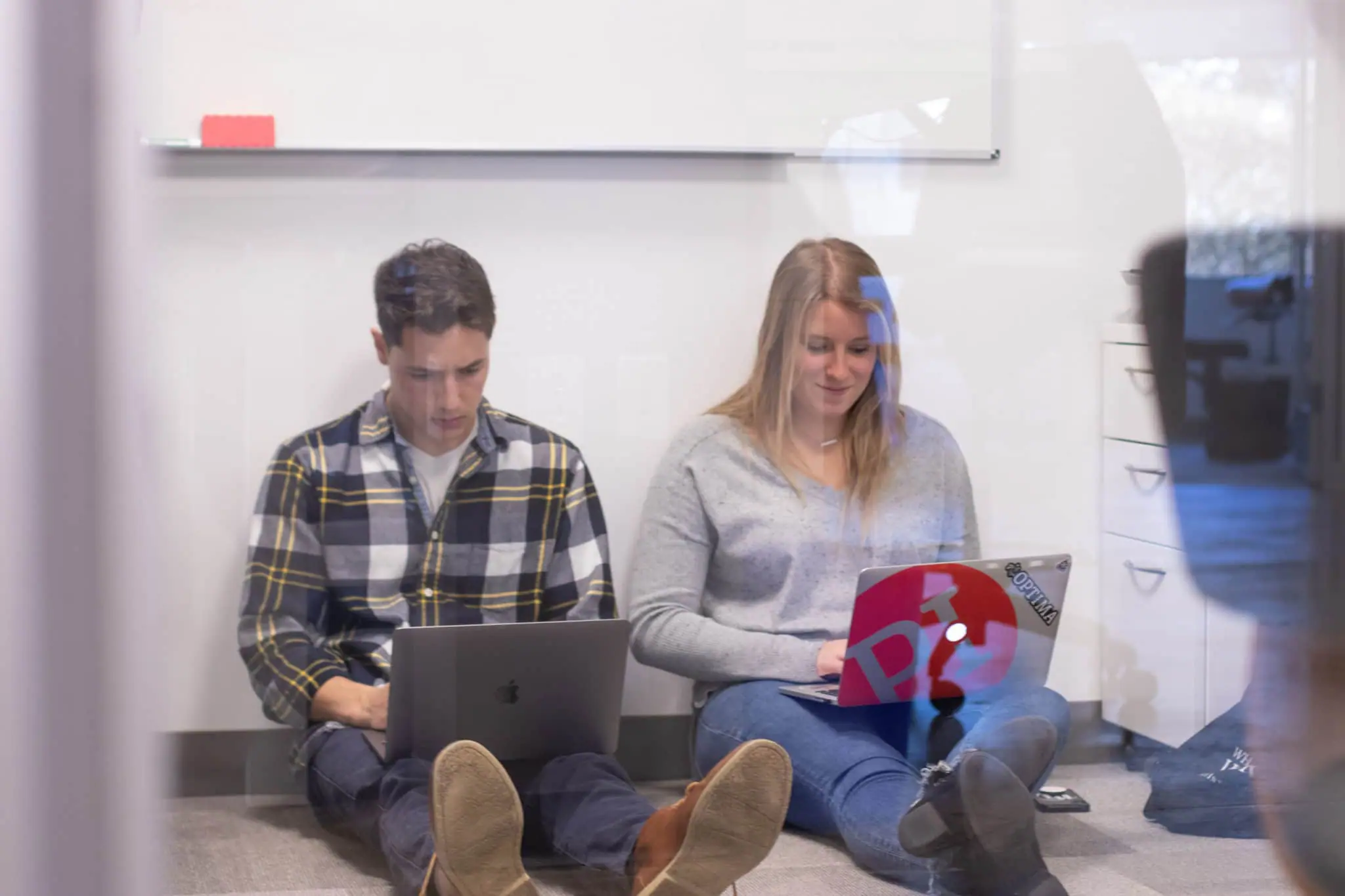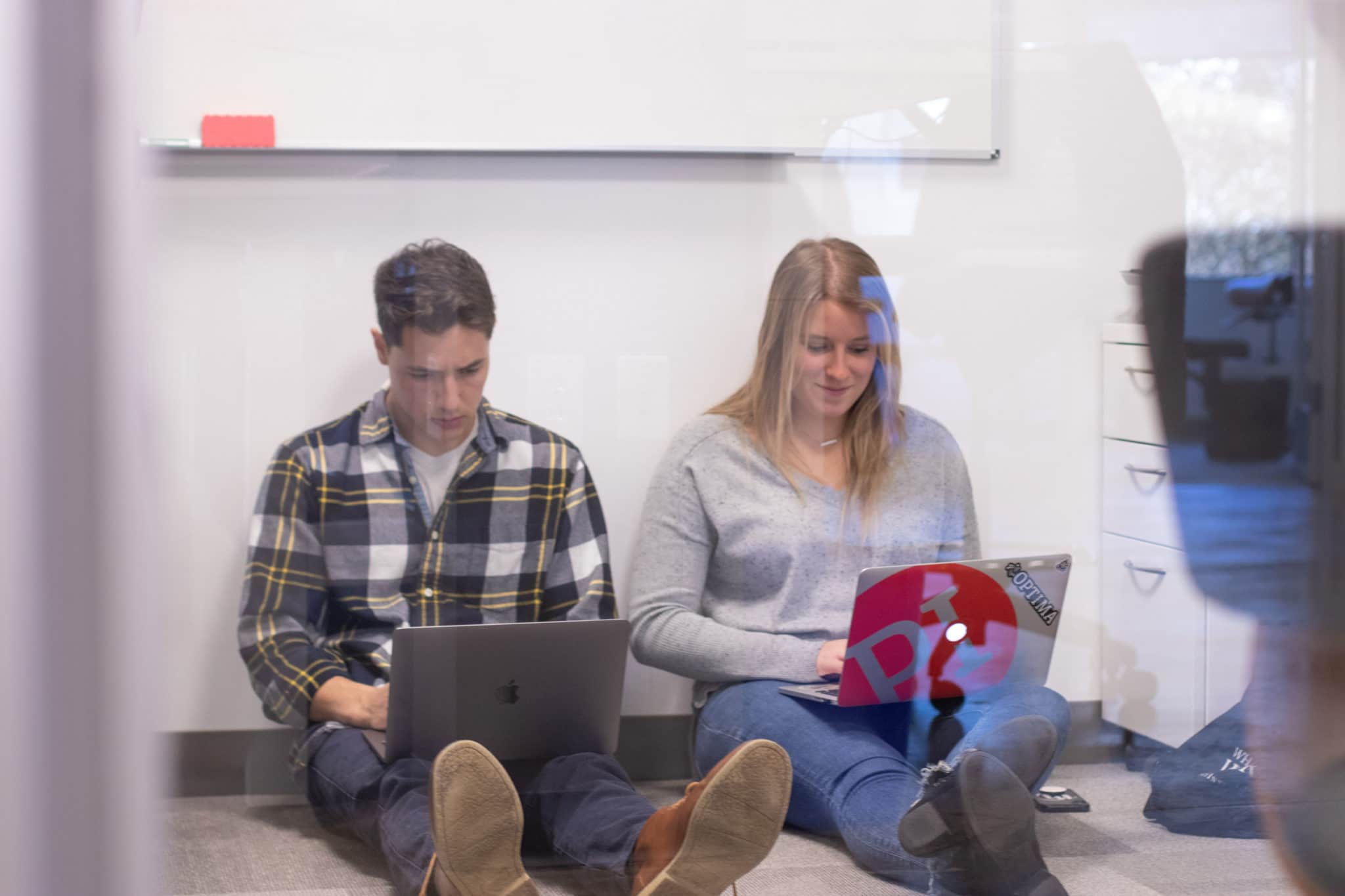 Consider how job fit, manager fit, team fit, and organizational fit are impacting engagement.
Many factors affect employee engagement. These stem from the various relationships your employees have with your organization. We call these the four forces of disengagement—misalignment with job, manager, team, and company culture. When evaluating your engagement programs, be sure to examine each of these forces to understand its impact in your organization.
For job fit, consider questions like:
Are they in a job that utilizes their skills and capabilities?
Do they have opportunities to learn and grow within that role?
Does the role match how the employee is naturally wired to work?
For manager fit, look for insights into the following:
Does their manager provide valuable feedback?
Are they managed the way they like to be managed—or is every employee treated the same?
Are managers meeting with their direct reports on a regular basis?
For team fit, ask questions around:
Is the team working together well—or are there interpersonal conflicts?
Does the employee feel a sense of belonging?
How is overall team morale?
For culture fit, dig into:
Are employees rewarded based on our company's core values?
Do employees understand our company's values—and do they see those in action at work?
Are there ways the company is operating that are disjointed from how employees like to work? (i.e., lots of structure and process when employees like to take risks and move fast)
Seek qualitative data to provide perspective on quantitative data.
Likert scales and standardized questions can be helpful for sifting through data at scale, but numbers alone don't tell the whole story. Ask open-ended questions that allow employees to provide insight into their responses. Be sure to clarify that employees should not include any information that could be personally identifiable. This helps protect anonymity and ensure employees feel comfortable being open and honest in their responses.
You might also host open-office hours, or go on listening tours throughout your company. These will give you perspective on what your employees are thinking and feeling. What you learn will help you paint the full picture of what's impacting engagement in your organization.
Break up the data to understand what impacts different people.
When digging into your engagement data, drill down to understand engagement levels for different groups of people. Is engagement higher or lower on certain teams? Are there different factors impacting engagement in one part of the organization compared to another? Regardless of the size of your company, slicing and dicing the data this way can serve up insights that can help you take a targeted approach to addressing engagement.
You can also leverage engagement data to support your DEI initiatives. Are there trends in how minority groups are engaging with your company? Is there feedback that indicates issues with diversity, equity, inclusion, and belonging in your organization? Don't miss these valuable insights when going through your engagement report.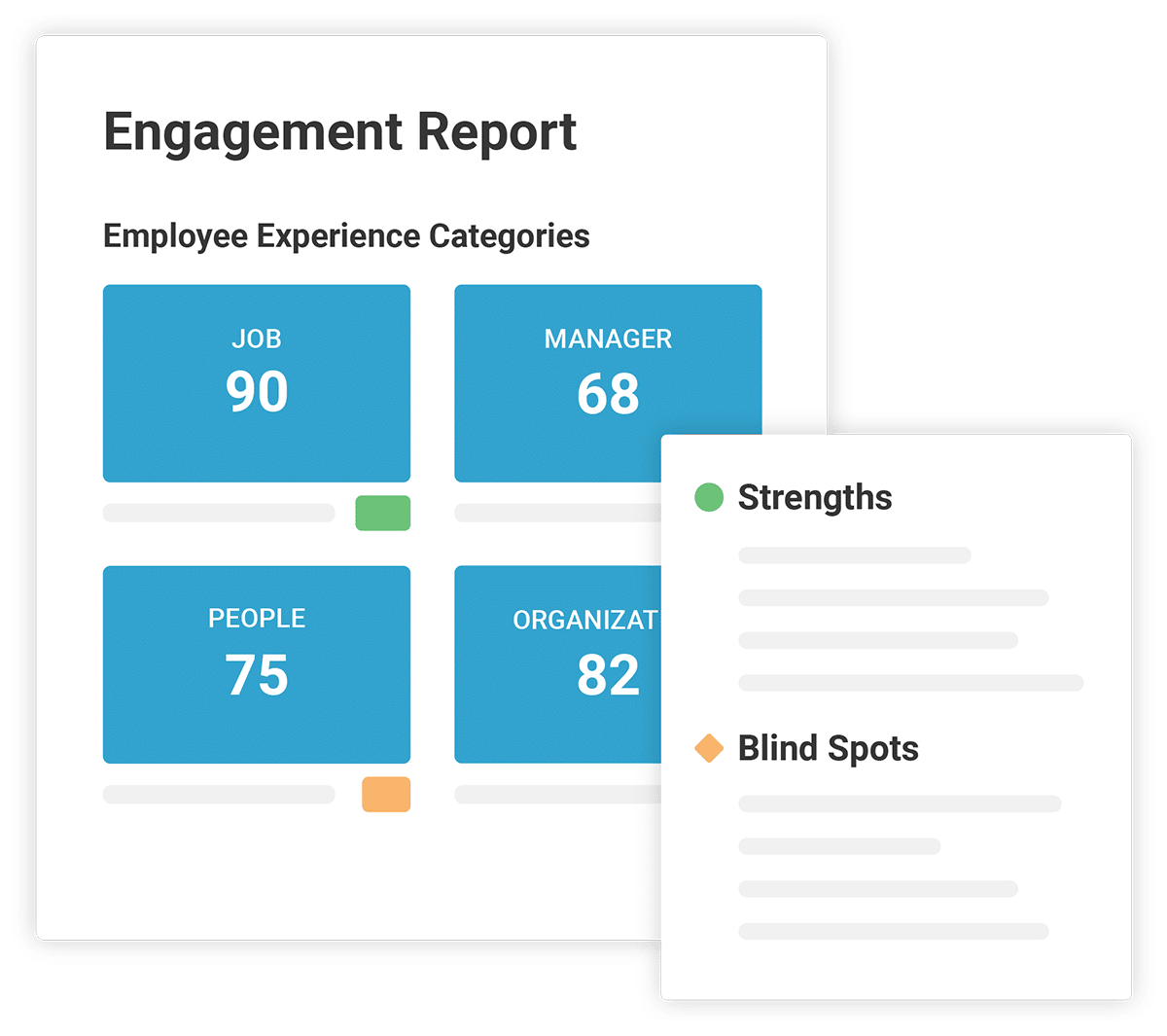 Top 15 employee engagement software platforms
There are a number of employee engagement software platforms on the market. Here are the top 15:
1. The Predictive Index
The Predictive Index® (PI) is the world's only talent optimization platform. It encompasses the entire employee lifecycle—from hiring the right employee to managing them to perform, to monitoring and maintaining engagement. The PI Employee Experience Survey™ can help companies understand what's impacting engagement, from the organizational level down to the team level. Survey results offer actionable next steps based on research from experienced industrial-organizational psychologists and scientists. PI's hiring, management, and talent strategy solutions complement the engagement survey to effectively optimize talent.
2. Peakon
Peakon offers ongoing employee experience surveys that leverage natural language processing to deliver insights. These insights are delivered on a weekly basis via dashboards that are accessible to employees across the company—from C-Suite and management to individual contributors. Bite-sized learning supports managers in increasing employee engagement. The Peakon platform also allows you to create benchmarks for success by linking engagement to business key performance indicators (KPIs).
3. TINYpulse
TINYpulse delivers continuous micro surveys that allow companies to receive real-time insights and ongoing employee feedback. Like many other engagement platforms, it offers the ability for employees to provide anonymous qualitative feedback. Companies can select from 319 survey templates, making setup much faster.
4. Lattice
Like TINYpulse, Lattice allows you to gather real-time, continuous insights about your people, and provides actionable recommendations based on what's impacting engagement most. Lattice also offers Employee Net Promoter Score (eNPS) Surveys. These surveys model after traditional Net Promoter Score (NPS) Surveys, which ask "On a scale of 1-10, how likely are you to recommend this product?" eNPS Surveys ask employees to answer the question "On a scale of 1-10, how likely are you to recommend this company as a place to work?" The response is considered a good indicator of employee engagement and satisfaction.
5. Culture Amp
Culture Amp's platform hosts a variety of survey templates. These can be used to understand engagement, the onboarding and exit experience, DEI, and more. A big benefit of this platform for companies is its algorithm to predict turnover. It combines performance and engagement data to tell you who's at risk of leaving, and why.
6. 15Five
15Five is a popular performance management software that focuses on employee recognition and company goals. Employees can give each other shout-outs (or "High Fives") using the software. Managers can use the platform for weekly check-ins and one-on-ones with their direct reports. A selling point for 15Five is that users can showcase objectives and key results (OKRs) across the entire company. This helps employees and teams stay focused on the metrics that matter. Employees who know the goals they're working toward—and can track them visually—are often more motivated and engaged.
7. Kudos
Kudos homes in on employee recognition as a key driver of engagement. The software includes robust recognition features, including peer-to-peer recognition, service awards, and manager certificates. It also connects recognition to rewards. Available as both a desktop and mobile app, Kudos makes recognizing employees quick and easy. Kudos also offers a range of integrations that allow you to connect the platform to a variety of tools and services.
8. Officevibe
Officevibe is an engagement platform built for managers. The software gives managers the ability to send pulse surveys, gather anonymous feedback, and make space for difficult conversations. It also features a one-on-one meeting tool managers can use for shared agendas, centralized notes, and automated employee follow-ups.
9. Qualtrics Employee Experience
Qualtrics Employee Experience (EmployeeXM) provides a suite of tools to measure and address engagement across the employee lifecycle. It includes pulse surveys, 360 reviews, employee engagement surveys, exit diagnostics, onboarding optimization, and training assessments. As data is collected, feedback-to-action loops are sent in real-time to managers. EmployeeXM integrates with HR technology such as talent development tools, applicant tracking solutions, and ticketing tools.
10. Glint
Glint is a platform that leverages organizational science, deep research, and customer experience to deliver engagement insights. The software gathers data about engagement, the employee experience, culture, team effectiveness, and more. An AI-powered algorithm surfaces risks, opportunities, and recommendations in real time. The platform includes an early warning system that can alert managers to employees deemed at-risk for attrition or decreased performance.
11. Motivosity
Motivosity incorporates four products into its engagement solution: Connect, Recognize, Lead, and Listen. Each product covers a foundational element of the employee experience. Connect helps foster a sense of belonging by helping employees understand one another. Recognize gives employees a tool for public praise and appreciation. Lead supports managers with the tools for continuous feedback, one-on-ones, and priority tracking. And Listen uses eNPS and custom surveys to capture employee sentiment.
12. Kazoo
Kazoo is an employee experience platform that combines continuous performance management with employee recognition and rewards. It modernizes performance management with integrated OKRs, feedback, one-on-ones, and check-ins. It combines social recognition, rewards, and incentives to help employees feel appreciated. Kazoo also offers solutions for remote and hybrid teams, as well as equity and inclusion programs.
13. Quantum Workplace
Quantum Workplace includes engagement, performance, and intelligence solutions to help you maximize employee satisfaction. Pulse surveys let you gather real-time feedback on any topic. The platform allows employees to set and track their goals. Managers can use Quantum Workplace to provide performance reviews, celebrate employee success, and make strategic talent decisions. The software's intelligence surfaces employee flight risks, connects turnover and engagement data, and collates themes from open responses to survey questions. A host of integrations allow users to easily connect Quantum Workplace to existing business tools and systems.
14. Energage
Energage is a SaaS platform that uses workplace and pulse surveys to understand employee engagement. Companies can compare their results to industry benchmarks and competitors. Energage uses AI-based algorithms to gather robust benchmarking data. Unique to the platform is an employer-branding element. The software uses responses to the engagement surveys to compile culture highlights companies can use on their job postings, career pages, and employer branding sites like Glassdoor.
15. Blink
Blink is not a traditional engagement solution. Designed for remote teams, Blink uses an intranet to keep employees connected at a distance. Deskless workers can share information, collaborate, respond to polls, read announcements, and more using the Blink mobile app. Blink aims to address common causes of low engagement, such as poor employee communication and lack of visibility into what's happening in the organization.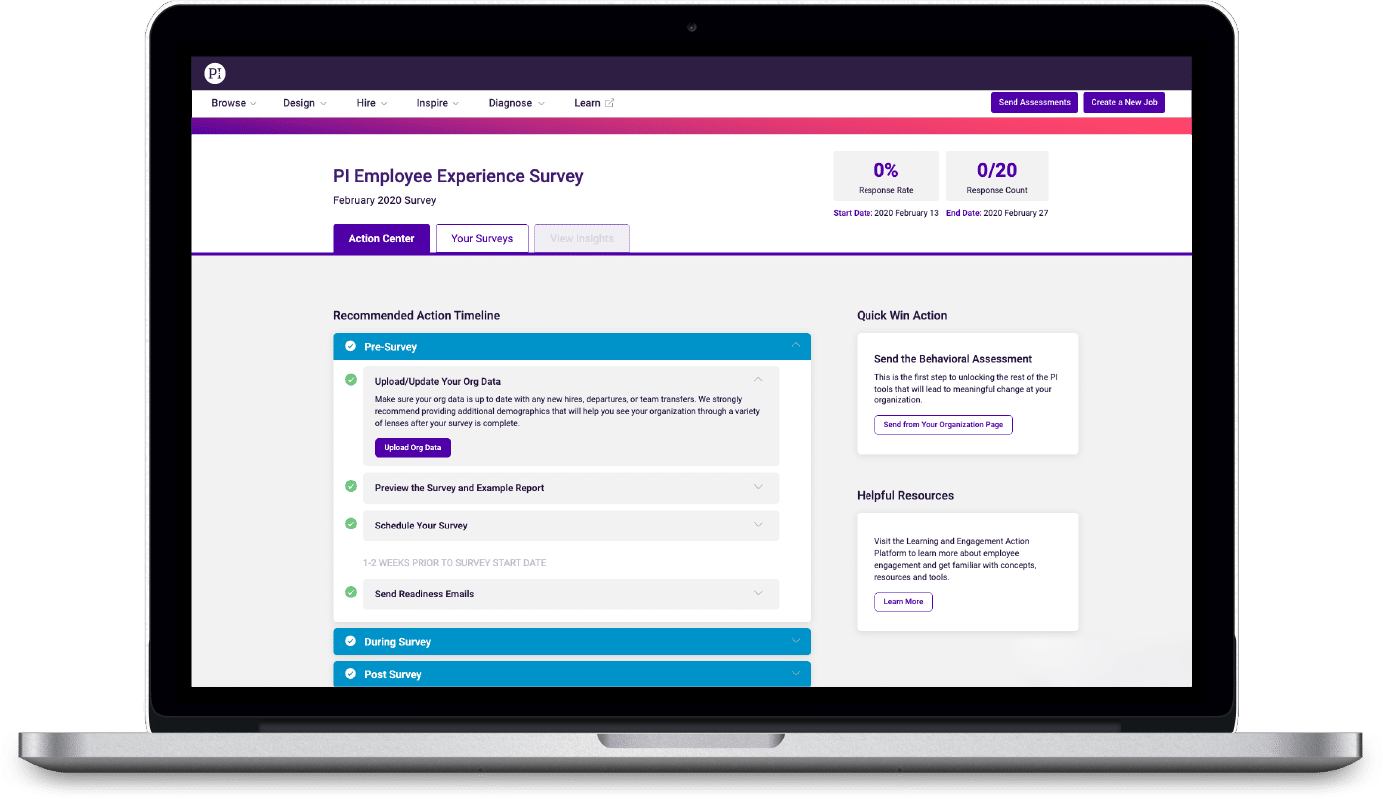 How to select an employee engagement platform
As you can see, there are a lot of employee engagement tools on the market. Each offers its own benefits. So how do you decide which to bring to your organization?
Here are a few things to consider:
Are the insights actionable?
You don't want to spend your time and money on a survey where the report results go in a drawer. In order for a report to be effective, it has to offer actionable insights. Does the platform tell you how to implement your results to actually boost engagement?
Are there scientists on staff?
Effective surveys have research-backed questions that will drive the insights you're looking for. To ensure the platform you're investing in isn't using generic questions, take a look at their workforce. How many IO psychologists or data scientists are employed at the company? This will give you insight into how frequently the science is updated and validated.
Does it cover the entire employee lifecycle?
Many engagement platforms focus on one part of the employee experience: performance management, recognition, or company culture. Make sure the platform you choose takes into account each aspect of the employee's experience with a company.
Does the platform integrate with your existing systems?
This may not be necessary for every organization. However, some companies may find it helpful to connect their engagement surveys and results to existing systems, such as an HRIS, performance management software, or even Slack. This can help streamline—and better share— engagement data.
What have previous customers said about the platform?
A report by Podium found that 93% of consumers say online reviews impact their purchasing decisions. Use review sites like G2Crowd and TrustRadius to hear what customers have said about the employee engagement platforms you're considering. Take note of any functionality that's not working as expected. Be sure to ask if these issues have been resolved when you demo the platform.
Does the pricing match your needs?
Different platforms are built for different audiences. When searching review sites, take note of the average business size of customers. Are they a small business? Mid-market company? Enterprise organization? This can give you a clue into which audience the platform typically serves—and the expected price point. Most engagement platforms don't list pricing directly on their website, so you'll probably need to request a demo of the application. Share your budget upfront to ensure you and the sales representative are on the same page about whether or not the platform is a fit for your business at this time.
How quickly can you implement the engagement solution?
How quickly you need to implement an engagement platform depends on your business's needs. If you're in the middle of an engagement crisis, you'll likely want software that can be implemented right away. This way, you can start to determine what's causing a dip in engagement. Even if your business isn't experiencing a steep decline in engagement, you'll likely still want to bring in an engagement solution sooner than later. This is because engagement is an ongoing experience—negative influences can creep in at any time.
How The Predictive Index can help with employee engagement
Want to build a more engaged workforce? The Predictive Index can help. We offer a mix of software, workshops, and expert consulting to help you identify what impacts engagement—then create a plan to increase employee engagement.
The PI Employee Experience Survey uncovers what's driving engagement and disengagement in your organization. It then generates an action plan and employee engagement survey questions to help you bolster strengths and mitigate weaknesses.
PI Certified Partners—expert consultants in talent optimization—offer Employee Experience Coaching. They can guide you in administering your engagement survey, sharing out results, and implementing next steps. Many companies find the objective guidance of an external consultant immensely valuable when addressing engagement issues.

PI also offers workshops that support people managers in reviewing their results with their team members. These workshops empower managers and their employees to take action on what exactly impacts engagement within their team.