By Elsbeth McSorley
The PI Personal Development Chart provides self-coaching tips for employees to be more productive and successful in their work environment
Just last month in August 2016, we launched PI Insights, a growing collection of tools that allow managers and employees to easily understand workplace behaviors, be more self-aware, work better together, and make everyday workplace interaction more purposeful.
We created PI Insights to provide a deeper look into individuals' behaviors and work styles through visual aids and easy-to-read reports, one of which is the PI Personal Development Chart. Our Personal Development Chart provides information about employees' behavioral drives allowing managers to better understand their people, while employees can learn more about their strengths and opportunities for personal development. The PI Personal Development Chart also provides likely cautions areas for employees to be aware of, and self-coaching tips for the individual to be more productive in his or her work environment.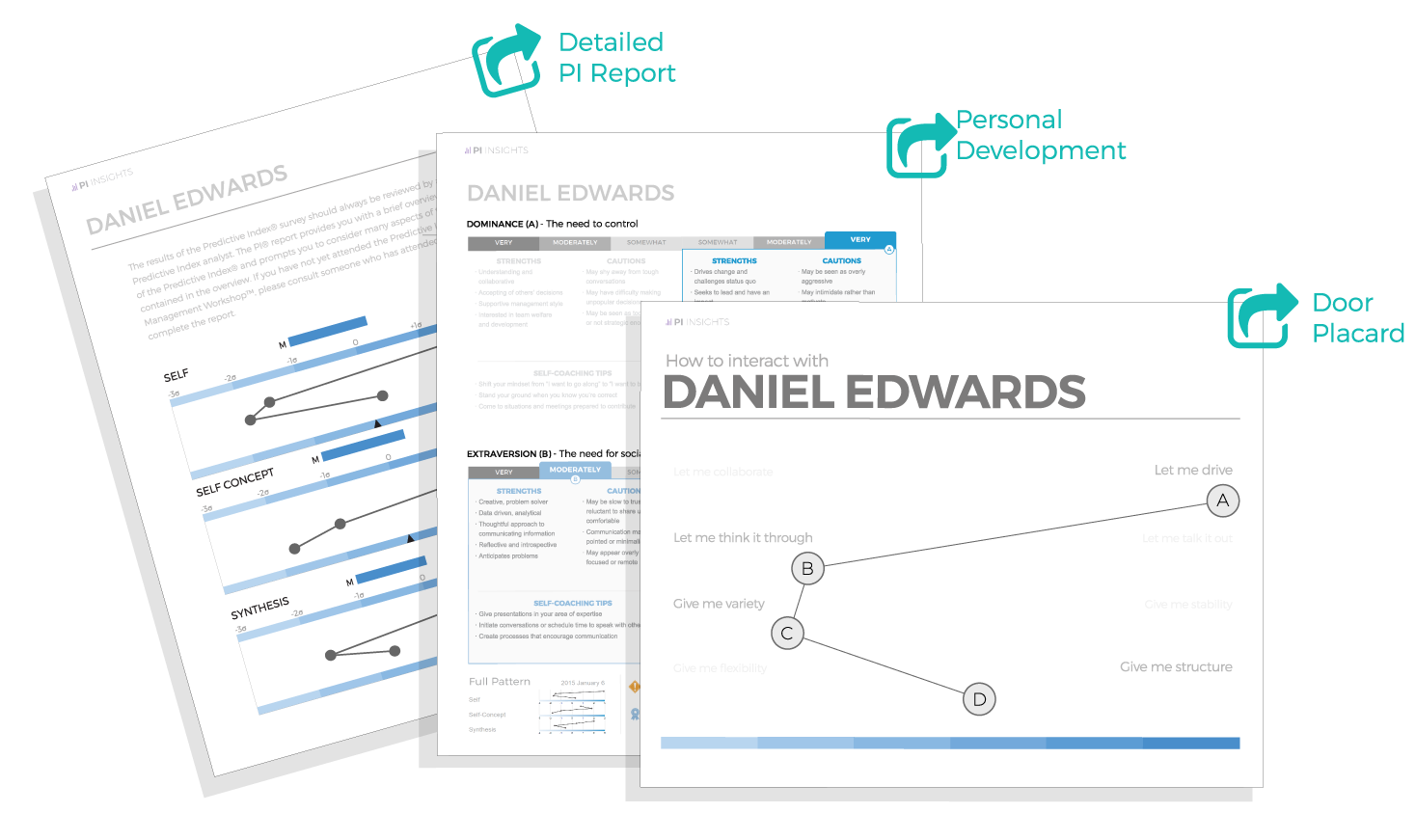 We are hopeful that PI Insights and the new PI Personal Development Chart will help businesses and organizations of all sizes, in any industry, better understand their people. People interactions in the workplace can be very challenging and often the people part of business – managing people, engaging and retaining employees, discovering and developing high-potential future leaders, and creating effective teams – are some of the hardest aspects of running a successful organization.
The PI Personal Development Chart focuses on the importance of self-awareness, workplace behaviors, and employee development. The Personal Development Chart should be thought of as an important tool in your management toolbox to help solve your business challenges relating to your people. Human interaction in the workplace can be very challenging at times, to say the least. Try something different and let the power of The Predictive Index, along with our new tools like the PI Personal Development Chart, help you solve your people problems. The outcome will be better alignment between your people strategynb and business strategy. And once these are aligned, the sky's the limit!
You can visit the PI Product Blog to learn more about the benefits of PI Insights and the PI Personal Development Chart. In addition, we invite you to watch a recording of the PI Insights webinar to see real-world examples of PI Insights and how you can easily deploy the PI Personal Development Chart in your organization.
Was this resource helpful?