5

Lessons
40 minutes

completion time
What you'll learn:
The Workshop Kickoff guides you to understand and apply the PI Behavioral Assessment. You'll discover how it works, how it's administered, and the value of its accurate and compelling descriptions of workplace behavior. From this foundation, you'll be ready to interact with your workshop instructors and classmates.
Take action and have an impact
Behavioral Assessments provide a pattern of a person's core drives that offer insight into their needs and behaviors to help predict workplace behavior. In step 4 of this lesson, you'll get an introduction to start analyzing those behaviors. The assessment takes, on average, less than ten minutes. There are no right or wrong answers and there are no good or bad results.
Having your PI Behavioral Assessment is key to increasing self-awareness and maximizing your workshop experience. If you've already taken the PI Behavioral Assessment, you're already on track! Be sure to download your results and bring them with you.
If you haven't taken the assessment or do not have your results, be sure to do so; it's fundamental to understanding yourself and others. We'll reference this information throughout the workshop so you can see how it comes into practice.
View the video below for a 2 minute tutorial on how to take the PI Behavioral Assessment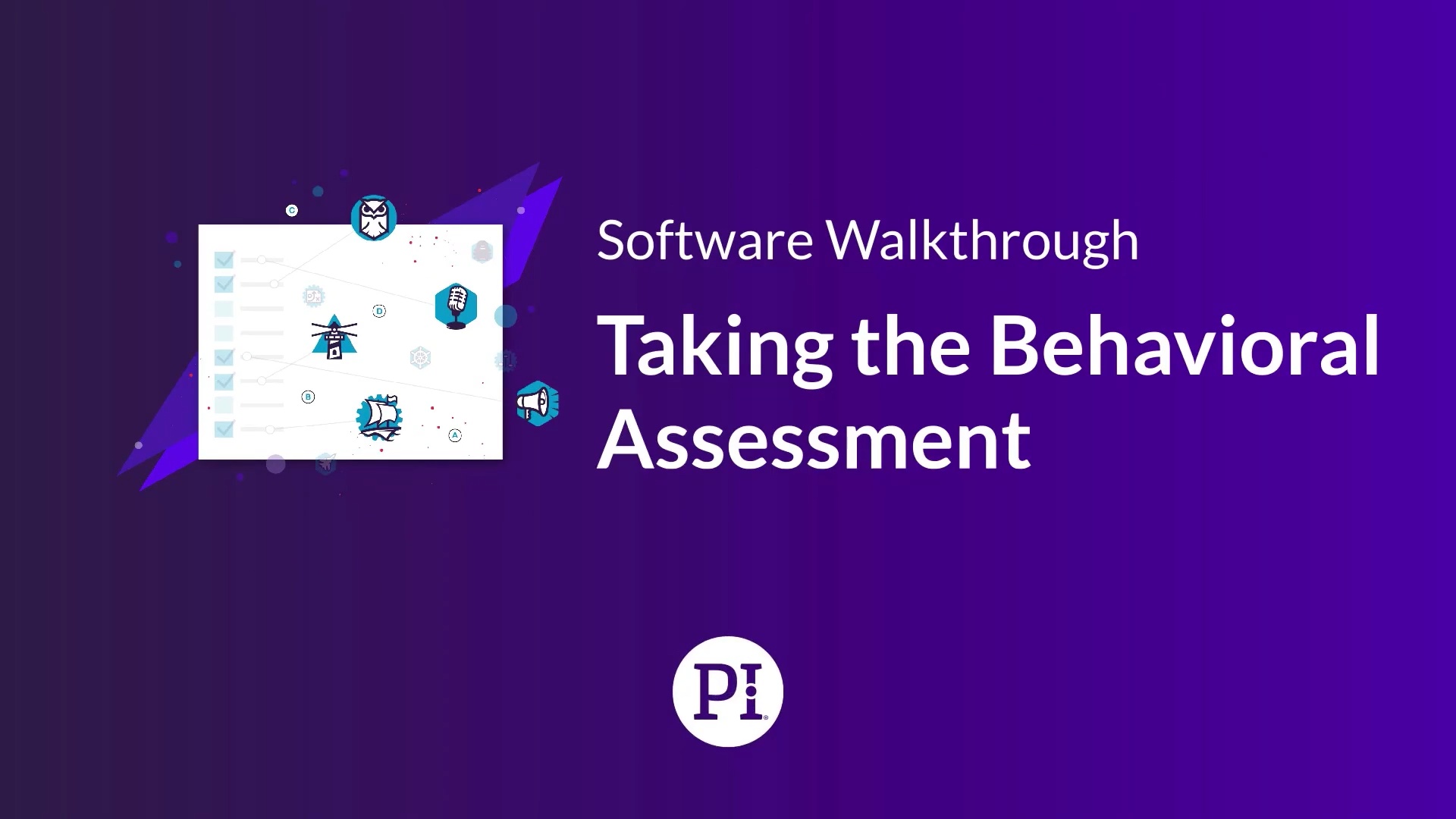 If you do not have access to the PI Software, contact the person who owns PI at your company and request access.
Which neighborhood do you live in?
Every person who takes the Behavioral Assessment is automatically assigned one of our 17 reference profiles, which provide a shortcut for understanding the behaviors and needs that drive you and others.
Reference profiles provide easy-to-reference groupings of the characteristics of people who have similar drives. Once you know someone's Reference Profile, you gain insight into what their defining workplace behaviors are, how to work with them more effectively and what kind of traps and pitfalls they have a tendency to fall into.
Understanding Reference Profiles gives you an advantage by helping you know how to effectively work with every kind of person, which will strengthen your ability to have successful interactions and build relationships with others.
How do I find my reference profile? Once you've completed your Behavioral Assessment, your reference profile will appear on all of the reports you generate in the software!
Content Locked
Register to gain access to this lesson.