5

Lessons
30 minutes

completion time
What you'll learn:
What business problem Diagnose solves, where it fits into TO, and why Diagnose is valuable to your clients.
Why is Diagnose valuable to your clients?
The PI Diagnose solution is a powerful tool that enables clients to better understand and improve their employees' experiences working for the organization.
The actionable insights provided by this set of talent data create opportunities to continue to leverage those factors that are enhancing employee engagement and quickly identify and address problems hindering the emotional attachment of employees to their organization.
In a nutshell, Diagnose:
Provides insights to increase employee retention
Measures and analyzes data that impacts employee productivity
Builds trust within the organization
Builds the leadership capabilities of managers
Fosters action
Meets the current needs of clients
Diagnose provides insights to increase employee retention
Countless studies have shown the value of employee engagement and its ability to impact employee retention. It has been estimated that it can cost up to 150% of a mid-level employee's annual salary to replace them after they leave the organization.
Disengaged employees who don't leave an organization can hurt in their own ways as well. McLean & Company used people metrics to understand how much impact disengaged employees had on an organization. They found that disengaged employees who continue to work for their organization cost that organization approximately $3,400 for every $10,000 in annual salary.
Diagnose measures and analyzes data that impacts employee productivity
Engagement is a key component in an employee's productivity at work which has a direct relationship with an organization's bottom line. Numerous Gallup studies have shown links to a wide variety of business results. Work units in the top quartile in employee engagement outperformed bottom-quartile units by 10% on customer ratings, 22% in profitability, and 21% in productivity.
Diagnose builds trust within the organization
Following through on the survey results, taking action and showing concern about employees' engagement provides senior leaders with the levers to build trust in the organization. Trust leads to several positive outcomes, such as improved teamwork, cross-functional collaboration, loyalty to the organization, and willingness to give discretionary effort.
Diagnose builds leadership capabilities of managers
The XP survey, follow-up meetings, and action planning give every manager ample opportunity to build and enhance their management skills. PI XP survey results help managers recognize strengths and identify areas in need of improvement. The Take Action on Engagement workshop (hereafter referred to as the Take Action workshop) and PI Behavioral Assessment manager tools are the scaffolding that managers can turn to as they build their own capabilities and amplify the positive effect they can have on their team and the organization. Managers and leaders also have access to the Learning and Engagement Action Platform (LEAP) website, which has learning resources designed to help them along their journey.
Diagnose fosters action
The engagement construct correlates well to many business metrics and outcomes; however, the concept of engagement in and of itself is not directly actionable. In other words, there are no direct actions one can take to improve an employee's pride in their organization. Conversely, other things such as quality products and services, an inclusive environment, or a promising future are likely to positively influence an employee's pride in their organization. The majority of the PI XP survey consists of these types of actionable items and concepts. In addition to measuring key aspects of an employee's experience at their organization, these actionable areas are within a leader's or manager's span of control. A leader or manager can make changes in the habits and processes of the people on their teams and those changes, even when seemingly fairly small, can have a significant impact on the employee experience and the engagement of direct reports.
Diagnose meets the current needs of clients
The 2019 PI Annual Consultant Survey report shows that 41% of clients need help with employee engagement (see chart below). With Diagnose and the Employee Experience Survey, you bring a solution to a perennial challenge that nearly half of your clients and potential clients struggle with.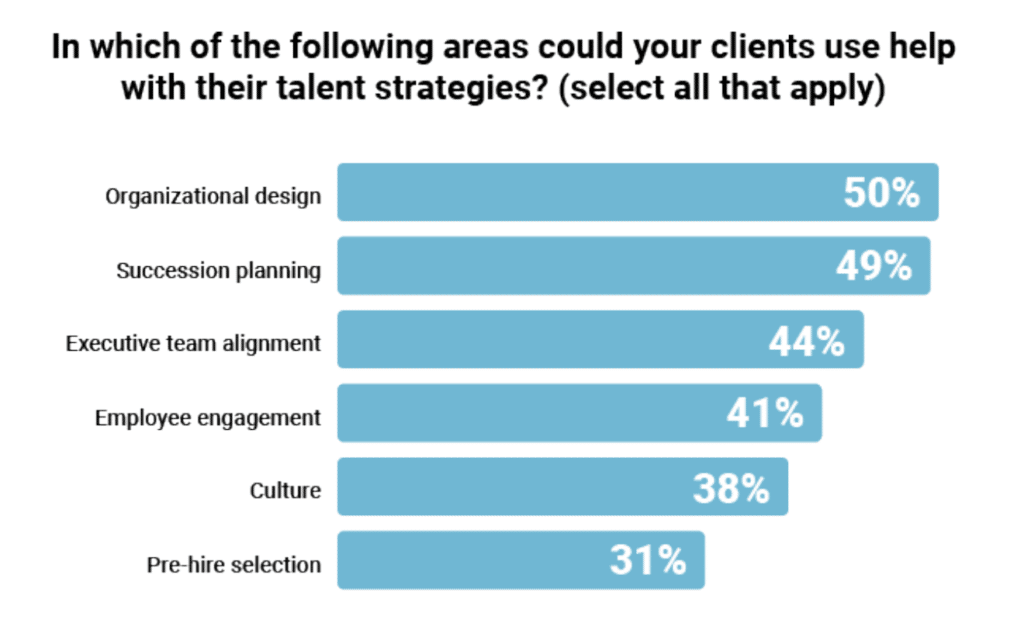 Content Locked
Register to gain access to this lesson.