Hire
Better work starts with you.
Why almost half of new hires fail
Nothing causes disengagement like discovering you're not a fit for the role you're in. It's demotivating. After all, who enjoys pursuing a role they're not quite a match for?
The research shows that nearly half (46%) of newly-hired employees fail within 18 months—and only 19% achieve what can be considered unequivocal success.
The reason? Poor job fit.
We're all wired differently—and that's OK! A diversity of perspectives and behaviors is what makes businesses great. However, it also underscores the necessity of understanding how people are wired to work and whether that's a fit for the role you're trying to fill. The Predictive Index® helps organizations ensure they put the right people in the right seats. We do this by leveraging data from behavioral and cognitive assessments to map people back to the requirements set for a given role. Check out some of the tools available to you in PI Hire.
Find the best fit for a role.
True story: A candidate comes in for an interview with two directors overseeing a project. The job description is for a program manager, but the interview questions imply the role is technical in nature. Confused, the candidate asks, "Is this a program management role or a technical position?" The directors reply "program management" and "technical" at the same time.
Has something like this ever happened in your organization? Unfortunately, it happens a lot! Job descriptions are cobbled together based on similar job postings, but they may not define what your particular organization is looking for.
Enter the PI Job Assessment™ and resulting Job Target.
As part of PI Hire, you receive unlimited access to our simple Job Assessment. This process helps you identify and align on the underlying traits that will lead to success in a specific role. The assessment can be created by a single user or taken collaboratively by a team of stakeholders. Once all the input is given, we'll generate a Job Target you can use to ensure candidates are a great fit for the role.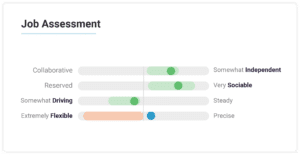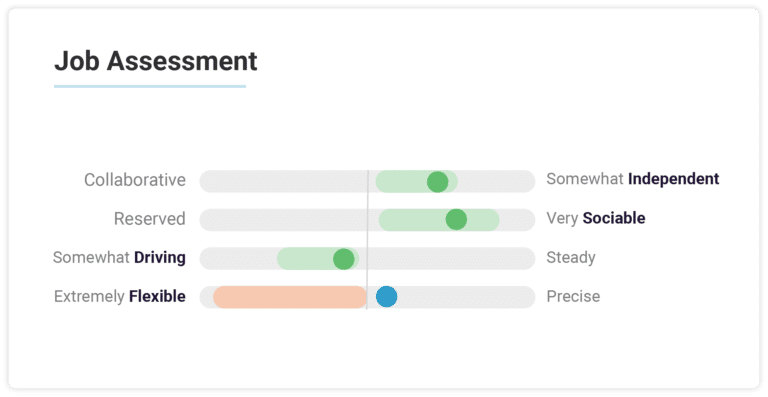 Great interviews start with great prep.
We've all had bad interview experiences for one reason or another. As a candidate, perhaps you felt the interviewer was unprepared. Or, worse yet, each interviewer asked you the same generic questions. As an interviewer, maybe you've been so busy you didn't prepare for an interview and, as a result, left feeling like you'd barely scratched the surface with them.
Interviews play a key role in the hiring process—and, as such, they require attention and preparation! A structured interview can help both candidate and interviewer leave the interview with all bases covered.
Once you have a Job Target created and candidates assessed within PI Hire, you can generate an Interview Guide that will give you questions to ask to probe where a candidate may not match up with the Job Target and confirm the areas where they do align with the target.